Bitcoin falls to $11.5k: These are the next levels to watch
The last day has been mostly red for Bitcoin, with the price more than once breaking below key resistance. Can we hold above $11,000 and start climbing back into the ascending channel we have been riding for over a week? Or will this dip carry us down to retest on $9,500? Let's dig in.
Highlights:
- Bitcoin saw a very significant correction today which broke below key support at both $12,000 and $11,500.
- If we can climb back above $12,000 then we can continue in the ascending channel Bitcoin has been enjoying.
- Failure to get above $12,000 would likely lead to some sideways action between $11K and $12K.
- A break below $11,000 would have a real chance of seeing us drop all the way to $9,500, at the 0.382 fibonacci level.
Looking at Bitcoin on the 1 hour shows just how steep the drop over the last 24 hours has been. Support levels at $12,400, $12,000 and $11,500 all broke without much of a fight. It looks like we did hit some resistance at $11.3K, though likely we will not stay there long. If the bulls can come in and rally the price, we may be able to get back above $11.5K, but to continue upward we need to re-enter the ascending channel which would mean breaking $12,000. Should this succeed then a continued climb back up to recent highs could be done in a matter of days.
BTC/USD Chart provided by Tradingview
Failure to break above $12,000 would likely lead to more sideways action, akin to what we were seeing late last week and over the weekend. However, if we keep dipping and should fail to hold at $11,000, then a fall to $9,500 is very possible. Of course, psychological support at $10,000 may hold, but it would certainly signal a prolonged correction. However, do note that even returning to $9,500 would keep us in an overall bull market, as is easily seen on the daily chart here:
BTC/USD Chart provided by Tradingview
As for Altcoins, it is looking like they generally are still following Bitcoin's lead. Virtually all major Altcoins saw a notable dip together with the market, in some cases less than Bitcoin, in many cases more. If we take a glance at Bitcoin dominance, it is easy to see that BTC is at this time still holding over a 65% control of the market. It seems this dip still hasn't triggered the Altcoin rally just yet.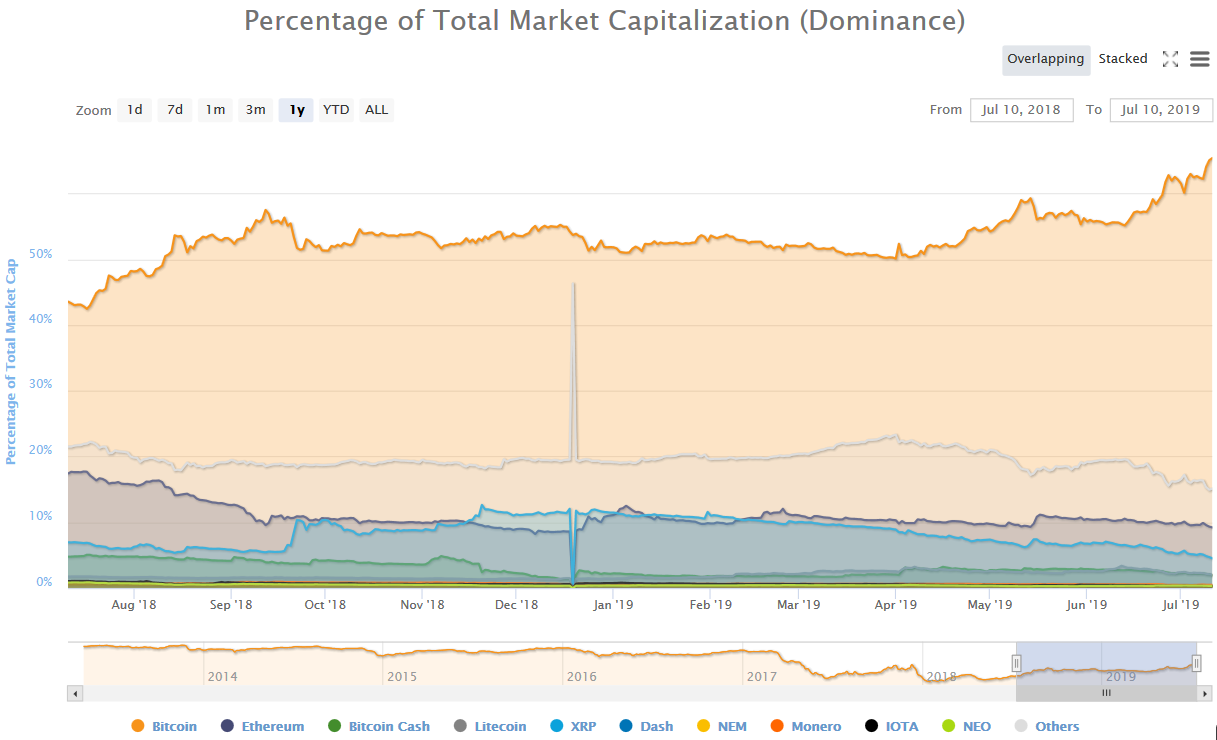 Though this correction looks rather healthy, most traders are almost certainly itching to see Bitcoin resume its upward course. Can we get back on track this week? Or are we in for a longer dip? As ever, stay right here with Chepicap for all updates on Bitcoin price action!
Follow Chepicap now on Twitter, YouTube, Telegram and Facebook!

Mati Greenspan INTERVIEW: Bitcoin to hit $250K if the cycle repeats itself!Subscribe to the Chepicap YouTube Channel for more videos!
Poll