2 Bitcoin levels to watch right now & This is what we need for altseason
Subscribe to the Chepicap YouTube Channel for more interviews, news updates and price analyses!

It's been a volatile week for Bitcoin, and it is no secret that Altcoins aren't quite keeping pace. The question now is, where does the market go next? Can Bitcoin keep rallying, or is it almost time for Altcoins to shine? Let's take a look.
Highlights:
- Bitcoin recently broke out of a descending channel that it has been in since it originally broke $11,500 last week.
- Recently rejected off of $12,000.
- If we break below $11,500, there's a good chance we're going to $9,500.
- A retest to break through $12,000 would mean we will likely see $13,500.
- Bitcoin dominance remains strong, Altcoin rally likely will come after a larger Bitcoin consolidation.
If we open with Bitcoin on the 4 hour timeframe, we can see how the price recently broke out above a descending channel that we have been in ever since we failed to hold above $13,500 last week. This is further significant because we see that at this same price we broke the 0.5 fibonacci retracement level. Shortly after this, we got rejected at $12,000 which seems to begin a channel of resistance up to about $12,400.
BTC/USD Chart provided by Tradingview
There isn't much resistance above the $12,400 price point until we retest up to the 0.618 fibonacci level which stopped us out last week. A solid break up would likely get us to retest around $13,500. However, should the price continue to break down, and fall below $11,500 and into the previous descending channel, then there is a good chance we will test down to the bottom of the channel, near the 0.382 fibonacci retracement around $9,500. There is certainly a chance for sideways movement between $11,500 and $12,00, but with recent volatility it seems unlikely to last for long.
BTC/USD Chart provided by Tradingview
Moving out to the daily, we can see that even a break to $9,500 would still signify an upward trend for Bitcoin, so long as the price didn't fall much further. This could be a healthy consolidation given how fast we saw the price come up recently. Notice how the trend is getting support from the 50 Day MA.
ETH/USD Chart provided by Tradingview
Looking to Ethereum, it is important to compare it to Bitcoin to note that while it has been rising and generally following market movement, it has not been performing as well as Bitcoin. It has not even cleared the lowest fibonacci retracement level yet, at about $400. This is not to say it is underperforming, it is just to point out that like most Altcoins, Ethereum is not pulling away from Bitcoin yet, but only following in its wake.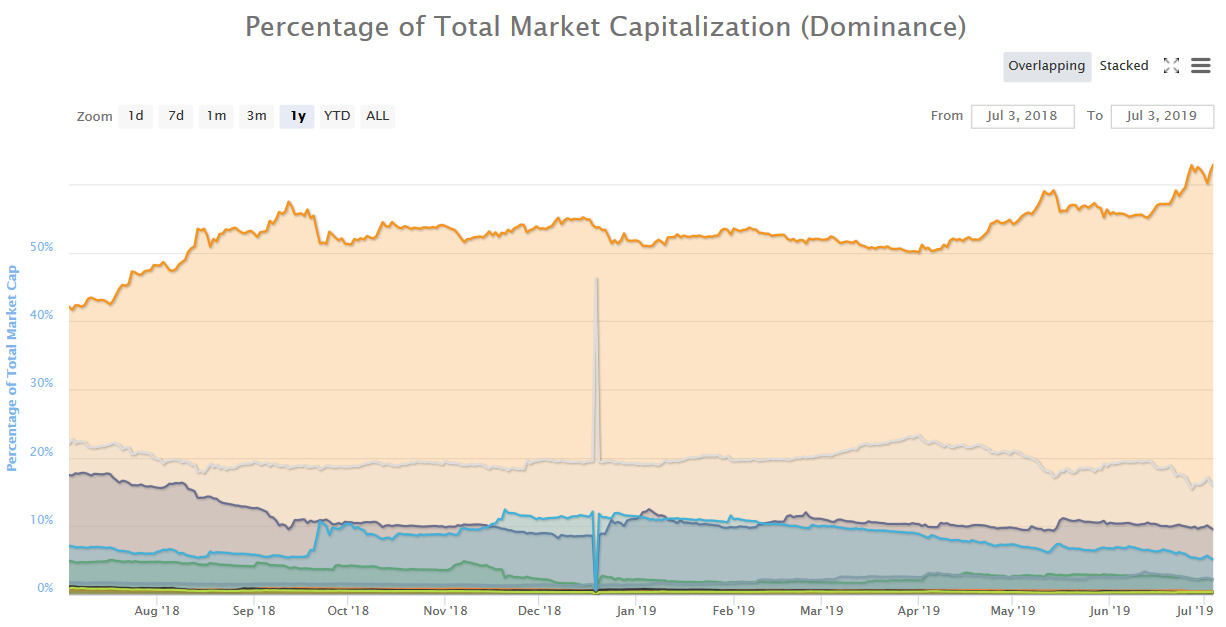 We can easily see by looking at Bitcoin dominance over the last year that Bitcoin is still by far the major market mover, and this has only become more true in recent weeks. While the wave does have to break somewhere, there still is no sign of it yet.
What will it take to trigger the Altcoin rally? Basically a more major correction for Bitcoin than we have seen. It is plausible that should we reach $20,000, the previous all time high, that Bitcoin could correct enough to push some market capital into Altcoins.
Even when it does, be warned that this will probably not bee the Altcoin rally of 2017. The ICO craze is over now, so it is possible that we will see more value flow into relatively fewer projects, most likely the larger and more established projects. It is unclear how small caps will fare this time around, but there is likely to be more caution in the market after the wild-west attitude seen in the previous market cycle.
Ultimately, Bitcoin probably needs a sharper downturn before the Alts have their day. There is a chance it is about to happen at current resistance, but with the recent spikes in Bitcoin dominance, it just doesn't look like it yet. When the day does come, and it certainly will, stick with Chepicap for all Altcoin rally news!
Follow Chepicap now on Twitter, YouTube, Telegram and Facebook!

Alts INCREASING against BITCOIN! BTC shorts drop 67%! Subscribe to the Chepicap YouTube Channel for more videos!
Poll