Crypto exchange Localbitcoins ceases trading services for Iran-based users
Exchange Localbitcoins has recently decided to stop serving users who reside in Iran.
The reason behind the decision is unclear, however, it happened right after trade volume in Iranian currency was reported to increase significantly.
At around the same time, the news about the elevating tension between the middle eastern country with the US was also reported by media worldwide.
Prior to the ban, data from Coin Dance shows that transaction in Iranian rial on Localbitcoins had been climbing up steadily and even reached the highest level since the crypto bull run in late 2017 on May 18th.
As of now, Iran-based users receive the notification "Unfortunately, Localbitcoins is currently not available in your selected region — Please look for other location or come back later" when they access the exchange website.
Their funds, however, are available for withdrawal. The message sent by the Helsinki-based crypto exchange's support team to Iran-based users said that they can't trade on the platform, but withdrawal is allowed.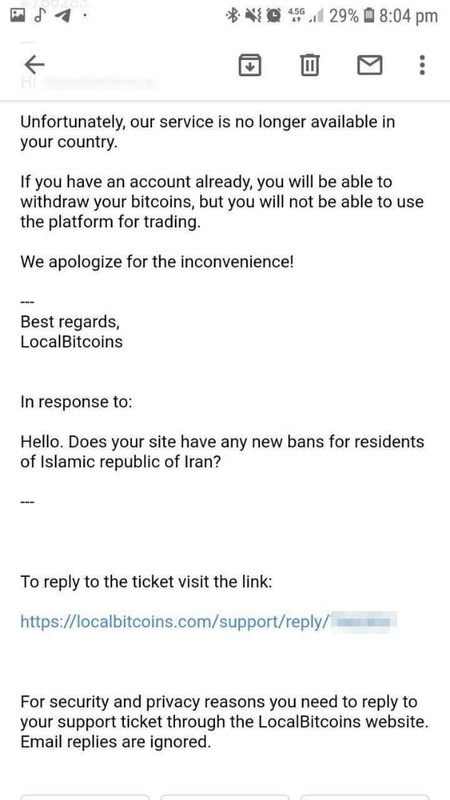 Despite the regulatory uncertainty, cryptocurrency has been popular in Iran as a safe haven amidst the strict economic sanction imposed to the country by the US as well as other UN member countries.
News Bitcoin reported that just a couple of days ago, a group of crypto enthusiasts gathered in Tehran to celebrate the Bitcoin Pizza Days.
"We have up to 200 people paying with crypto each month, mostly consisting of large groups who throw parties at the restaurant to use the discount," said the owner of the restaurant where the celebration took place, Reza Abdollahi.
The uncertainties are seen as an opportunity by some Chinese crypto miners, who were reported to have moved their business to Iran to avoid the strict ban by their government.
Will the ban by Localbitcoins be followed by other crypto exchanges? How will it impact the Iranian crypto investors? As always, stick with Chepicap to find out.
Follow Chepicap now on Twitter, YouTube, Telegram and Facebook!

Chepicap is now LIVE in Blockfolio! This is how you receive our latest news in your portfolio tracker!