Another flash crash denied: BTC bounces back above $8,000
Bitcoin has denied yet again another flash crash, as the world's most popular cryptocurrency bounces back to trade well above the $8,000 price mark.
Bitcoin has been pushing several times now to break resistance at the $8,300 level, but wasn't succesful in breaking upwards.
Following the several attempts, BTC started showing a downward trend yesterday that reached a low of around $7,500, just before BTC turned it all around, and found its way back to around $8,137.
Bitcoin is currently trading at around $8,054, and is showing a 3.15% gain on the day.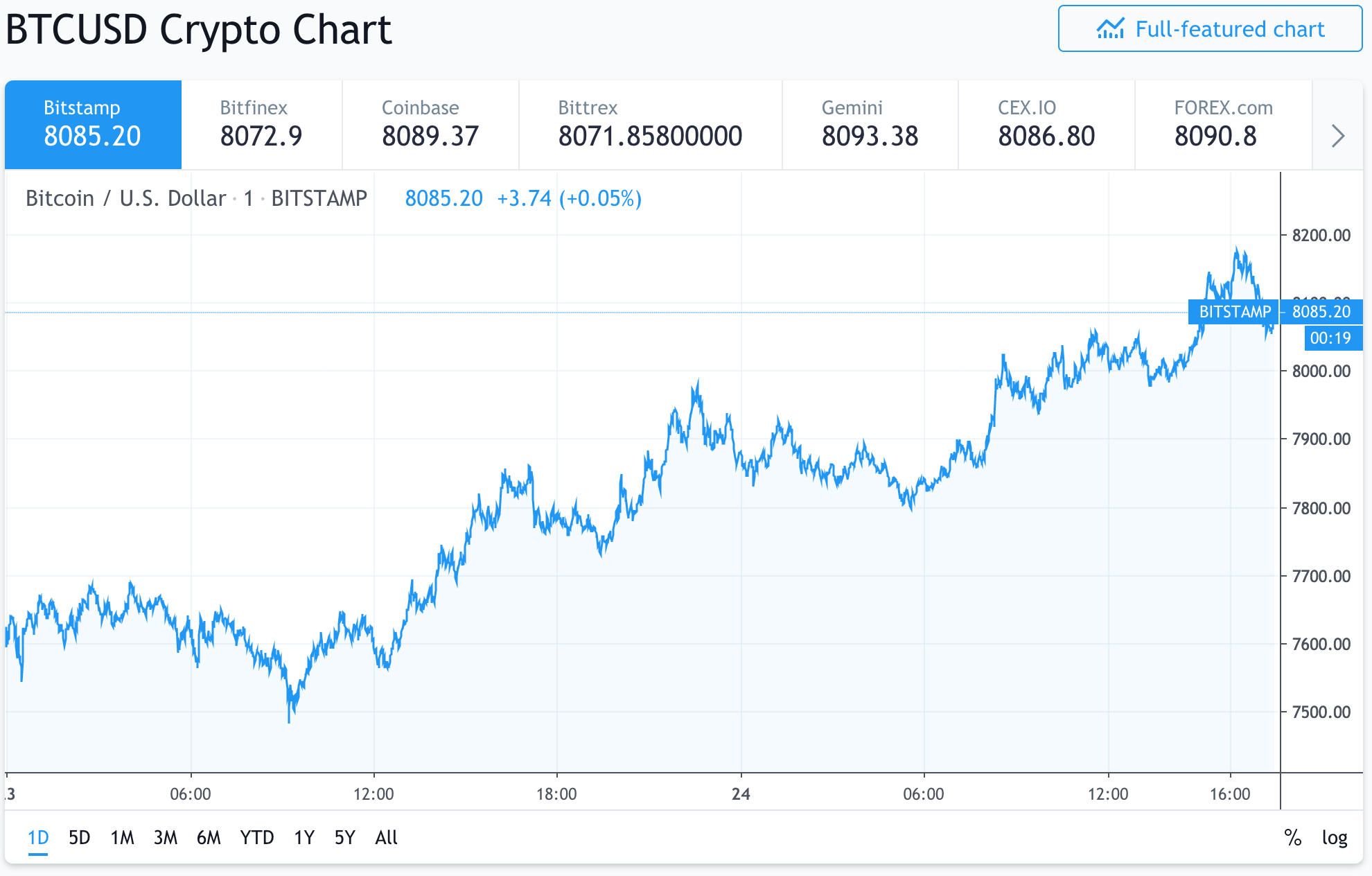 BTC/USD chart provided by Tradingview
One crypto analyst, going by the Twitter handle Chonis Trading, does point out that Bitcoin is posting lower highs as BTC is trying, for the 5th time now, to break through this level of resistance.
$BTC - Trying for a fifth time to break through this flag resistance on the #bitcoin 1hr chart... pic.twitter.com/rspEsDUUfP

— Chonis Trading-⚔️ (@BigChonis) May 23, 2019
Trader Josh Rager, further points out that he would like to see Bitcoin close above the $8,203 price point to feel bullish. Otherwise, the consolidation stage continues, which is natural after a such strong price push upwards over past few months.
$BTC Update

Meme triangle currently holding Bitcoin in same formation

Pair with horizontals to see big picture, want to see Bitcoin close above $8203 on daily to feel bullish

Otherwise, consolidation continues and is natural after a strong price push up over past few months pic.twitter.com/T4UZaJsIFY

— Josh Rager 📈 (@Josh_Rager) May 24, 2019
A few days ago, the popular trader stated that he was expecting a sharp pullback of 30%, explaining that every time Bitcoin has seen a pullback of 30% or more, it's followed with sharp upside rally.
$BTC 30%+ pullback coming?

Yes, eventually. If history repeats, there should be plenty of strong pullbacks on the way to next peak ATH

There were at least nine 30%+ pullbacks from last cycle accumulation & uptrend

Plenty of buying opportunities ahead, don't let it shake you pic.twitter.com/fMnhKzlpA8

— Josh Rager 📈 (@Josh_Rager) May 22, 2019
Rager's comments come at a time when Bitcoin's pullback has been denied yet again, as the number one cryptocurrency surpasses the $8,000 mark once again.
Altseason COMING, but NOT YET... This is what we need to see first! Subscribe to the Chepicap YouTube Channel for more videos!


Follow Chepicap now on Twitter, YouTube, Telegram and Facebook!

Chepicap is now LIVE in Blockfolio! This is how you receive our latest news in your portfolio tracker!