Altseason coming, but not here yet... This is what we need to see first!
With Bitcoin rising close to 100% in just the last couple of months, some are wondering if this is also the beginning of 'Altcoin season'. Certainly, the USD prices of many projects have been on the rise along with Bitcoin since the beginning of April, but are any outperforming Bitcoin? In other words, has altseason started?
Prefer to watch this analysis on YouTube? Our analyst David Borman has also recorded his findings. Watch it here and subscribe to our YouTube channel for more videos!



What is Altseason?
This is when many, if not most, of the other cryptos see considerable gains as hype enters the market and some of the value in Bitcoin, which usually rises first, begins to trickle down into the other projects.

Has Altseason started already?
Since we need a standard metric to compare coins, we will be using % gains since the recent rallywhich began about April 1st. Certainly, we could have used the beginning of 2019 or each coin's own recent bottom to compare, and we would find some variance in terms of performance and gains, but if we are to be asking whether the rise of these coins is indicative of the latest Altseason, then starting with April 1st is a decent standard as it is when the entire market seemed to begin waking up. Also, while there are some small cap coins that have proven to give even larger % gains than the ones we are exploring here, generally speaking some small cap project pumping and dumping is not really triggering the next Altseason. We are simply looking for a cross-section of some of the major players in the market. So let's dive in.
Bitcoin's performance since the beginning of April
BTC/USD Chart provided by Tradingview
We'll start off with Bitcoin because it is obviously the standard we have to compare Altcoins to. We can see from this chart that Bitcoin has risen approximately 87% since April 1st, based on current prices. At its high, this was over 100%, but we have since seen some consolidation. While this is impressive, can any other major cap coin beat it? Yes it can.
Bitcoin Cash
BCH/USD Chart provided by Tradingview
As we can see here, Bitcoin cash has had notably better gains in the same timeframe. At its current price, it is up about 130% since this rally began, which is considerably higher than BTC. It isn't exatly clear if there is a catalyst for this exceptional performance, however the recent delisting of BitcoinSV (BSV) from many exchanges may be involved. Seeing as BSV is arguably a direct competitor to BCH, as it was created in last years hard fork, the delisting may have caused notable amounts of USD to flow back into BCH. However, Bitcoin Cash isn't the only top 30 coins that's beaten BTC in gains.
Chainlink
LINK/USD Chart provided by Tradingview
Though newer and not as well known, Chainlink has been performing very well recently, and since the announcement at Consensus 2019 that the mainnet was going live on Ethereum, the coin has only been headed up. This has led to the impressive 135% gains we have seen since April 1st, though the vast majority of those gains are post May 14th when the news broke.
BCH and LINK seem to be the only two major Alts that have been outperforming BTC in this timeframe, but that doesn't mean the others are far behind. Let's take a look at a coin that is keeping pace, more or less, with the market.
Ethereum
ETH/USD Chart provided by Tradingview
Looking at Ethereum, we can see the coin is still doing quite well. Though not outperforming Bitcoin, the gains in ETH since April 1st are still up an impressive 70%. This is in fact what you find across many coins that seem to be rising with Bitcoin, but not beating it. BNB is another strong example, also coming in above 70% for this recent rally.
After this, quite a few of the major Altcoins are coming in around 40-50% gains for the same period. Litecoin, EOS and Monero, just to name a few, have all seen a decent amount of upside, but none challenge the rise of BTC.
Lesser Performers
There are some coins that, while still rising, are not competing well against most of the market. Some notable examples include Ripple (XRP) and TRON (TRX), rising about 18% and 11% respectively.
XRP/USD Chart provided by Tradingview
TRX/USD Chart provided by Tradingview
While this is still showing some gains on this rally, it pales in comparison to Bitcoin and even some of the more humble Alts. To be fair, both coins have very passionate communities and plenty of optimistic news, but that is exactly the point. These coins aren't weak or losing ground, they just aren't pulling ahead the way you may expect if this was the true beginning of Altseason.
So where does this leave us? Overall, though the whole market is on the up and up, it is pretty hard to make a case that the true Altcoin season has begun. One more important indicator for Altcoin season would be a dip in Bitcoin dominance as the Alts gobble up some of the market cap, but as of right now, not only is Bitcoin dominance not dipping, it is still trending upward, on average.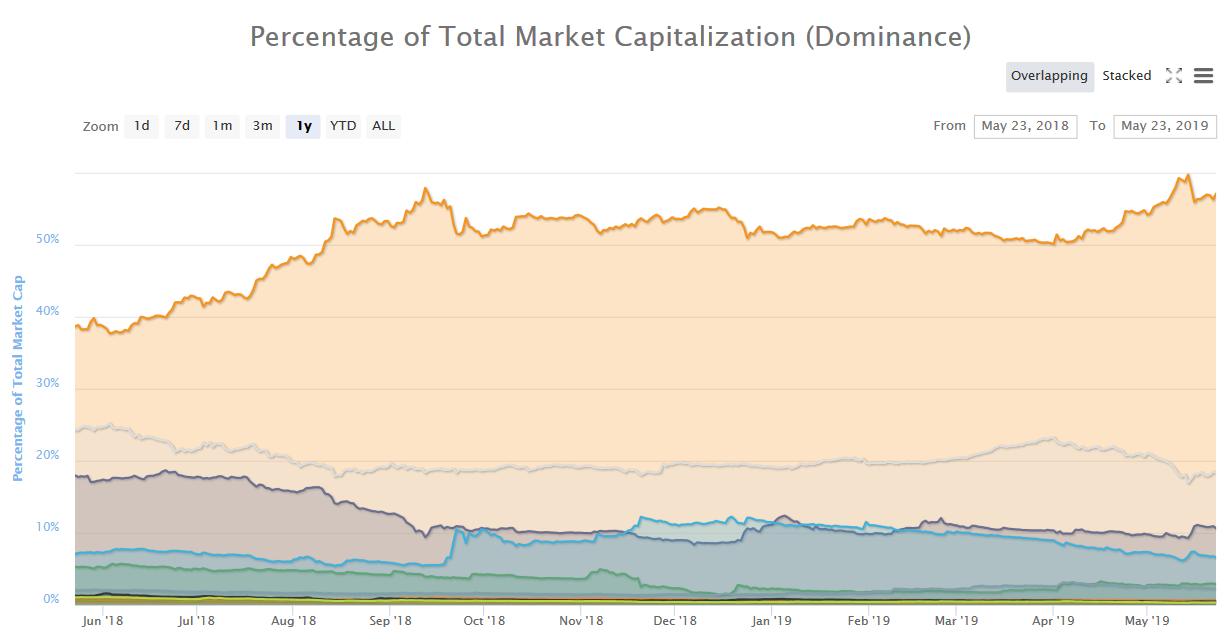 While this is in no way a dig to Altcoins, it simply seems the prerequisites for a true Alt rally just aren't in place yet. Make no mistake, the market as a whole seems to have turned bullish, and there is plenty of reason to believe the Alts will have their day, but what we will need to see first is consolidation of the Bitcoin price (which is admittedly occuring now), coinciding with a notable rise in the majority of Alts and a drop in BTC dominance (which we are not, on average, seeing yet). This may occur after another considerable pump in Bitcoin, as it seems most coins are consolidating alongside the market leader currently, not pulling ahead.
Whether Altseason is a month or a year away remains to be seen, and it is in fact quite plausible we will see a "tug of war" between BTC and Alts on the way into the new bull run, but rest assured that when the time is right, Chepicap will be here to cover the next Alt rally and all the gains that come with it!
Follow Chepicap now on Twitter, YouTube, Telegram and Facebook!

Chepicap is now LIVE in Blockfolio! This is how you receive our latest news in your portfolio tracker!