Market adds $8 billion in 24 hours, BTC stays close to $8,000
The crypto market is steadily trending higher again, adding $8 billion over the last 24 hours, with Bitcoin currently fighting hard to stay close to the $8,000 price mark.
As of now the market cap is at $250,071,958,900, up about $8 billion on the day. Bitcoin dominance is remaining strong at 56.5%, down 0.4% since yeterday.

The world's number one cryptocurrency is currently fighting hard to stay close to the $8,000 price mark, and is trading at around $7,982, showing a gain of 2.25% in the past 24 hours.

Top 10
All top 10 coins are well in the green, with Binance Coin taking the lead with 8.85% gains on the day.
Bitcoin Cash (BCH) managed to get up 4.72% to $420.32, followed by Ethereum with a 3.33% gain, and Ripple (XRP) and Litecoin (LTC) which both managed to show gains of around 2%.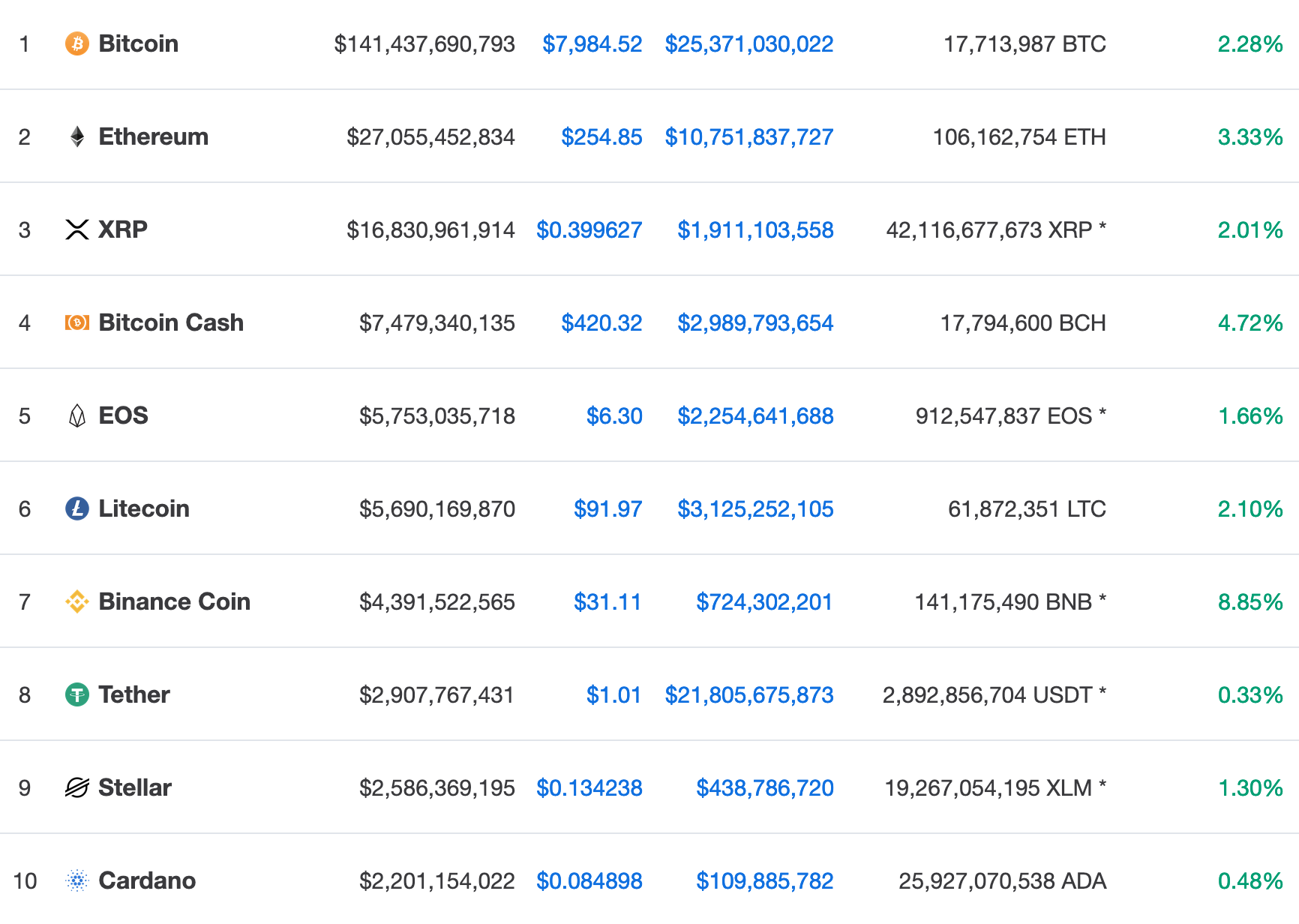 Top 100
In the top 100, by far the biggest earner today was Bitcoin SV with an impressive 55% rise, fueled by the news that Craig Wright has attempted to copyright Bitcoin's whitepaper and the original code.
The biggest loser of the day is Insight Chain, with a loss of around 8% on the day.
Overall it has not been a bad day for the crypto markets. Will we see more upside in the next day? Stick with Chepicap for all updates!
6 reasons why crypto spring has SPRUNG! Subscribe to the Chepicap YouTube Channel for more videos!


Follow Chepicap now on Twitter, YouTube, Telegram and Facebook!

Chepicap is now LIVE in Blockfolio! This is how you receive our latest news in your portfolio tracker!