White hat hackers earned over $32K in a week by fixing bugs in crypto projects
White hat hackers who get paid from fixing security bugs on various projects can earn over $32,000 in a week.
Not all hackers are making quick money from stealing people's crypto. White hat hackers are reported to have earned at least $32,150 from fixing security bugs in various cryptocurrency and blockchain projects, such as Coinbase, TRON, Brave and EOS.
Between March 28 and May 16 alone, 15 blockchain-related companies have paid a decent amount of rewards to security researchers for fixing around 30 bugs, whose reports have been released publicly.
Breaking down the data reviewed by The Next Web, Omise, the company behind OmiseGo paid for 6 of the released bug reports, while Augur and Brave Software each paid 3 fixed bugs.
The amount of reward depends on the severity of the flaws, with the smallest of $100, which is the amount paid by Omise for each of the bugs being fixed.
Block.One, the company behind EOS, was reported of paying a hacker of $10,000 for fixing a bug, which was also done by Aeternity.
TRON was even more "lavish" as they were once paid $3,100 to a security researcher who found out that the network was susceptible to being flooded with malicious smart contracts, which would be able to halt the entire blockchain network.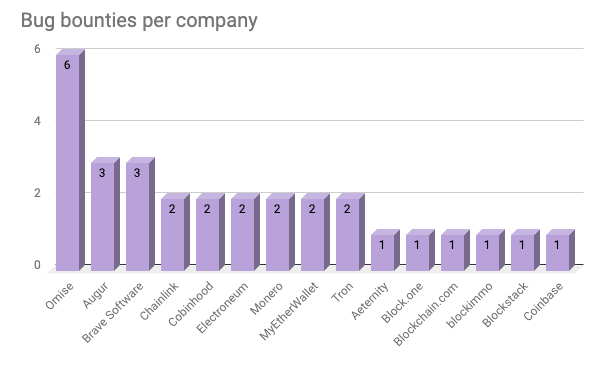 The sad thing is, while the "work" of malicious hackers is reported to have grown to a dreadful level, the number of white hat hackers is said to remain steady.
Follow Chepicap now on Twitter, YouTube, Telegram and Facebook!

Chepicap is now LIVE in Blockfolio! This is how you receive our latest news in your portfolio tracker!