IRS responds to call for crypto clarity, says it is a "priority"
Chepicap has previously reported on Rep. Tom Emmer, who together with 21 members of the US Congress, reached out to the IRS in an attempt to get some kind of regulatory guidance from the agency. Now, the IRS has responded and is promising that it is a "priority of the IRS to issue guidance."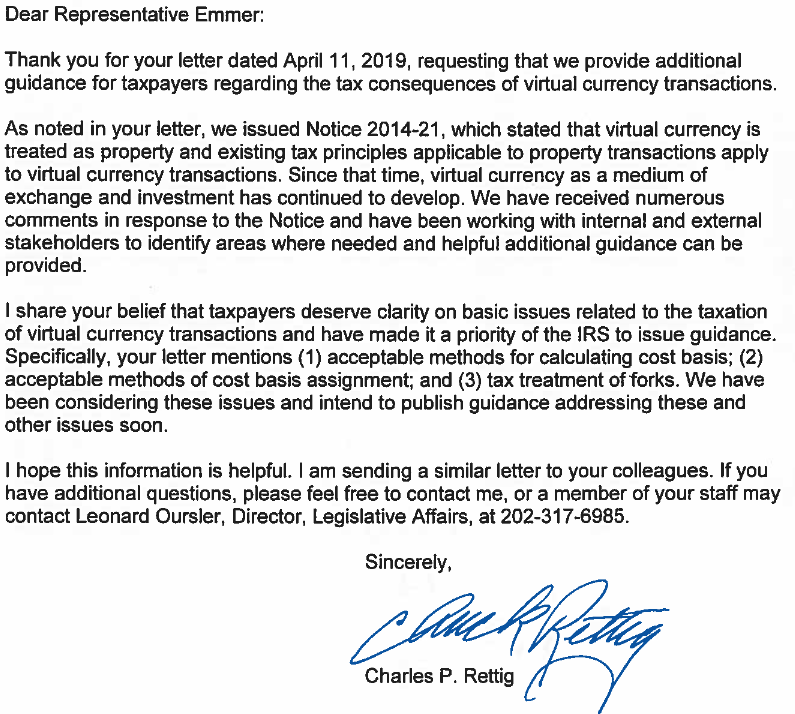 The response is addressed directly to Tom Emmers and appears to have been sent on May 16th. In the message, Commissioner of Internal Revenue Charles Rettig acknowledges that crypto has evolved considerably since the last time any regulatory guidance was offered in 2014. He goes on to say how he agrees that there needs to be better clarity on regulation, and mentions the three areas that need attention the most:
"... (1) acceptable methods for calculating cost basis; (2) acceptable methods of cost basis assignment; (3) tax treatment of forks."
After this the letter promises that the IRS will "publish guidance addressing these and other issues soon." It is not clear what soon realistically is, but it is clear that it seems Emmers and colleagues have gotten the IRS' attention.
Will we see new regulatory guidance this year? Will it be generally supportive of helping digital assets become adopted? Stick with Chepicap for all updates!
Bitcoin to $10 likely! This is what it takes to get there Subscribe to the Chepicap YouTube Channel for more videos!


Follow Chepicap now on Twitter, YouTube, Telegram and Facebook!

Chepicap is now LIVE in Blockfolio! This is how you receive our latest news in your portfolio tracker!