Will Matic be listed on Coinbase? Coin rallies 70% on hope
Ethereum scaling project, Matic Network, a lesser-known crypto project, surges almost 70% on the rumor alone, that its coin might get listed on Coinbase.
The lesser-known, crypto project Matic Network, received some attention when it was launched as the 4th Binance Launchpad project in the beginning of April 2019.
Introducing the @maticnetwork ( $MATIC ) Token Sale on #Binance Launchpadhttps://t.co/h0PUPW416n pic.twitter.com/kX1dmhGFIx

— Binance (@binance) April 1, 2019
Binance accounts for over 98% of the token's trading volume, and has been one of several Binance Launchpad coins that has shown impressive returns.
Since the beginning of May, Matic has recorded a whopping 610% return.
Today seems to be no different, as Matic Network, a blockchain project aimed at scaling Ethereum, shows an explosive boost of almost 70% on the day, while the rest of the cryptocurrency market is mostly experiencing a 'red candlestick' day.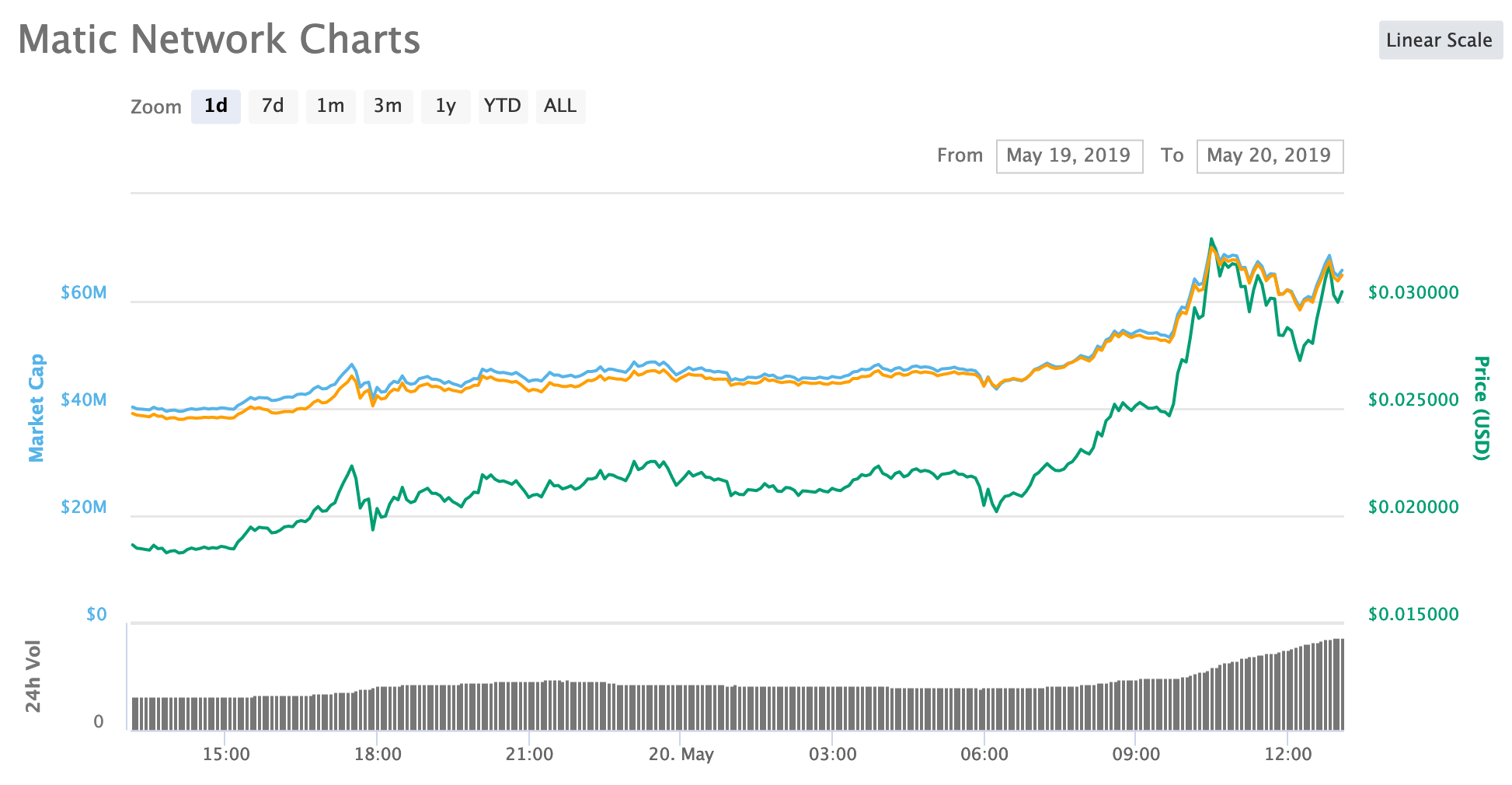 It appears that Matic is experiencing this impresive surge due to the announcement made earlier today, and one wild rumor that goes around saying that Matic might get listed on Coinbase.
#Matic is the next big thing in crypto realm, and those who don't believe that will regret it. Wait until it is listed on coinbase people 😂 then your gonna hate yourselves for not investing in it.

— Nawwaf Albahar - نواف البحر (@princeneno007) May 20, 2019
You've been around long enough to know where $matic is headed! 👩‍🚀🚀🌚 cheers! 1000x #Coinbase baby!

— Whales NEWS (@bitcoin_whales) May 20, 2019
Matic Network took to Twitter today, to announce the fact that it had joined Binance Info's transparency initiative, which will update investors on a regular basis about the progress and state of the project.
Matic Network has officially joined Binance Info's transparency initiative. By sharing project-related information such as news and progress reports on Binance Info, Matic is contributing to keeping the community informed.

Check out our page here: https://t.co/pzAdw2ltPb pic.twitter.com/Ky6VPt7PGm

— Matic (@maticnetwork) May 20, 2019
Matic's community and investors now believe that the next logical step would be for Coinbase to list the Matic coin, especially in the light of last month's news that Matic had secured funding from Coinbase Ventures.
Matic is proud to announce @coinbase ventures as our seed investor.
We are ecstatic to have the Coinbase team supporting us and aim to work towards realising mutual network effects.

Some of which are listed below 👇👇 pic.twitter.com/VKckY43YTn

— Matic (@maticnetwork) April 30, 2019
What do you think? Will Matic get listed on Coinbase? Let us know in the comments below.
Bitcoin to $10 likely! This is what it takes to get there Subscribe to the Chepicap YouTube Channel for more videos!


Follow Chepicap now on Twitter, YouTube, Telegram and Facebook!

Chepicap is now LIVE in Blockfolio! This is how you receive our latest news in your portfolio tracker!
This is a message from the LIVE Rumors page. You can vote for the reliability of the message yourself!