BCH's latest upgrade improves privacy immensely, 1st transaction sent to Ulbricht
Bitcoin Cash just had an upgrade to its network that is said to improve the privacy immensely. The developers sent the fund to Ross Ulbricht on the first transaction.
The Bitcoin Cash network just got an upgrade. The Schnorr signatures was successfully implemented on May 18th, with the first transaction donated to Ross Ulbricht defense fund.
More details on the upgrade mentioned that it was implemented at block 582680 on BCH chain and is said to allow the implementation of public signature aggregation and complex sign-to-contract concepts, with the help of future Schnorr-related upgrade.
Although Graftroot and Taproot that would increase BCH privacy immensely will be available only after another update, there are still new functionalities that can be enjoyed only with the current upgrade.
Hidden payment channels and atomic swaps, including the 3 of 3 multi-signature P2PKH output are some of them.
"A Schnorr-signed transaction — Was it a secret payment channel closure? Did hundred parties sign to make it happen? Did a secret atomic swap occur? Or did I just send coins to myself in a boring txn? You will never find out," said one of the developers who performed the Schnorr transaction, Mark Lundeberg.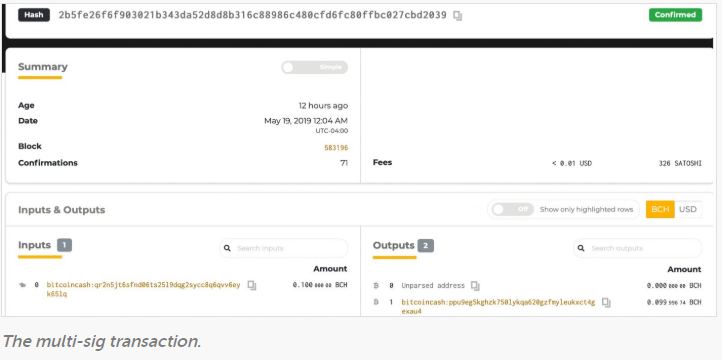 The community responded excitedly to the upgrade, even more when they know that the first Schnorr multi-sig transaction was sent to Ulbricht.
"More privacy for the win — Nice one," said well-known BCH proponent, Emergent Reasons.
Another supporter commented, "I thank BCH for taking steps to restore my individual economic liberty and financial privacy."
In the coming days, BCH developers will be testing different types of Schnorr signatures coupled with other mechanisms in future to further private transactions and create unique transaction types, as reported by News Bitcoin.
Follow Chepicap now on Twitter, YouTube, Telegram and Facebook!

Chepicap is now LIVE in Blockfolio! This is how you receive our latest news in your portfolio tracker!