Flash crash denied: 'BTC at $9,600 could be in the cards', says analyst
Nobody expected the world's number one cryptocurrency to bounce back this quickly, as Bitcoin denied the flash crash and showed a confident bounce back to the $8,100 price level in less than two days.
Bitcoin has entered once again the $8,000 region, and is continuing to show an impressive gain of 10.77% on the day, while currently trading at around $8,100.
The world's most popular cryptocurrency has decisively denied the much-predicted pullback.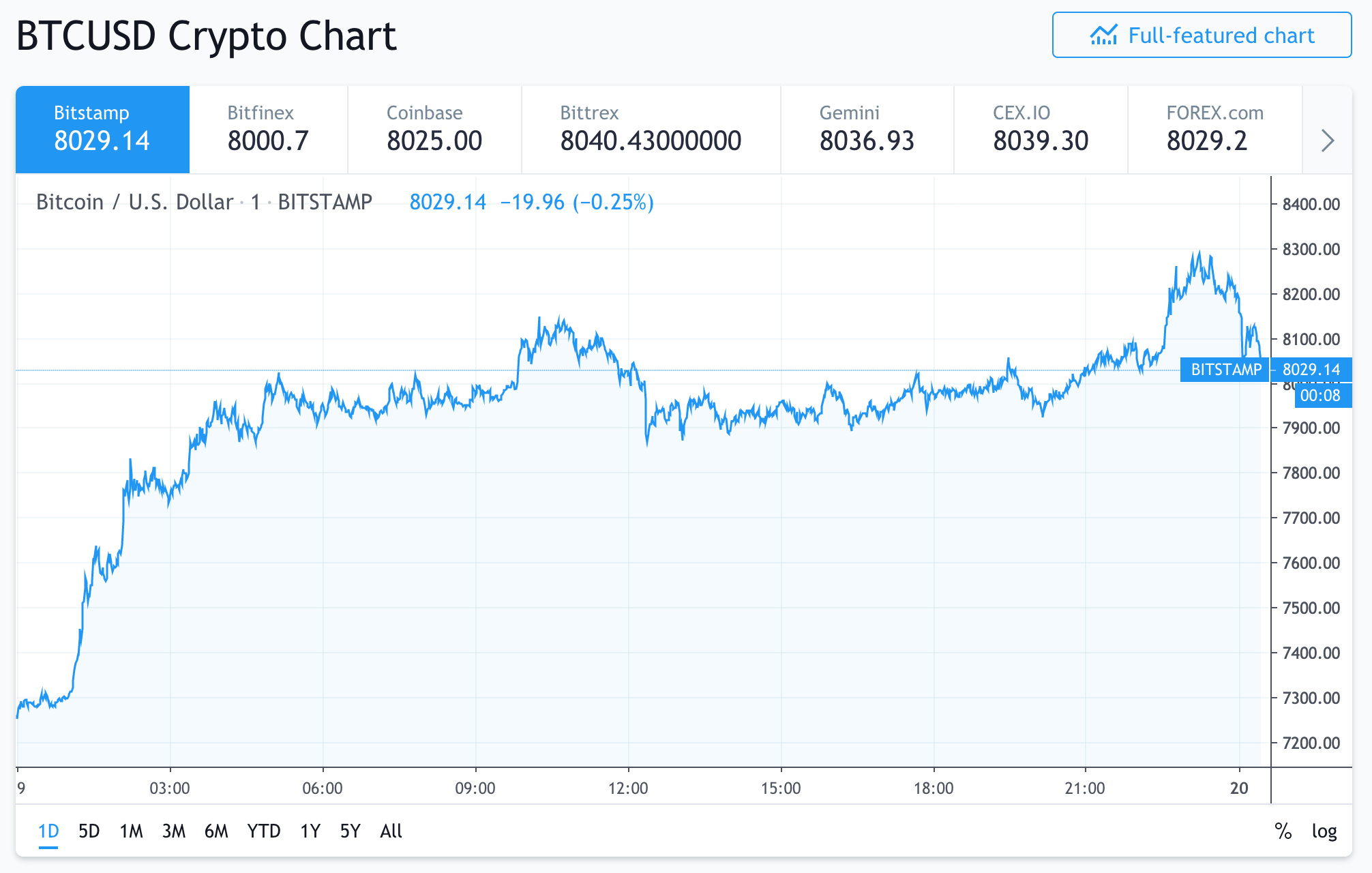 BTC/USD Chart provided by Tradingview
Many crypto analysts and traders are now expecting this rally to continue.
Dan Held, the co-founder of Interchange, for example, pointed out on Twitter that the market bounced back quickly from the latest fierce dip.
Coinbase is back above $8,000! Wow the market bounced quickly from that fierce dip. pic.twitter.com/xHnEflYsiM

— Dan Hedl (@danheld) May 19, 2019
Crypto trader & investor, Josh Rager adds that the recent spike of the crypto market brings Bitcoin closer to $8,216, which, according to Rager, is a key short-term.
Rager believes that if Bitcoin manages to close its weekly candle above that level, a move to $9,600 could be in the cards.
$BTC - Weekly Chart

To clarify, why $9600 is because this is viewpoint from higher time frame charts

There will be resistance along the way and could take more than a few days even if the daily/weekly closes above $8216

Weekly volume looks amazing pic.twitter.com/6xM6zmwrd9

— Josh Rager 📈 (@Josh_Rager) May 19, 2019
Do you think Bitcoin will see $9,600 next? let us know in the poll below.
Bitcoin to $10 likely! This is what it takes to get there Subscribe to the Chepicap YouTube Channel for more videos!


Follow Chepicap now on Twitter, YouTube, Telegram and Facebook!

Chepicap is now LIVE in Blockfolio! This is how you receive our latest news in your portfolio tracker!