Analyst: BTC is still bullish, so long as it holds above $6.4K
Analyst believes that Bitcoin is still bullish as long as it holds above $6,400.
After seeing a drop to below $7,000 earlier this week, Bitcoin can be seen of rallying back to above $7,800 over the weekend.
Putting aside what is currently happening in the market, the previous drop did worry many crypto investors, some of which even decided to sell their hodling, from what is said to be "a sudden influx of selling pressure".
Some analysts and traders think that the recent drawback has put into jeopardy Bitcoin's upward momentum in the past couple of weeks, although there's one who believes that as long as BTC holds above $6,400, it's still bullish.
Another perspective to view the drawback is that it may allow BTC to garner greater levels of buying pressure, which ultimately would make it surge even higher.
Fawad Razaqzada, an analyst at Forex.com said that the latest pullback actually constitutes "healthy" price action.
"In fact, bitcoin is looking extremely 'overbought' in the short-term. So, for the sake of healthy price action, bitcoin will either need to correct itself or, ideally for the bulls, consolidate for a while before it makes further gains," Razaqzada said right after the price drop, as quoted by NewsBTC.
Another analyst, DonAlt tweeted his conviction that he will remain bullish as long as BTC holds above $6,400.
$BTC weekly update:

Resistance rejects, support supports.
And people say TA doesn't work.
As long as 6400 holds I'll be a better perm-bull than Parabolic Trav ever was.

This still looks gorgeous to me and I won't touch the red button for quite a while. pic.twitter.com/hVRmD40vjJ

— DonAlt (@CryptoDonAlt) May 18, 2019
Well, DonAlt could be right. As of writing time, Bitcoin is traded above $7,900 in several major exchanges as seen on the below chart.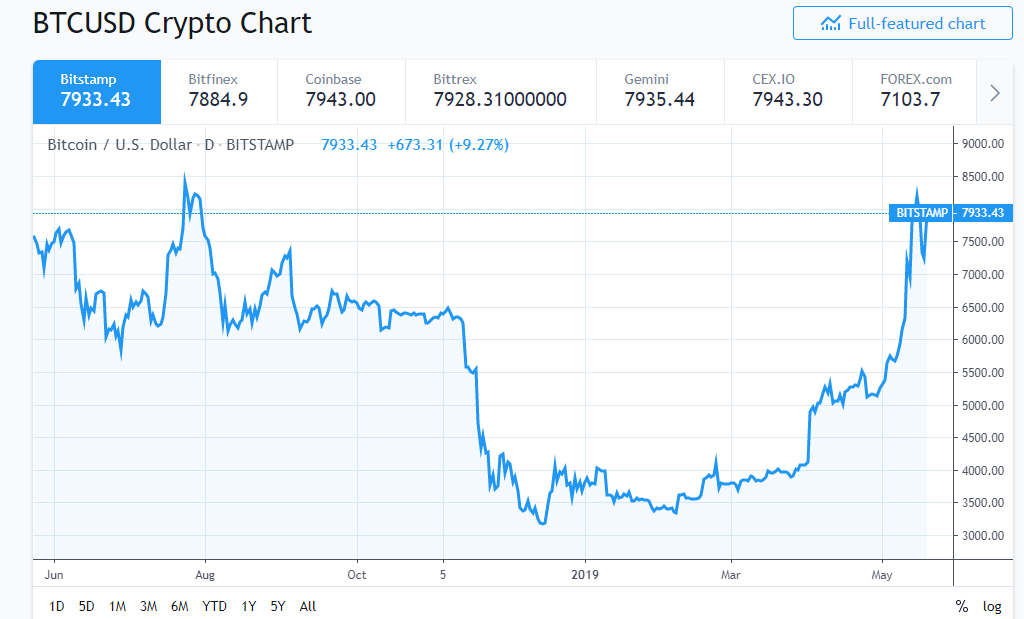 BTCUSD Chart provided by TradingView
How far will the rally go this time? As always, stick with Chepicap to find out.
Follow Chepicap now on Twitter, YouTube, Telegram and Facebook!

Chepicap is now LIVE in Blockfolio! This is how you receive our latest news in your portfolio tracker!