Altcoins respond to Bitcoins flash crash; BCH down 15%
Earlier today Bitcoin (BTC) reported a $600+ fall across multiple exchanges, and an even more painful $1k drop on Bitstamp after a 5000 BTC sell-off occurred on the exchange, in comparison alts seemed to hold their own, staying strong despite the awkward correlation to BTC.
However as time has progressed, altcoins appear to be continuing to dip, with many retracing the majority of their recent gains, so what's next for alts? Is altseason prematurely over thanks to BTC or will we see some upswing soon?
Right now altcoins in the top 10 cite losses ranging from -4% to 15% across the board: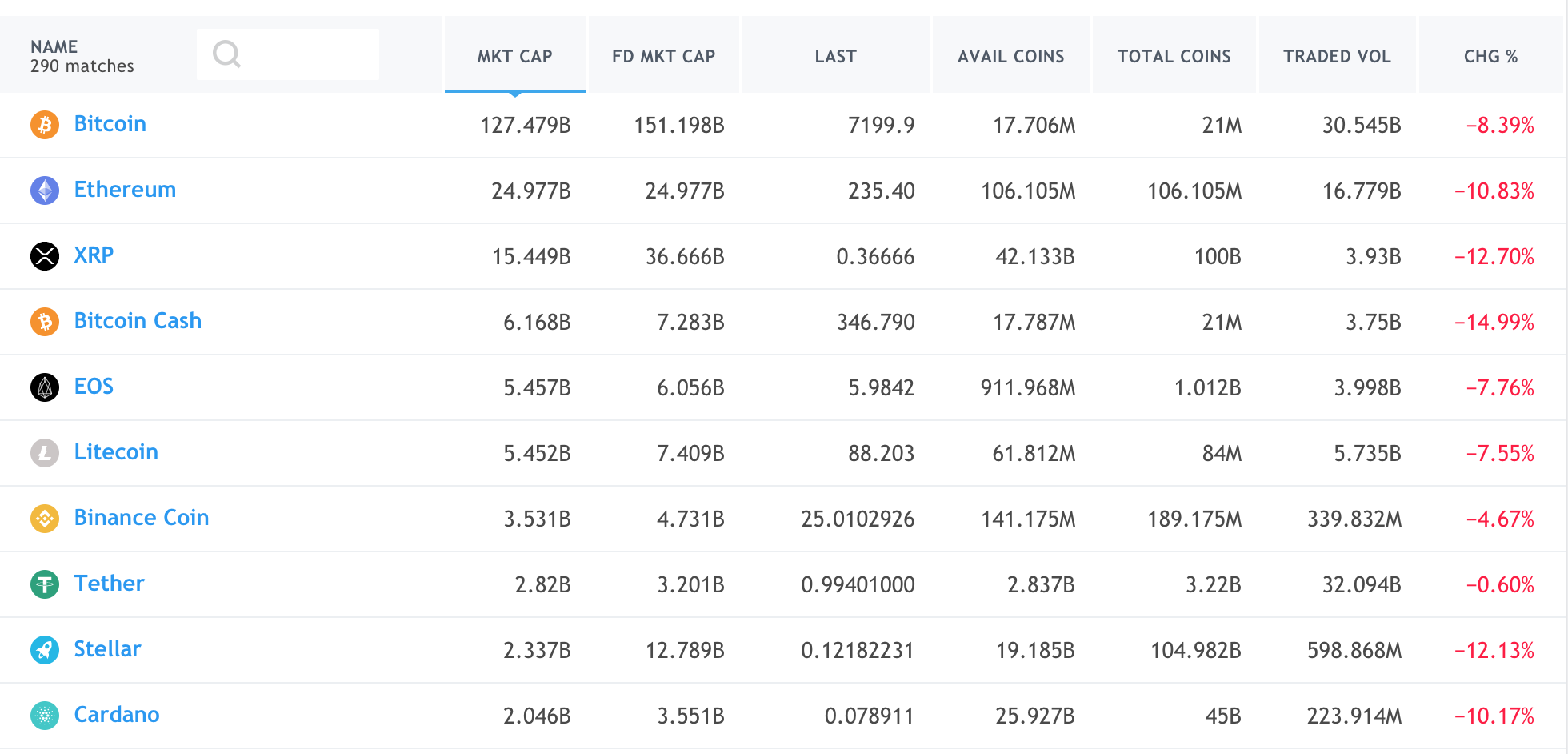 Crypto market overview provided by Tradingview
One user on twitter offered the rather blatant assumption that alts may be on the turn following the dump from BTC:
Mex alts not looking too hot.

They remained fairly unfazed earlier in response to the BTC dump, but looks like we're about to see a leg down on them.

— Hsaka (@HsakaTrades) May 17, 2019
Another suggested that alt season would truly begin only after a retrace and subsequent consolidation from Bitcoin:
Alt season begins when $BTC retraces to $5.8-6k and consolidates there. Probably early next week.#altseason#buythedip

— Crypto Leb (@leb_crypto) May 17, 2019
However, one trader saw the positive side, relaying that despite the pull back from BTC, altcoins had held their own fairly well:
So far, $alts doing great during this $BTC pull back.

Feels good, and comfort me in the idea that best opportunities are on a $alts short to mid term.

Will keep focusing on them.

— Pierre (@pierre_crypt0) May 17, 2019
Others seemed to agree:
Most altcoins are holding up strong vs the $BTC dump

Alts are looking bullish to me

— Fundamental Wolf (@FundamentalWolf) May 17, 2019
Meanwhile, as Bitcoin continues its descent below $7200, some believe that alts will break the correlation and flourish instead. One of Chepicap's resident analysts, Lourens Pepler, suggested a continued rise for alts, believing that while Bitcoin heads for lower support, altcoins may see an influx of capital as traders flood out to hedge against Bitcoin's sinking ship…
What do you think is in store for altcoins? Can altseason continue? Or have we seen the last of the gains for now...?
Let us know your thoughts in the comments!
Bitcoin to $10 likely! This is what it takes to get there Subscribe to the Chepicap YouTube Channel for more videos!


Follow Chepicap now on Twitter, YouTube, Telegram and Facebook!

Chepicap is now LIVE in Blockfolio! This is how you receive our latest news in your portfolio tracker!