Analysts have warned about Bitcoin's pullback: It's overextended
Volatility is back in crypto. In a mere hours, Bitcoin's price has gone below $7,500, even went further below to $6,800 on crypto exchange, Bitstamp.
Rumor has it that the sell-off was caused by a massive sell order placed on Bitstamp, which is shown by the price difference with the one shown on other exchanges, such as BitMEX and Coinbase.
There's also been another rumor that there's one entity or group of traders in Asia that are seeking to suppress the price through "colossal sell walls" on Bitstamp.
Data shown by Bitfinex'ed showed an occurrence on another exchange, BitMEX, where $250 million worth of longs were liquidated over the past hour. According to NewsBTC, it shows how the optimistic have been pummeled.
Two hundred and fifty million dollars in liquidated longs on Bitmex. pic.twitter.com/Nncar5KC6Y

— Bitfinex'ed (@Bitfinexed) May 17, 2019
What makes it interesting is some analysts have warned for such "incident" to happen. Renowned crypto analyst, Filb Filb said on Thursday that crypto market had topped, at least for now.
He highlighted how the long-short ratio on Bitfinex has been destroyed dramatically, which reduced the chance of a short squeeze that will push BTC price higher.
Other signs also pointed to the unlikelihood of the price to go even higher, such as bid support (buy support) that's decreasing hour-over-hour, the "shaky" parabola of BTC that has been traced for the past few months, and the decreasing volume in this embryonic market.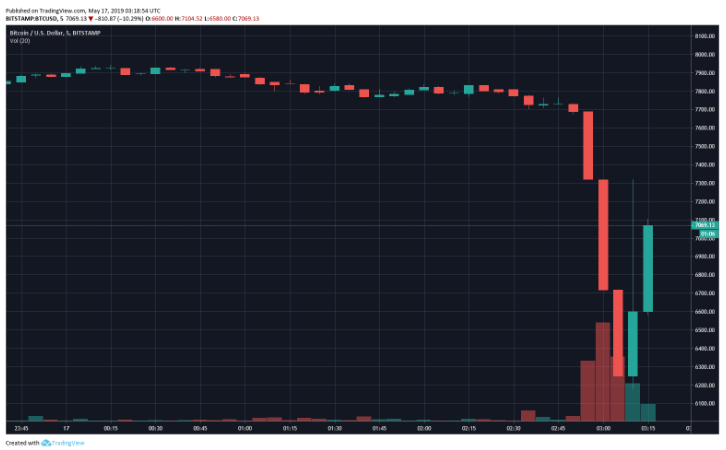 BTC/USD Chart provided by Tradingview
Filb further explained that he expected Bitcoin to retrace by 61.8% to around $5,200, which he said to be the last place to accumulate BTC, "potentially ever".
Another analyst that has a similar opinion is Josh Olszewicz of Brave New Coin, who pointed out that BTC's chart is "screaming" for a pullback to below $7,000.
The Ichimoku Cloud he's using, which is a collection of indicators used to discern trends, momentum, and key levels is showing that BTC is "overextended". "And guess what, we reached sub-$7,000 levels, before quickly bouncing higher," NewsBTC reported.
Follow Chepicap now on Twitter, YouTube, Telegram and Facebook!

Chepicap is now LIVE in Blockfolio! This is how you receive our latest news in your portfolio tracker!