Bull signs: where this Bitcoin rally puts us in the current market cycle
A few months ago Chepicap ran an article exploring where the price of Bitcoin was relative to the broader market cycle. Now, given the recent price action we have seen, it is time once again to dust off our trusty market cheat sheet and see where we may be in the ebb and flow of this cycle.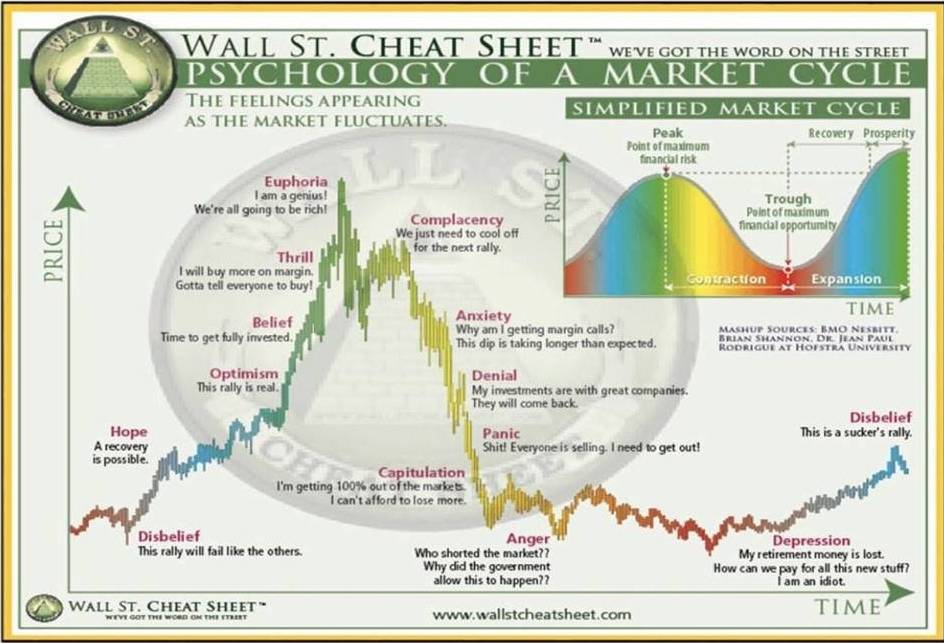 Here once again we have the "Wall St. Cheat Sheet," which gives us a nice template for the psychology of a market cycle. Obviously this is not meant to be taken too specifically, but rather give us a good idea of the "shape" of one of these cycles. For comparison, let's look at the current market cycle, going back to late 2017.
BTC/USD Chart provided by Tradingview
Now it doesn't take much to see that it appears we are somewhere between "disbelief" and "hope." So what does this mean, are we about to continue upward? Not necessarily. Even just based upon the cheat sheet, we can see that dips are always possible, even when in a bull market.
Given that, there is some reason to think that while crypto winter is almost certainly over, we could see some more downside action before the real "optimism" phase kicks in. What evidence is there for this? Well, Tone Vays recently made a case that perhaps this market has moved up too fast in the last few weeks:
"Everything going on here just doesn't feel right. I don't see new buyers coming in. Whatever is driving this makes me nervous. I'm even selling off some of my HODL position because I think this is about to correct and correct hard." - @ToneVays. https://t.co/0w3UT5wC8J pic.twitter.com/IJFUs2GVoI

— BLOCKTV (@BLOCKTVnews) May 15, 2019
If you didn't watch the video, Vays notes that we saw a similar rally near the end of the previous bear market in 2015, followed by a notable correction. To be clear, here is the rally that, at least it seems, Vays is talking about:
BTC/USD Chart provided by Tradingview
There are a few indicators that support this idea that we may be about to see another correction. First, if we compare both rallies using Fibonacci retracement, we can see that in the previous cycle the price got stopped out at the 0.236 retracement level. True, the price pushed above briefly, but then tumbled back down.
BTC/USD Chart provided by Tradingview
Now let's look at the current cycle with the same tool. Notice where we are right now, as of this writing:
BTC/USD Chart provided by Tradingview
Further note that even on the cheat sheet we see a small correction after the "disbelief" rally. If a correction came in at this point that mimicked the previous cycle, we would expect to drop down to around the 50 day moving average, at about $6,000.
None of this is a reason to worry too much mind you. For one, as we are showing, a correction here would be rather normal and healthy before we continue our ascent to the new bull run.
Another thing to keep in mind before making any trades based on these observations is that the cheat sheet is, again, just a template, and history does not always repeat itself. For example, recently the price of Bitcoin passed almost effortlessly through the 50 week moving average:
BTC/USD Chart provided by Tradingview
If this cycle were playing out exactly as the last one, then we would have been rejected off of this level and dipped back near the lows of crypto winter, between $3K and $4K. This obviously has not occurred, and anyone who had bet on it happening would have been quite wrong.
Ultimately, even though there is reason to be cautious at the current levels, all signs point to this being the beginning of the next bull run, just don't expect it to arrive too fast. Keep in mind the last couple of cycles didn't go parabolic until after a halvening event, when the Bitcoin block reward is reduced by half. This is illustrated with the following chart: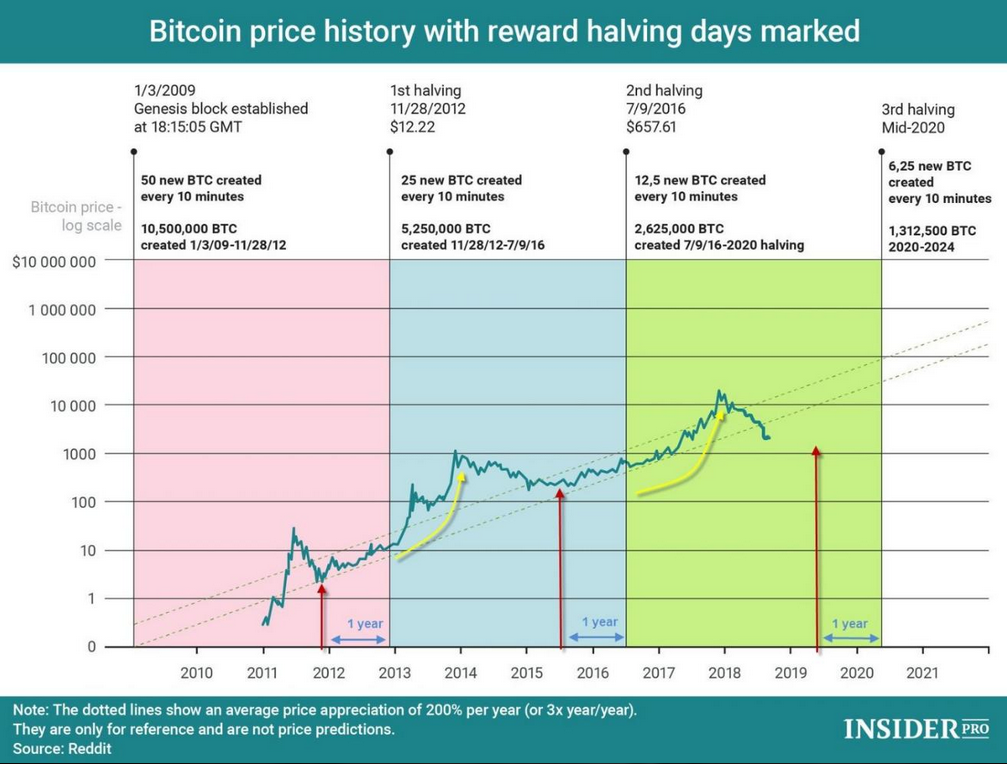 As you can see, we have about a year to go until the next halving, though this would also fit with us just having recently left the lows of the bottom of the cycle.
If it isn't clear, none of this is meant to be investment advice. Instead, it is simply observations on the nature of a market cycle supported with evidence from previous years. At the end of the day, it is each trader's responsibility to make their own, well informed decisions. However, with this information in mind you should be better prepared than anyone who is simply buying into FOMO or FUD, so good luck with those trades!
Bitcoin to $10 likely! This is what it takes to get there Subscribe to the Chepicap YouTube Channel for more videos!


Follow Chepicap now on Twitter, YouTube, Telegram and Facebook!

Chepicap is now LIVE in Blockfolio! This is how you receive our latest news in your portfolio tracker!