Chainalysis report: 376 individuals control 33% of all Ether
According to a recent study published by blockchain analysis firm Chainalysis, 33% of all Ether is owned by just 376 whales.
While these 376 individuals control a third of all circulating Ether, Chainalysis actually found this number is down from 47% in 2016.
The study further finds that while these whales have a minimal impact on the price of Ether, they do make the market more volatile on a daily basis due to their large sell-offs. Additionally, these whales account for a "paradoxically" low percentage of Ether's economic transaction activity. This is because around 60% are holding their assets or not regularly trading with exchanges.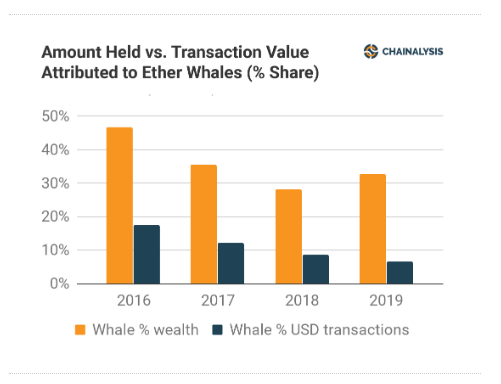 The study also found, using a vector autoregression (VAR) model – commonly used in financial time series analysis – that Ether prices tend to follow Bitcoin prices. On average, a 1% increase in Bitcoin prices today leads to a 1.1% increase in Ether prices tomorrow. However, Chainalysis found no "statistically significant" impact of Bitcoin prices on Ether's intraday volatility.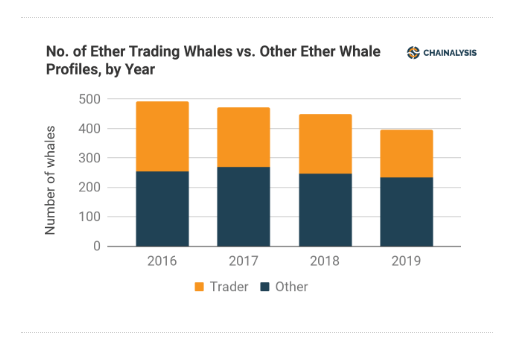 "These preliminary findings are consistent with the literature on stock market prices and volatility," Chainalysis concludes. "Academics have found that large anomalous fluctuations in traded volumes of particular stocks, notably the S&P 500, tend to impact volatility and not price levels."
ETH/USD chart provided by Tradingview
Follow Chepicap now on Twitter, YouTube, Telegram and Facebook!

Chepicap is now LIVE in Blockfolio! This is how you receive our latest news in your portfolio tracker!