Grayscale´s Q1 numbers show hedge funds are coming back into crypto
Grayscale, one of the leaders on the digital asset manager sector, has just released their numbers for the last quarter. The numbers seem to point out towards a confirmation of a pattern retracement for the influx of large investors into cryptocurrencies.
The most relevant number shared in the report sent out by the company appears to be the 42% increase in product inflow: compared to the fourth quarter of 2018 when $30.1 million went in, the first one of 2019 welcomed $42.7 million, as the graph below shows. Most of the increase appears to be coming from hedge funds, which supplied less than one million in the last quarter of 2018 but have scaled up to $24 million in the first quarter of 2019.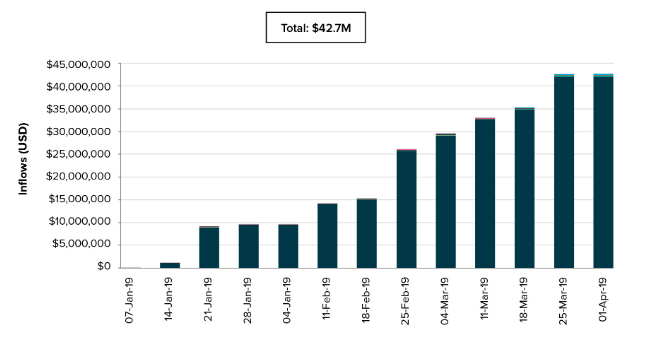 Cumulative inflows by product, Q1 2019
The nature of the customers of Grayscale makes the reports of the company a good proxy for understanding the approach of institutional investors to cryptocurrencies, given that they make up 73% of the total inflow of the company. The second most common investor profile are retirement accounts at a 18%, followed by quite some distance by family offices.
The first quarter of 2019 was the first positive one since the end of 2017 for its main products, namely the Grayscale Bitcoin Trust and the Grayscale Digital Large Cap Fund, as well as for their Fundstrat Crypto Aggregate Index. In total, 6 out of 10 investment vehicles offered by Grayscale shed returns.
Much like to rest of the market, outcomes are being much better in 2019 than during the last year for institutional investors. According to a recent report by PwC, crypto hedge funds lost up to 46% of their value.
Follow Chepicap now on Twitter, YouTube, Telegram and Facebook!

Chepicap is now LIVE in Blockfolio! This is how you receive our latest news in your portfolio tracker!