BTC above $7K, BCH surges over 20%, market cap grows by $10B in less than 24h
Cryptocurrency market sees an additional $10 billion of funds in less than 24 hours, Bitcoin breaks above $7,000.
Overall
The weekend has been good for the crypto market as it sees a $10 billion increase in its total capitalization in less than 24 hours at $215,749,303,151. Most coins in the top 100 are mostly in green, even with double digits gain, with very few exceptions, such as the stablecoins.
Top 10
The largest cryptocurrency by market cap has seen a rally these days, and it hasn't shown any signs of slowing down. Bitcoin (BTC) is valued $7.159, which is 8.44% higher than just a couple of hours ago.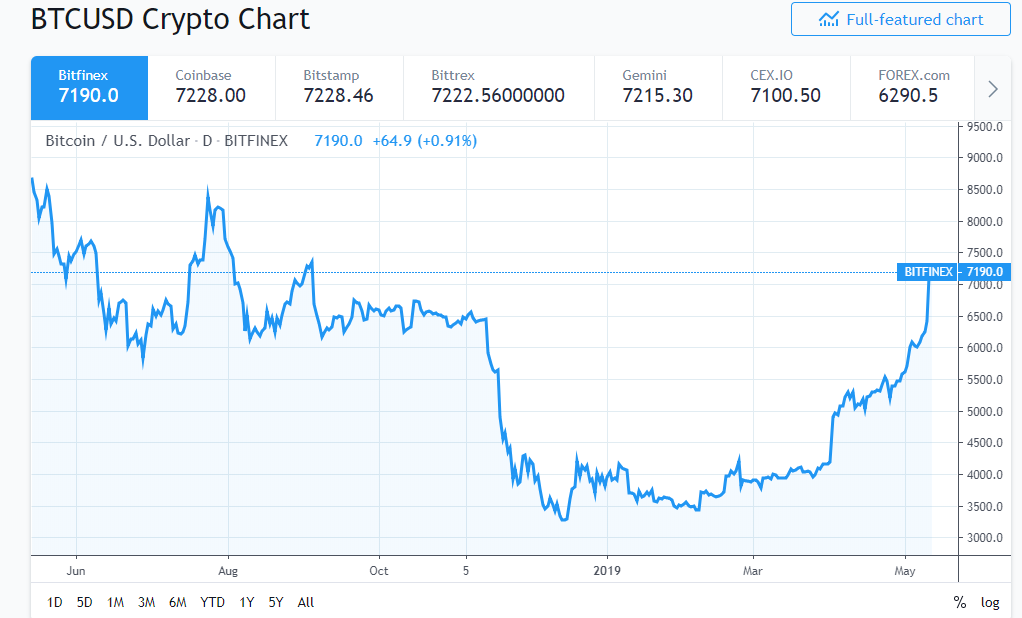 BTC/USD Chart provided by Tradingview
Almost all the top 10 coins also seem to be having a good time, except Tether (USDT) that losses by -0.42% at $0.99. The biggest gain is seen by Bitcoin Cash (BCH) with almost 21% gain that brings its value to $353.7, followed by Cardano (ADA) with 15.7% gain at $0.07 and Litecoin (LTC) with 13.39% at $89.1.
Top 100
Almost all coins in the top 100 are in the green zone, except stablecoins, such as USD Coin (USDC), True USD (TUSD), Paxos Standard (PAX) and coins like DAI, VestChain (VEST), Maximine Coin (MXM) and Revain (R).
The biggest surprise, however, comes from Everus (EVR) that sees an impressive 527.84% gain, which boosts its value to $0.12. NEXT also sees a significant 42.05% gain at $1.58, followed by Siacoin (SC) and Insight Chain (INB), both see 18% gain at $0.0029 and $0.32 respectively.
The bull market is here! Stick with Chepicap to make sure you won't miss out the next Bitcoin move.
*All prices are correct as of writing time
Follow Chepicap now on Twitter, YouTube, Telegram and Facebook!

Chepicap is now LIVE in Blockfolio! This is how you receive our latest news in your portfolio tracker!