Altcoins awakening? Bitcoin Cash, Litecoin, EOS & more on the bull train
With Bitcoin astonishing traders and breaking all the consensus forecasts, some of the main altcoins appear to be starting to show signs of an incoming bull run.
The apparently unstoppable strength which has pushed Bitcoin up to contesting the $7,000 range has triggered clear contagion signs on Litecoin and Bitcoin Cash, up to now.
As shown in the chart below, Bitcoin's market dominance has been rallying as of late, currently sitting at a 61.2% level, with Ethereum second and 10.04%, Ripple on the third place at 6.66% and Litecoin fourth at 2.71%.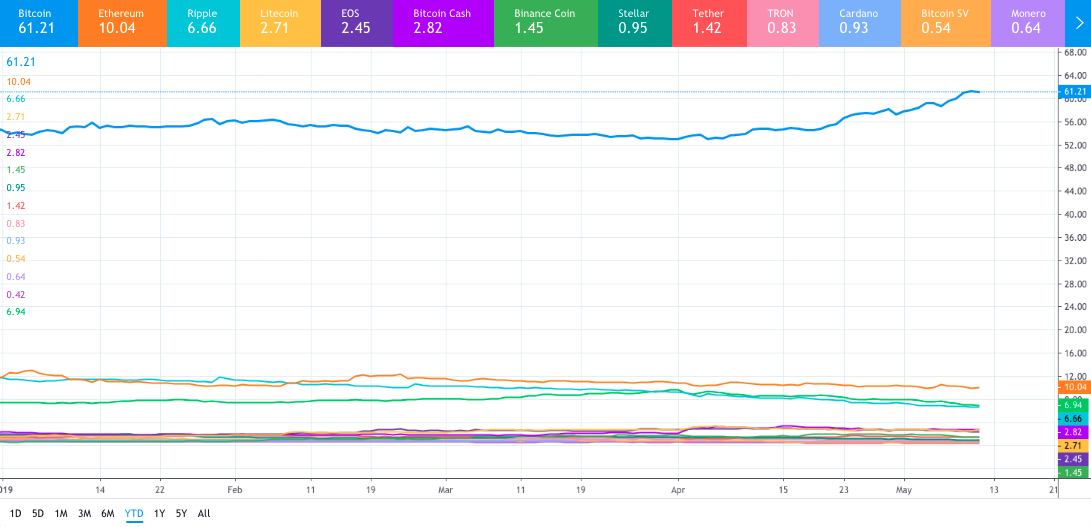 Chart provided by Tradingview
Some traders are starting to predict that the next main move from the market will be characterized by an increase of the dominance and price of altcoins, while Bitcoin waits for them to catch up keeping most of its new gains:
#Ethereum starting and following #Bitcoin.

Mid and low caps to follow soon. Most likely in the next two weeks.

What are your favourite bets?

— Crypto Rand (@crypto_rand) May 11, 2019
KEY LEVELS FOR ALT MARKET CAP

Further wipe down of Alts would see a break of the trendline - supported since the start of the year

MEANING = -18.7% for Majority of Alts

A boost to the overall Crypto Market would see a +30% to the entire AltCoins pic.twitter.com/iw1GkuTzr8

— Fintech Daddy (@fintechdaddy) May 9, 2019
Majority of #altcoins are at ATL's right now as we are towards the end of the Bear Market.

A thread for reference.
Many will regret not buying during these fearful time.

Buy the Fear, Sell the Greed. 🤔$BTT $IOTA $ADA $ETC pic.twitter.com/wL843H2kx4

— CryptoCompetent 📈 ₿ (@CryptoCompetent) May 9, 2019
$BTC / $BTC Dominance

Every time BTC spiked; #Altcoins died first; but then the inevitable happened.

This is the scenario I'm expecting; pic.twitter.com/jbVTCGJhxd

— FatihSK (@FatihSK87) May 10, 2019
Litecoin and Bitcoin Cash started the bullish push on the top 10, shown in the screenshot below, just a couple hours ago. And in the last few minutes, Cardano and EOS have added up to the gains with increases nearing 10%.

Chart provided by Tradingview
Follow Chepicap now on Twitter, YouTube, Telegram and Facebook!

Chepicap is now LIVE in Blockfolio! This is how you receive our latest news in your portfolio tracker!