Coinbase reports now that last week a vulnerability was spotted in MakerDAO
Just yesterday, Coinbase posted a blog update with extensive details on a vulnerability which posed large risks for the MakerDAO (MKR) smart contracts.
According to the version of the exchange, the weak spot was discovered during a routine security audit of smart contracts, performed by an external partner, namely Zeppelin. The auditor has also posted a blog update which describes the vulnerability from a technical perspective.
The Zeppelin post includes a clarifying timeline of how the issue was discovered, addressed, solved and only later made public, within the 22nd of April and yesterday.
April 22nd-26th: Zeppelin finds and internally validates the vulnerability.
April 26th: Zeppelin discloses the vulnerability to the Maker team, in presence of representatives of the Coinbase team.
April 30th: the Maker team presents their remediation plan to Zeppelin.
May 2nd: the Maker team shares their fixed contract and Zeppelin assesses its security.
May 6th: the vulnerability is publicly announced by the Maker team, followed by Zeppelin´s public announcement.
May 9th: Zeppelin published a technical description of the vulnerability.
According to the auditor´s description, the potential exploit of the MakerDAO voting system would have allowed a malicious actor to remove votes from proposals or to indefinitely lock other users´ MKR tokens, therefore stopping them from casting their votes. Following the release of the Coinbase update, which took place yesterday at around 10 AM (UTC), the price of Maker suffered immediate losses which have nonetheless been regained over the last hours: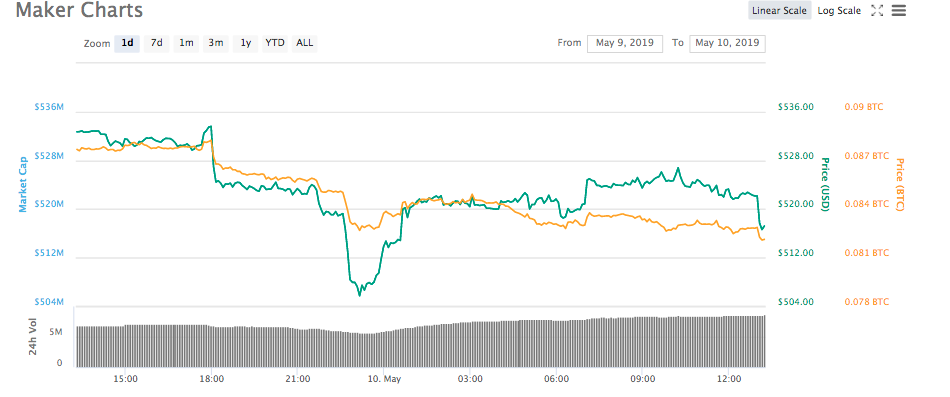 Max Keiser: BTC to $400K? Bitcoin to make new ATH with stock market about to crash Subscribe to the Chepicap YouTube Channel for more videos!


Follow Chepicap now on Twitter, YouTube, Telegram and Facebook!

Chepicap is now LIVE in Blockfolio! This is how you receive our latest news in your portfolio tracker!