The implications of a Bitcoin reorganization
Even if in the last hours it has been mostly referred to as a rollback or reorganization, the maneuver suggested by Binance CEO Changpeng Zhao after 7,000 bitcoins got stolen off the exchange can also be deemed as a mere undoing of the blockchain. There are solid technical and practical reasons for the vocal opposition that most of the crypto community has shown towards the idea.
To an observer who is not well versed on the foundations of Bitcoin and cryptocurrencies, it might seem as a reasonable option: if an illicit event such as the recent Binance hack and theft of funds takes place, it makes sense to undo the mistake and reorganize the blockchain subsequently.
But as soon as the notion of immutability gets thrown on top of the table, the debate takes a different turn. An alt-word for something which can't be changed, it is held in high esteem by most members of the community. And a Bitcoin reorganization or rollback enters in direct conflict with it due to foundational reasons.
The foundations of immutability
From a technical perspective, immutability is guaranteed by the cryptographic hash contained on each block, which chains it to the preceding one. It is precisely in those connections where the impossibility of changing the Bitcoin blockchain relies, supported by the hash ID and time stamp of each block: even the slightest alteration would render the blockchain inoperable, and the cause would be easy to pinpoint.

This is one of the key elements which grants blockchains a much superior status to other information formats such as databases, which can be easily changed, even without registering such modifications on a ledger. Under this light, the critics posed by most of the crypto community towards the proposal of reorganizing the $100,000,000,000 Bitcoin blockchain for the sake of correcting the theft of $40 million worth of Bitcoin from CZ´s exchange appears rather reasonable.
The consequences of bargaining with immutability in a blockchain reorganization
Disputes and disagreements concerning immutability issues have led to forks on several blockchains before, with perhaps the most notorious examples being Bitcoin Cash and Ethereum Classic. However, the reasons causing both splits were rather different. The first one, which took place back in August of 2017, was mostly due to the intention of increasing bitcoin's block size. Therefore, it can be assumed that die-hard Bitcoin defendants of immutability sided with the original Bitcoin blockchain back in that incident.
The split of Ethereum Classic off the main Ethereum blockchain is a similar event, but with differences in the approach towards immutability from the forking and forked sides.
Ethereum Classic appeared in July of 2016, following the theft of about $50 million worth of Ether. After a community vote, Ethereum decided to implement a hard fork in its code to enable the restitution of the stolen funds to the legitimate owners. Conversely to the Bitcoin Cash fork, advocates of immutability sided with the new token on this occasion, meanwhile those who jumped onto the Ethereum fork have taken the baton from the original project.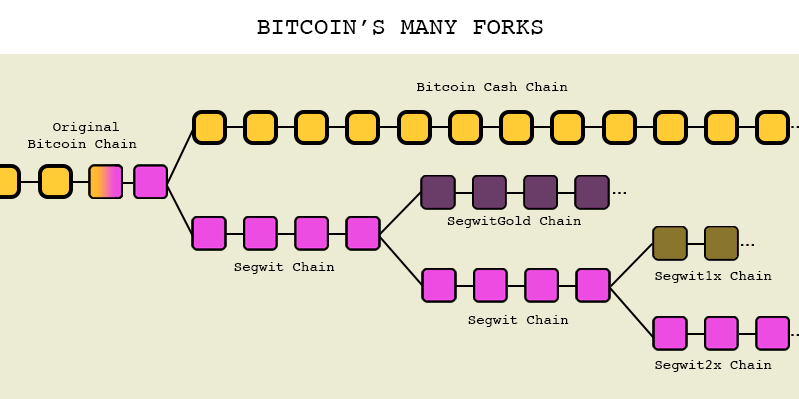 Thus, the general debate appears to be split on the crypto community between those who see blockchain reorganizations or rollbacks as something close to heresy and others who do not mind about sacrificing immutability in order to correct unwanted or illicit events. There is an underlying consideration that should be taken into account, and that is the predator-like function of hacks on Bitcoin and cryptocurrencies.
Specially in cases where funds are not stolen or given back, hacks can be interpreted as a natural consequence of a vulnerability, which helps in the evolution and strengthening process of blockchains by pinpointing areas that need improvement in a technology which is barely ten years old, or user behaviors which can be deemed as risky and need to be assessed. And even in the worst-case scenarios where assets are directly affected, the amplification in the attention and reactions of institutions and members of the space is a key trigger for improvements.
The voice of the people: an almost unanimous outcry against a Bitcoin rollback
Getting a community which is characterized for tribalism among other divisive and not very agreeable traits to agree on something requires quite a certain level of outrage. It is already surprising that CZ flirted with the idea to roll back the Bitcoin blockchain in order to retrieve his missing $40 million, but it is even more surprising to post and discuss it on Twitter, while apparently being oblivious about the possible backlash from the community:
A reorg to recover exchange losses is like a bail-out for a bank mismanaging risk.

Fortunately, it's so hard to pull off and so likely to fail that unlike banks, there won't be a bailout here.

Those who fail security get to eat the cost. #NotYourKeysNotYourCoins

— Andreas M. Antonopoulos (@aantonop) May 8, 2019
No @cz_binance @binance you should NOT rollback the Bitcoin network. Deciding whether or not to destroy the credibility of the Bitcoin network should be a no-brainer. You run a centralized exchange, you got hacked. Clean up your own mess without affecting the entire crypto space

— Heidi (@blockchainchick) May 8, 2019
CZ should rollback his statements.

— h3xmind (@h3xmind) May 9, 2019
If #bitcoin is decentralized, where can I vote on the @cz_binance reorg proposal?#eos has referendums for important decisions

Bitcoin does not

— CryptoTim (@AusCryptoTim) May 9, 2019
words that shouldn't be uttered in the same sentence as #Bitcoin

1. hard fork
2. parabolic
3. reorg
4.

— badgernaut 🍯⚡️ (@bitcoinister) May 10, 2019
Max Keiser: BTC to $400K? Bitcoin to make new ATH with stock market about to crash Subscribe to the Chepicap YouTube Channel for more videos!


Follow Chepicap now on Twitter, YouTube, Telegram and Facebook!

Chepicap is now LIVE in Blockfolio! This is how you receive our latest news in your portfolio tracker!