Bitcoin Premium: why is the price of BTC always higher on Bitfinex?
By this point many are probably aware that the crypto exchange Bitfinex often operates with a "premium" on the price of Bitcoin, not to mention other currencies. What most are less aware of is why this phenomenon occurs. Recently the Bitcoin premium on Bitfinex soared to over $300 after the latest news concerning Tether came out. Why is there such a difference from other exchanges? Why did the negative news make the premium go up? Will it always be this way? Let's take a look.
Why is there a Bitcoin premium?
For starters, let's discuss why there is a premium in the first place. It seems the premium is basically in existence because of the difficulty users have in moving fiat funds off of the platform. Even as described by the exchange itself, the process sounds rather arduous:
"To withdraw fiat currencies (USD, EUR, GBP, JPY), your account first needs to be verified. After verifying your account, simply make your way to the withdrawal page, pick a currency (USD, EUR, GBP, JPY) and fill in your wire information (name, address and banking details).
The fee structure for withdrawing fiat currencies is 0.1% of the amount withdrawn, with a minimum $60.00. Standard withdrawals are processed within 5-15 days."
Alternatively, moving crypto off of the exchange is notably quicker and more straightforward. Because of this, users will usually use crypto, often Bitcoin, as a means to get quicker access to their money. This generally drives the price up, and anyone wishing to get out will still have to accept the premium if they don't want to wait two weeks or more for their funds.
As to why the price went even higher on the Tether news, it is simply a matter of even more people wanting to either get out of Tether or off of the exchange altogether.
Here is an image, taken from CryptoGlobe, that compares how four major exchanges responded when the Bitfinex/Tether news broke: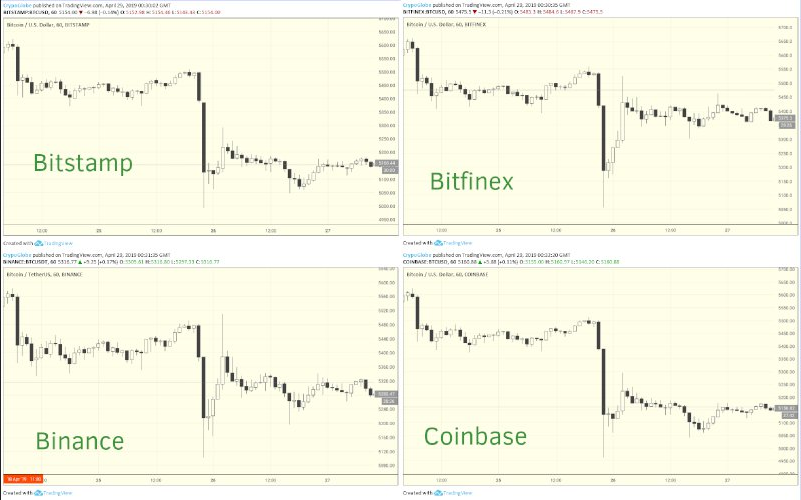 Notice how on Bitfinex the price quickly "recovered" but didn't do so anywhere else, though Binance it seems had more of a partial recovery. Binance also has a heavy Tether presence, so the belief is that what we are actually seeing is people exiting Tether for Bitcoin, which is boosting prices on exchanges where that is possible.
The following tweets explain what is happening fairly effectively:
The $BTC price difference on Bitfinex is explained perfectly by @jgarzik "It's exit buying. To get out of an exchange, one must buy "hard currency" – BTC – when fiat withdrawal methods start failing. The BTC price is therefore higher at dying exchs..." #crypto #trading

— Andy Craven (@andyscraven) April 29, 2019
People on bitfinex have to buy bitcoin to get out of tether. This increases the price of bitcoin on bitfinex comparative to other exchanges!

— Jacob Pickle (@JPicL) April 28, 2019
As to whether it will always be this way, the answer is yes as long as the same conditions exist on Bitfinex. Should fiat withdrawals become notably smoother on the exchange it likely would partially fix the problem, but some may debate that the very existence of Tether also artificially affects the price due to the mechanics just described.
Ultimately it is up to each user if they want to use the Bitfinex platform and therefore deal with the premium price. Once the reasoning behind it is understood, most users could likely see that it would have minimal effect on their profits once fully factored in, especially if they are only trading on Bitfinex. Like it or not, the premium isn't likely going anywhere soon, unless of course some major changes come to the platform. Will that happen? Stick with Chepicap for all Bitfinex updates!
Is Fidelity behind this latest Bitcoin push to $6K? Subscribe to the Chepicap YouTube Channel for more videos!


Follow Chepicap now on Twitter, YouTube, Telegram and Facebook!

Chepicap is now LIVE in Blockfolio! This is how you receive our latest news in your portfolio tracker!