When will Bitcoin hit a new all time high?
After coping with over a year of bearish sentiment and reports of Bitcoin's imminent death, the recent price rally has got the crypto community excited again, and many are predicting another historic bull run like that of 2017. Let's take a look at what the key factors might be this time around, and work out when BTC could break its previous ATH price of just under $20,000.
Four-year cycle?
Technical analysis of recent price developments for Bitcoin suggests some parallels can be drawn with the last couple of times that the top crypto peaked. It is possible that BTC may be in the early phases of another historic bull run, which could last a number of years.
Analyst Bob Loukas has identified a four-year cycle in the price movements of Bitcoin. The first such cycle began back in 2011, around the time of the launch of the first major Bitcoin exchange, Mt.Gox. The BTC price peaked about 70 percent of the way through this cycle, before falling off sharply, partly due to negative sentiment caused by Mt.Gox's eventual collapse.
This new low marked the start of a new four-year cycle, with an initial slower phase of accumulation followed by exponential price growth. BTC hit its ATH of over $19k in December of 2017, which was 75 percent of the way through the cycle, similar to the situation with the previous four-year cycle. Another similarity was that the price fell by around 80 percent, this time down to a low of around $3000 in December 2018.
$BTC Accumulation Pattern

It took Bitcoin 216 days for accumulation from bottom to spring in 2015

If this were accumulation, this week's $1000 candle would be the exact middle of 216 accumulation days and would end on July 19th, 2019

Pure speculation but fun to compare pic.twitter.com/I6YfHiqwdW

— Josh Rager 📈 (@Josh_Rager) April 5, 2019
If this analysis is to be believed, we could now be in the early accumulation phases of another four-year cycle. The previous ATH could be broken at the start of 2020, building to a new peak of around $300,000 in November 2021. A correction would then see the price pullback to $45,000.
More mainstream interest?
Last time Bitcoin broke its all-time high, a significant proportion of the new money flooding into the market came from retail investors. People with limited knowledge of crypto and blockchain technology, many of whom may have never invested in any kind of financial asset before, had been persuaded by mainstream media outlets or heard through word-of-mouth that Bitcoin was a surefire way to get rich.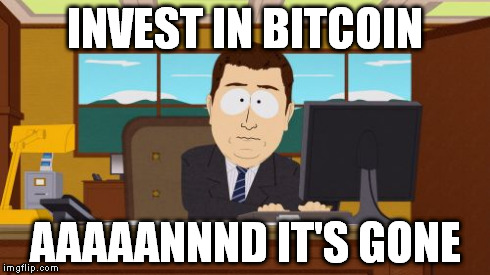 Of course, this didn't work out for a lot of these investors, some of whom threw all their life savings behind BTC. Although the exponential price growth of 2017 meant that a significant proportion of people did turn some impressive profits, just as many people were cleaned out after the bear market kicked in. BTC's reputation took a real hit outside the crypto community, and people are now wary of getting involved with 'magic internet money', which can easily be seen as a Ponzi scheme or some other type of scam.
However, recent developments could turn this around once again, and the enthusiastic mainstream sentiment towards BTC could be about to return. No less a figure than Twitter CEO Jack Dorsey has recently expressed his passion for Bitcoin, via the hugely popular Joe Rogan Experience podcast, and he has committed to hiring a team of people to work on improvements to the network. Developers and designers will be paid to make Bitcoin more efficient and accessible to the everyday user as part of Square Crypto, a subsidiary of Dorsey's payments company. Square has itself contributed greatly to the broader adoption of BTC due to the company's integration of the top crypto in its successful Cash App mobile payments platform.
I love this technology and community. I've found it to be deeply principled, purpose-driven, edgy, and…really weird. Just like the early internet! I'm excited to get to learn more directly.

— jack (@jack) March 20, 2019
Also, it could be that the reputation of Bitcoin has not suffered as much damage as previously thought. According to a recent survey, the 'millennial' 18-35 age bracket still mostly believes that BTC is a positive innovation, and as many as 20% have invested. 15 percent of those aged 35-44 have also invested in BTC, and overall awareness is up 13 percent since October 2017, towards the end of the last bull run. And let's not forget that each year brings another new wave of 'digital-native' adults who can now legally purchase Bitcoin, many of whom may not trust or understand the stock market and not see themselves ever owning real estate.
13/ Ownership:

In total, 11% of the population owns Bitcoin — including 20% of those aged 18–34 and 15% of those aged 35–44. pic.twitter.com/KXuhr7idHV

— Spencer Bogart (@CremeDeLaCrypto) April 30, 2019
With awareness still on the rise, the retail investment that was a catalyst for the last bull run could be even more significant this time around, meaning that we could surge to a new ATH even faster than expected. 2017 saw a 15x increase in just eight months, so if this new rally starts to gather steam before the end of the year, we could see a new all-time high price in early 2020.
Institutional investment
Throughout the seemingly never-ending crypto bear market, the promise of major investment from institutional finance was a light at the end of the tunnel for many in the community. The long-awaited entry of leading banks and investment firms into crypto now appears to be starting, and it is coinciding with a gradual turnaround in the market's fortunes.
The most significant developments are the launch of Fidelity's BTC custodial service, as well as the Bakkt project. Fidelity will begin to be rolled out towards the end of May, and the top pensions company has reported as many as 43% of its clients having interest in BTC investment.
As for Bakkt, the timeframe is less clear. Its launch is still likely to happen sometime this year, but frequent delays and regulatory complications have pushed this date back, and late 2019 is now a reasonable ETA for the ICE's new crypto subsidiary.
Our mission is to build the first integrated, institutional grade exchange-traded markets and custody solution for physical delivery of digital assets

— Bakkt (@Bakkt) January 16, 2019
Of course, institutional traders are wise and experienced, and they are unlikely to rush into the BTC market in the same way that retail investors did in the run-up to the last ATH. Accumulation will likely be gradual, and those established investors who are still wary of new assets will probably sit back and wait to see how early adopters of Bakkt and Fidelity's products will fare.
However, if other elements fall into place, most institutions should be warmed up to the idea of BTC by mid-2020. Once this has happened, just a small slice of the $7 trillion gold market, for example, would see Bitcoin (described by the Winklevoss Twins as "better at being gold than gold") rapidly accelerate a nascent bull run. As a conservative estimate, late 2020 is not an unlikely prediction for a new ATH.
Mining reward halving
Perhaps the most significant event in Bitcoin's development over the next few years is the halving of mining rewards. A halving is scheduled for every 210,000 blocks (roughly every four years), as laid out in the original Bitcoin whitepaper, and the next one should happen sometime in May 2020.
The halving will mean that miners receive a total of 6.25 BTC for every block mined, instead of 12.5. The effect that this has on the market price of BTC could be significant, and predicting the next Bitcoin ATH should take this into account. The halving back in 2012 led almost immediately to a major price spike, and the last halving in 2016 was the start of a cycle that led to the 2017 ATH.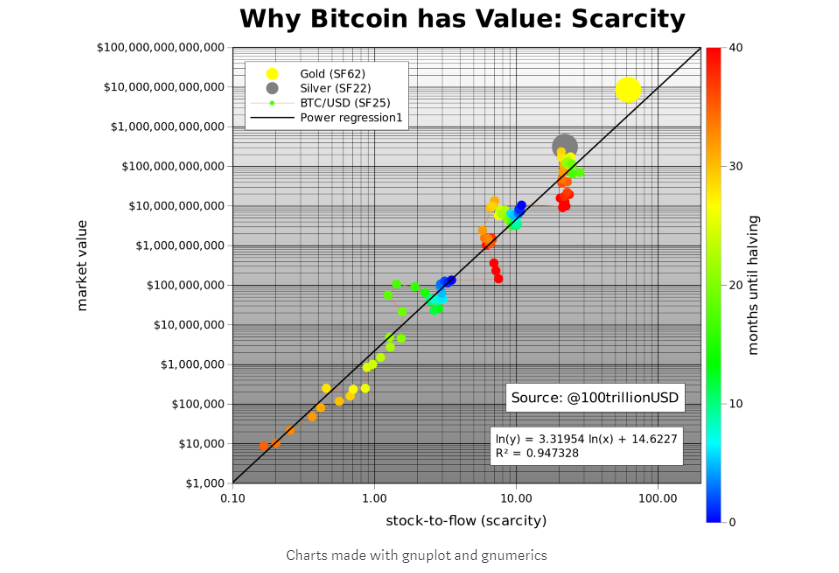 An important reason why Bitcoin has value is due to its scarcity. Halving the amount of BTC created as a reward for mining blocks means that the scarcity will increase. One analyst has used stock-to-flow as a measure of scarcity, where stock is the total number of BTC and flow is the rate at which it is mined. According to this analysis, the stock-to-flow of an asset has a strong correlation with its market value.
In December 2017, when Bitcoin hit its last ATH price, its stock-to-flow was very similar to that of silver, another asset whose value depends largely on scarcity. Its total market cap also began to approach that of silver around that time. After the next halving, BTC's stock-to-flow will double, bringing it close to the stock-to-flow of the ultimate scarcity-based asset, gold. This connection with two relatively dissimilar markets makes an even stronger case for a correlation between value and stock-to-flow.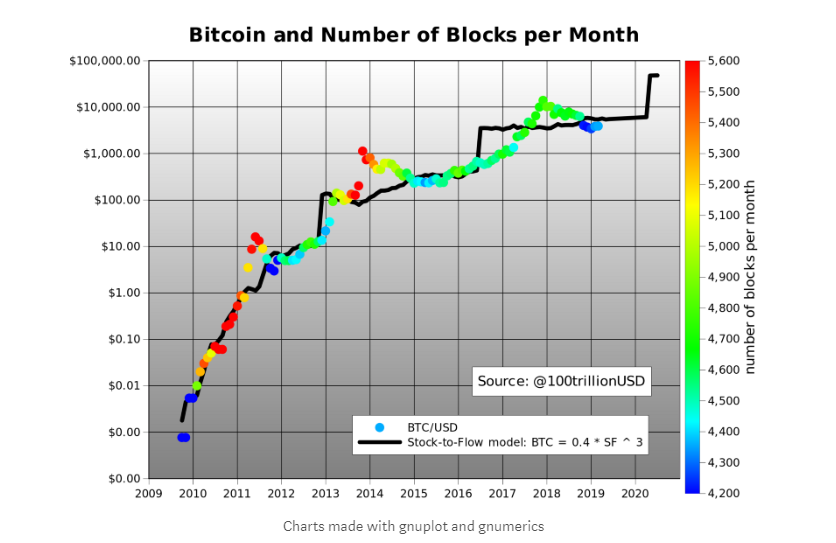 Extrapolating forward, using the correlation between stock-to-flow and price, this analysis suggests that the next Bitcoin ATH could be as high as $55,000. It predicts that this could take at least a year or so after the halving in May 2020, but that the current ATH could be broken by the end of the year.
Bitcoin breaks $6000! Watch THIS level next! $$$ Subscribe to the Chepicap YouTube Channel for more videos!


Follow Chepicap now on Twitter, YouTube, Telegram and Facebook!

Chepicap is now LIVE in Blockfolio! This is how you receive our latest news in your portfolio tracker!