Bitcoin could break $6,000 today! Adds $200 in 2 hours
The world's number one cryptocurrency is on its way to break the $6,000 price mark, after a solid day for the markets, with Ethereum taking the lead.
After what was a solid day for most major coins in the market, Bitcoin is now seemingly on its way to break $6,000.
The world's most popular cryptocurrency is currently trading at around $5,940, showing an impressive gain of 4.28% on the day.
BTC added $200 in less than two hours, which has the crypto community all excited about the possibility for Bitcoin to surge over $6,000 today.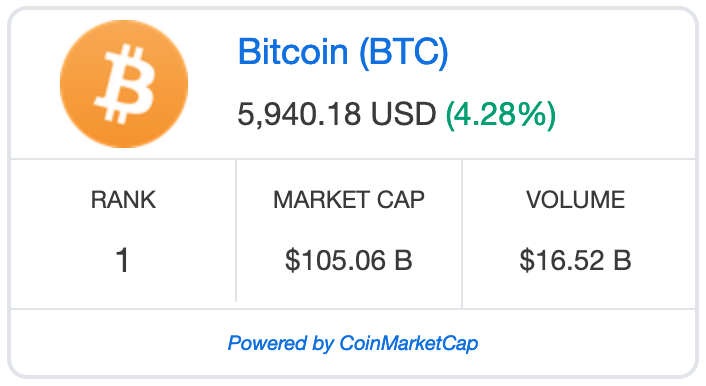 One Twitter user points out that now all exchanges are about to hit the $6,000 mark, not Just BitFinex, where Bitcoin is still trading at a $350 premium.
As mentioned earlier Now all other exchange about to hit 6000 mark anytime....@bitfinex ahead of others.... which is about to cross 6300 #btc #BTCUSD #btcnews #bitcoin #bitcoinPrediction #Crypto #cryptocurrencies #cryptoPredication https://t.co/7VMIZQLtXX

— CryptoRashifal (@CryptoRashifal) May 7, 2019
Another crypto enthusiast, as well convinced that BTC will break the significant $6,000 mark soon, states that Bitcoin will be trading with 100% gains at that point.
Looks like #Bitcoin will break soon the significant 6000$ mark.. that's 100% gain over the last bottom within 5 month #BTC #BullWalk

— Michel Sakr (@michelsakr) May 7, 2019
Other are already dreaming about the next target: $8,500.
#BITCOIN HIT 6000$ NEXT TARGET 8500$ pic.twitter.com/jx2UD3BkZw

— 🚀CRYPTO MOON🌕 (@manianban) May 7, 2019
The excitement is palpable.
#BTC is gonna break $6000!

Ohhhhh yesssss#Bitcoin #Rally #Litecoin #ethereum #Crypto #cryptocurrency #BitcoinCash #BAT #Mooning pic.twitter.com/Yg4SWQMLCk

— PoetiCal (@CalGenius) May 7, 2019
Are you'll watching bitcoin. Almost at $6000#BTC6000

— Crypto Life (@CryptoL08084197) May 7, 2019
Bitcoin back at $6000! Which means it's down merely two thirds from the Dec 2017 high. 🎉

— Mike Bird (@Birdyword) May 7, 2019
The crypto analyst and trader, Joseph Young, joins in on the excitement and points out that BTC is nearing the $6,000 price mark.
Bitcoin up nearly 5% today, nearing $6,000 😶 pic.twitter.com/mDMMKF0aDc

— Joseph Young (@iamjosephyoung) May 7, 2019
We have as well a crypto enthusiast who points out that it can still go both ways for BTC. Or a stairway to the moon or a cliff with an edge ... which one will it be? We will find out soon enough.
Current market trend for Bitcoin. Either a stairway to Moon or a cliff with an edge. It'll be interesting when it breaks $6000. pic.twitter.com/sH6hdCmHtj

— Clay Rucker (@CaptCrimson) May 7, 2019
The price of Bitcoin seems to be on the brink of breaking $6,000 for the first time since November 14th, 2018. Do you think we will see Bitcoin break the $6,000 price mark today? Let us know in the comments and poll.
TAKE OFF! 3 Potential Buys for May! Subscribe to the Chepicap YouTube Channel for more videos!


Follow Chepicap now on Twitter, YouTube, Telegram and Facebook!

Chepicap is now LIVE in Blockfolio! This is how you receive our latest news in your portfolio tracker!