Bitfinex and Tether contest $850 million fraud allegations
In an update to the Tether / Bitfinex fiasco, the parent company of the two firms, known as IFinex, has officially responded to the allegations made by the New York Attorney Generals office (NYAG), by contesting the allegations on legal grounds.
A formal response to the investigation from the NYAG depicts IFinex questioning the legal basis for the fraud allegations.
This latest controversy for sister companies Tether and Bitfinex arose following a formal investigation into the pair following the mislaying of $850 million, which was sent to a third party known as crypto capital - a Panama based crypto payments processor. Subsequently, Bitfinex dipped into its Tether (USDT) stabilizing cash reserves in order to make up for the temporarily unaccounted funds.
Of course, in the fallout, the USDT coffers were left short, forcing a statement from Tether's representative lawyers who addressed the fact that USDT is only 74% backed, giving credence to a huge point of contention with the crypto community.
Now IFinex has officially responded to this fallout, and have dammed the attorney Generals findings of fraud, asking the court for a dismissal of court proceedings based on a "wrong legal standard":
"Bitfinex and Tether moved to vacate the ex parte April 24, 2019 Order in this case because it was issued based on incomplete or incorrect facts and the wrong legal standard. Nothing in the Attorney General's opposition papers justifies the ex parte Order having been issued in the first place, or persisting any longer." The statement reads.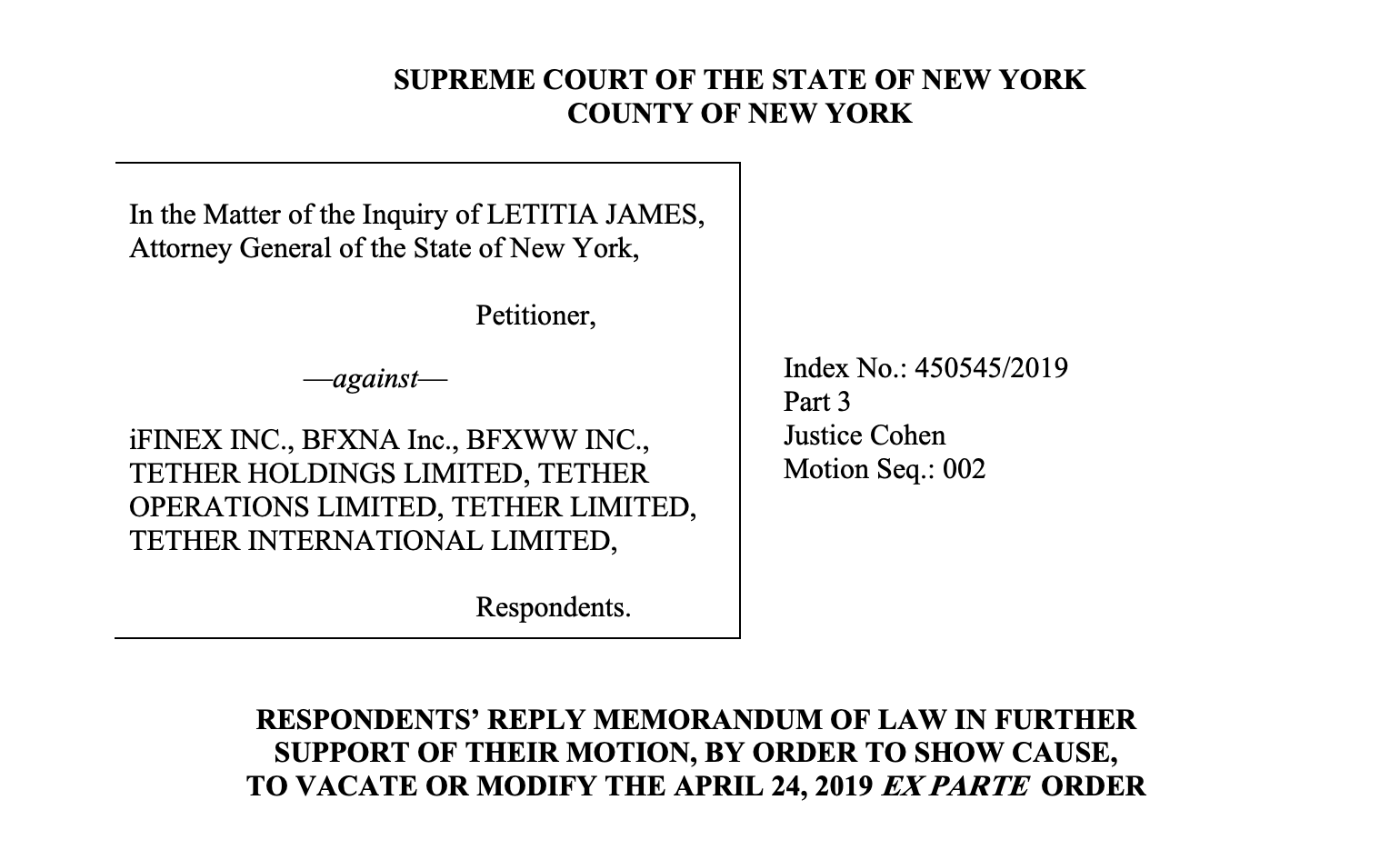 The statement continues to relay the "incorrect facts and the wrong legal standard" by addressing the idea that an explanation of USDT as securities or commodities were not given by the AG:
"the Attorney General does not even try to explain how tethers qualify as securities or commodities covered by the Martin Act. The Attorney General addresses this point only in a footnote, without any evidence, suggesting that the "fact intensive" details are better sorted out later.
This is backward: the Attorney General should not be afforded the drastic remedy of a preliminary injunction, or an order requiring the Respondents to address blunderbuss document demands, without establishing the basis for its authority to even regulate in this sphere. For this reason, the Court should vacate the April 24, 2019 Order in its entirety"
So it looks as though IFinex may (or at least believes it may) have grounds to dismiss the claims based on improper legal procedure.
In the meantime, while the fallout hasn't done much to affect the markets themselves, today Coinmarketcap took the decision to remove Bitifinex's Bitcoin price from its calculations due to its current premium of $300 compared to the wider market.
Follow Chepicap now on Twitter, YouTube, Telegram and Facebook!

Chepicap is now LIVE in Blockfolio! This is how you receive our latest news in your portfolio tracker!