BTC reaches 56% dominance - a seven month high: what does this mean?
The markets are reflecting the bloodshed typically associated with a Monday in trading today as Bitcoin dominance rises to levels not seen since July last year, and altcoins suffer as a result. But why does this happen? and what does Bitcoin dominance have to do with altcoin performance?
The market is looking fairly dreary today, with most altcoins taking the brunt of the downturn. Many within the top ten are citing dips of circa -3% such as Litecoin (LTC) down -3.68% and EOS citing a 2.93% decrease in 24 hours. The top 100 is an even more dire situation with red almost across the board.
Is this because of the rise in BTC dominance?
BTC dominance is currently citing 55.76%, citing a 7-month high, meaning the #1 is very much in control.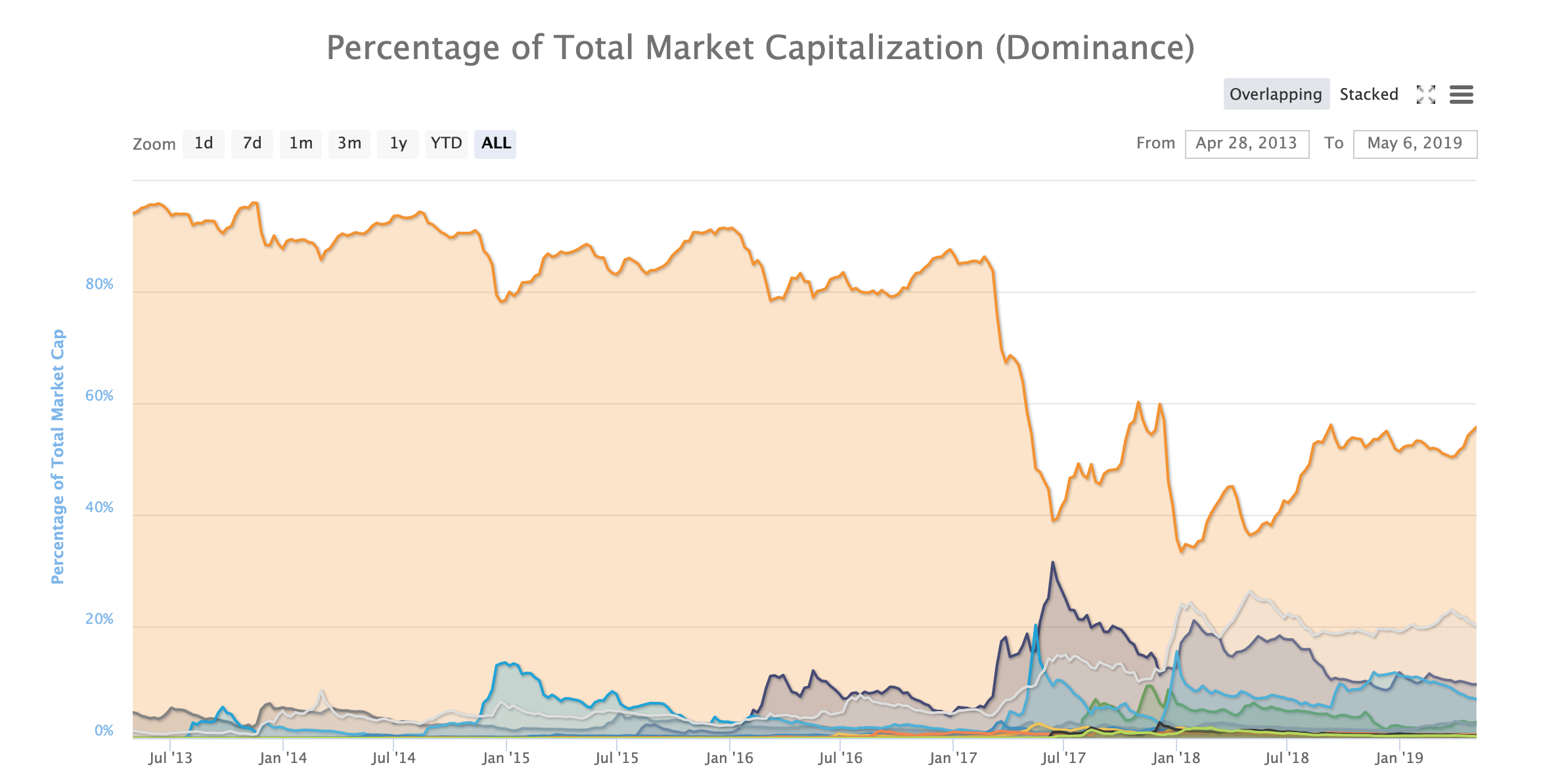 The last time BTC dominance was at these levels was back in September 2018, when dominance cited 57.86%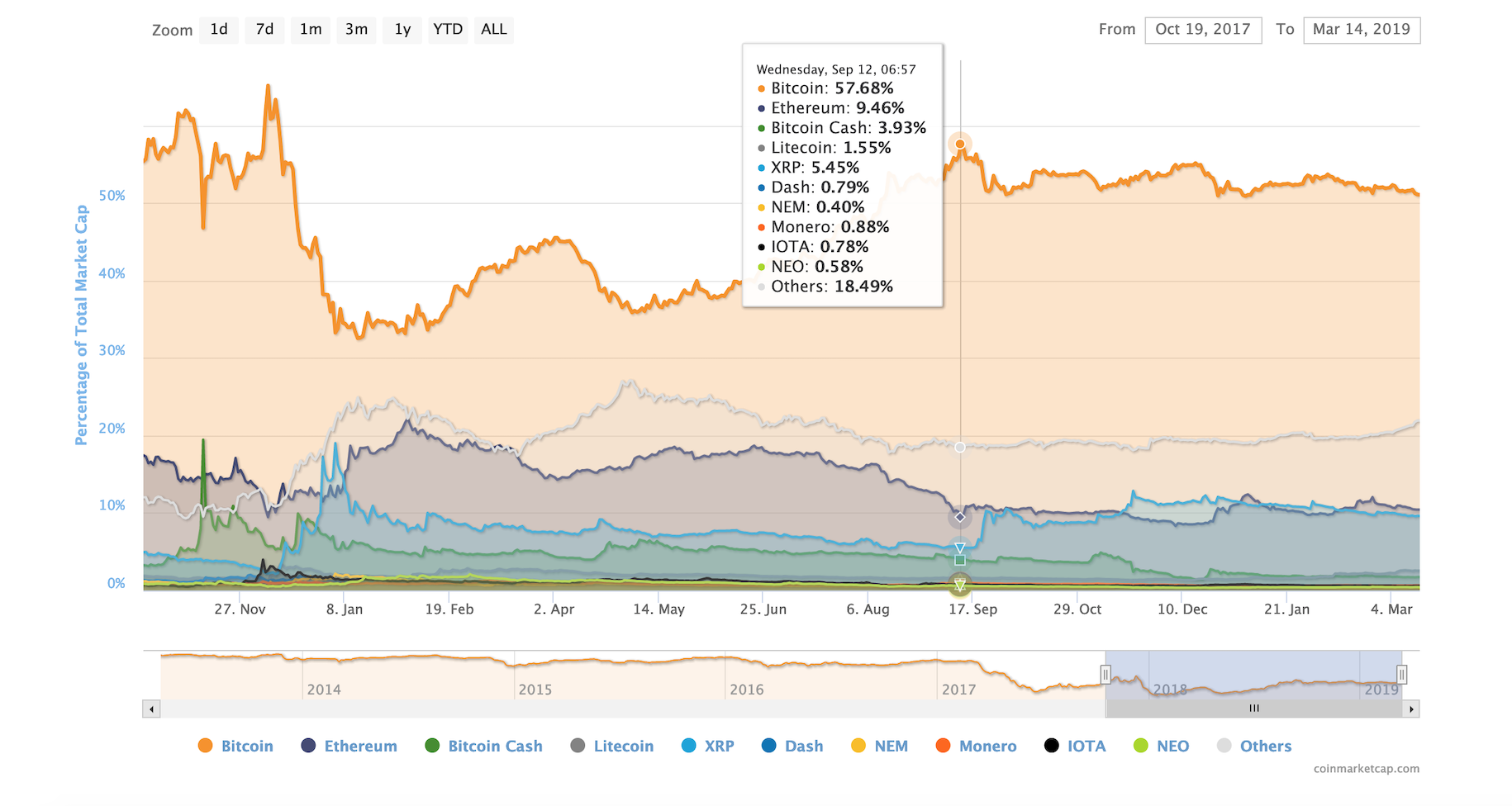 BTC dominance or lack, therefore, is often correlated to an increase in prices of altcoins; BTC dominance shares an inverse correlation with altcoin dominance with its decline is indicative of a rise in altcoins and vice versa.
BTC dominance typically increases when traders buy and hold BTC, this usually coincides with a sale of alts and thus a decrease in altcoin dominance. The opposite is true for a decrease in BTC dominance, with people either loading up on alts in exchange for BTC or selling BTC for fiat.
So on the one hand, this rise can be seen as particularly bullish with more people buying and holding BTC, on the other, the lack of trading into altcoins obviously translates to a lull for alts.
What does the community say?
BTC dominance has been a key subject of discussion of late with many analystsy pointing to this and forecasting yet more pain to come for altcoins:
One analyst believes that dominance will rise to as much as 66% before the pain stops, suggesting that many have taken their value out of altcoins and put their bets on BTC for the time being:
I have a feeling alts are going to keep bleeding until bitcoin dominance finishes its wave 5 around 61-66%.

Everyone seems to have taken profits off their alts and are focused on what bitcoin will do next... We need bitcoin to go sideways for a while for alts to pump.$BTC #BTC pic.twitter.com/iOoghrq072

— Plato (@Trader_Plato) May 6, 2019
Another seemed to back up this theory:
#Bitcoin dominance still rising, no point in longing alts here$BTC pic.twitter.com/wYCxNoakee

— MoonMan (@CtrlAltMoon) May 5, 2019
Prominent trader, Josh Rager, also laid out reasons why alts could continue to suffer due to this increase in dominance; suggesting that a slow sideways movement for BTC could cause impairments to both alts and BTC itself:
Altcoins - Personally not interested in accumulating right here

- Bitcoin dominance continues to rise

- Slow sideways movement could lead to a large BTC move either direction (cause alts to continue bleeding)

-On Monthly HTF charts, the majors (LTC, EOS, etc) don't look so hot

— Josh Rager 📈 (@Josh_Rager) April 29, 2019
So, for now, it looks as though all eyes are on BTC as it continues to dominate the market, either we'll see a continuation of BTC momentum, leading to further losses for alts, or potentially BTC could continue to move sideways.
As it stands BTC still faces the challenge of 6k resistance meaning that BTC could well see this sideways movement for a lot longer than expected, if this is the case a downward correction could be inbound.
Follow Chepicap now on Twitter, YouTube, Telegram and Facebook!

Chepicap is now LIVE in Blockfolio! This is how you receive our latest news in your portfolio tracker!