Bitcoin holding gains while red dominates the rest of the market
After a most serious looking bull run attempt which casted shadows of doubt on the dominating opinion among traders that Bitcoin was set for retesting lower price ranges, it appears as if crypto markets, specially the bulls in there, are taking a weekend break. Despite their 24 hours nature, sideways movement has left rates at a very similar point to where they were before the weekend started.
The top ten cryptos by market cap are all moving less than 4% at writing time, with EOS taking the largest hit of the group as it packs losses of around 3.5%. Bitcoin is showing once again its strength in times of red dominating the charts, as it has managed to keep most of its gains of the last days and currently it is gaining more than 0.5% on the last 24 hours.

Chart provided by Tradingview
Global market cap appears to have managed to get a hold over the same levels where it sat back on November of 2018, around the $180 billion range.

Chart provided by Tradingview
Magic Poop Cannon (MPC), the leading crypto trader on social trading platform TradingView who until very recently was putting most of the odds on a price decrease towards the $4,000 range against the currently ongoing push for $6,000, published a couple days ago a long-term analysis for Bitcoin along the rest of the year.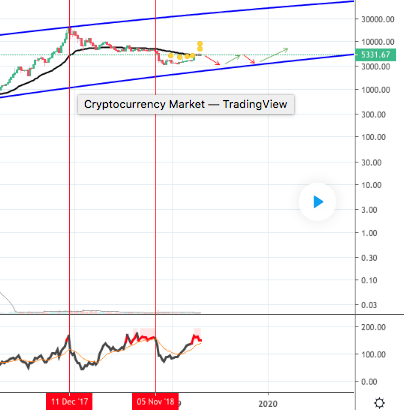 Chart provided by Tradingview
"I think there is a high probability that Bitcoin will once again return to the bottom blue arch, before entering the next bull market. From my view, that could happen at 3000 or even lower, depending on how fast BTC moves down from here. Now, I don't really think we will dip below 3000, but it is definitely possible. Especially since the bottom of the arch is still well below 3000".
His price predictions, siding with those of highlighted crypto personalities such as Anthony Pompliano, point towards a mostly sideways price action for the rest of the year, with lows on the lower $3,000 range against highs below $6,000, which should be followed by a strong bull run in the beginning of 2020.
Follow Chepicap now on Twitter, YouTube, Telegram and Facebook!

Chepicap is now LIVE in Blockfolio! This is how you receive our latest news in your portfolio tracker!