US DOJ to detain man allegedly connected with Crypto Capital, Bitfinex
It has been reported by Coindesk that United States prosecutors have filed a memorandum in support of detention for one Reginald Fowler, who is accused of operating an unliscensed money transmission system that may have procossed funds for Crypto Capital and Bitfinex.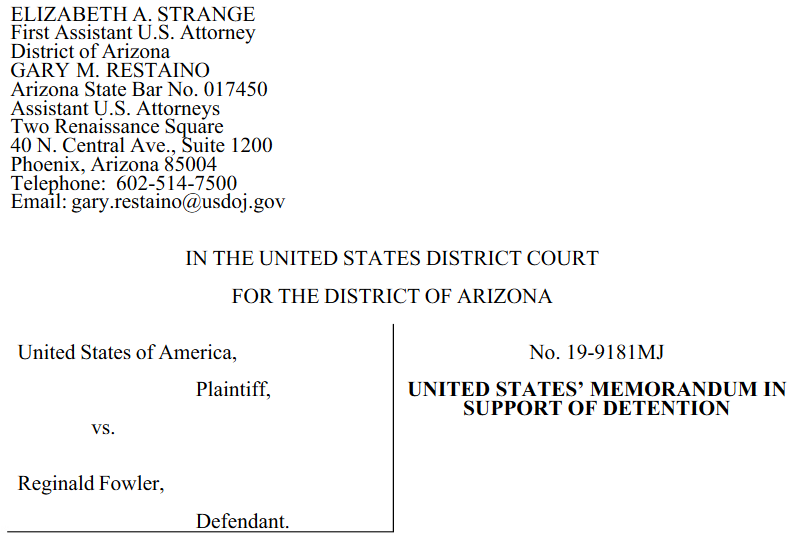 The entire filing can be read here. In it, the case is made that Fowler poses a flight risk and should be detained. The reasoning given is laid out in the document as follows:
"The United States submits that detention is appropriate for the following reasons: (1) the nature of the instant offense and the strength of the evidence against Defendant; (2) Defendant's financial resources and ties to other countries; (3) evidence that Defendant has already taken steps to impede this investigation; and (4) evidence of Defendant's involvement in other criminal schemes. For these reasons, among others, Defendant is an atypical white collar defendant and poses a significant flight risk."
The charges which are being brought against Fowler include bank fraud, conspiracy to commit bank fraud, operation of an unlicensed money transmitting business, and conspiracy to operate an unlicensed money transmitting business. The DOJ has apparently uncovered a "workbook" detailing the operations of the illicit company, and has identified 60 different bank accounts, foreign and domestic, totalling $345 million between them.
There are also allegations that Fowler may have been an operator at now infamous Crypto Capital and been involved with the payment processing of Bitfinex. In fact, it has been speculated that the investigation into Fowler may have aided in the investigation that led to the freezing of Crypto Capital's funds and the subsequent drama with Bitfinex.
At this point, Fowler has been arrested and if found guilty, could face up to 30 years in prison. However, the case has yet to get underway, but when it does, stick with Chepicap for all updates!
Billionaires lose $272 million and $130 million on Bitcoin! And Elon LOVES Ethereum... Subscribe to the Chepicap YouTube Channel for more videos!


Follow Chepicap now on Twitter, YouTube, Telegram and Facebook!

Chepicap is now LIVE in Blockfolio! This is how you receive our latest news in your portfolio tracker!