Markets trading sideways, BTC holds above $5,200, IOTA up 15%
The cryptocurrency markets have been moving sideways over the weekend, as today we hit the Friday's low levels again. BTC seems to struggle to break through $5,300 but is holding well above the $5,200 price mark, while IOTA keeps defying the market with a 15% gain on the day.
Looking at the charts we can see that the market is mostly trading in the horizontal range from Friday, which we saw occur after the sharp decrease from around $179 billion levels, due to the Tether and BitFinex 'fraud' news.
However, the market is mostly in the red today as we did see a $4.25 billion drop from today's high at around $171,8 billion. The total cryptocurrency market capitalization has slightly recovered since then, and is now sitting at $168,501,407,804.
Cryptocurrency global chart provided by Tradingview
The world's most popular cryptocurrency, is down -0.67% on the day, and is currently trading at around $5,238, following a slight uptick in price, where Bitcoin reached an intraday high of $5,309 earlier on the day.
Bitcoin's dominance on crypto markets is 55%, up from 54.5% since this morning.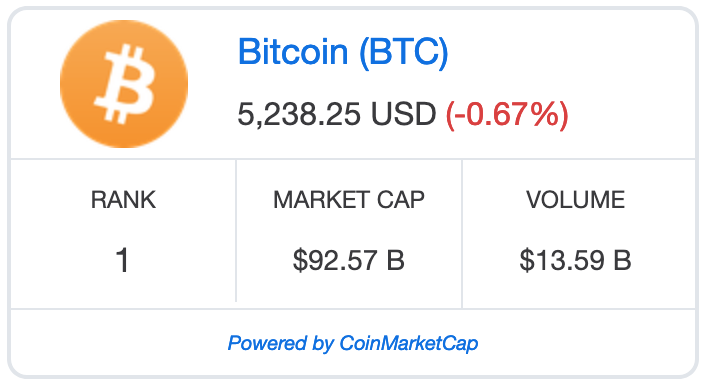 While most of the top 20 cryptocurrencies are showing red candlesticks, IOTA keeps on defying the market and has surged almost 16% over the past 24 hours.
This thanks to the news of British car manufacturer Jaguar Land Rover who is creating a smart wallet which will allow drivers to earn IOTA tokens for reporting useful data. It was also announced that drivers could also receive IOTA in exchange for participating in ridesharing schemes. The earned IOTA tokens can then be used to pay for tolls, parking, and charging for electric vehicles.
IOTA is currently trading at $0.30, up more than 15% on the day, with a total market cap of $852 million, while sitting comfortably at spot 15 in the ranking list.
Learn more about the IOTA + Jaguar Land Rover partnership with "Earn as you Drive," and JLR's "Destination Zero" vision to avoid accidents, congestion and emissions in the future of mobility. https://t.co/w1xSnQpSKf
Watch the video:https://t.co/OqEJoVJmbI#IOTA #jaguarlandrover

— IOTA (@iotatoken) April 29, 2019
Follow Chepicap now on Twitter, YouTube, Telegram and Facebook!

Chepicap is now LIVE in Blockfolio! This is how you receive our latest news in your portfolio tracker!