The crypto market takes a nosedive with $4 billion shaved off; BCH down 8%
As was somewhat expected within the technical analysis circles of the crypto community, the market is appearing to take a turn for the worse. Most major cryptocurrencies are down with the exception of a few such as NEO and IOTA, due to their various partnerships. Bitcoin Cash has been hit the worse, seemingly retracting its weeks of gains.
The total cryptocurrency market capitalization is down to around $164 billion from the $168 billion it was citing this morning at around 10 AM UTC, a $4 billion loss in 4 hours.
Cryptocurrency global chart provided by Tradingview
Bitcoin (BTC) currently cites a fairly unsubstantial 24 hour drop of -1.28% down to a price of $5419.
BTC/USD chart provided by Tradingview
Many analysts have echoed sentiment situated around Bitcoin's Relative Strength Index (RSI) which apparently leans to BTC being oversold, a technical indicator that typically correlates with a move downward.
Bitcoin Cash (BCH) is citing the heaviest losses today, currently down -7.39% to a price of around $233.
Within the rest of the top 10, Ethereum (ETH), XRP, EOS, Litecoin (LTC), Binance Coin (BNB), Stellar (XLM) and Cardano (ADA) are all reporting losses of -2.29%, -1.37%, -4.40%, -3.89%, -5.86%, -1.60%, and -5.09%, respectively on the 24-hour charts.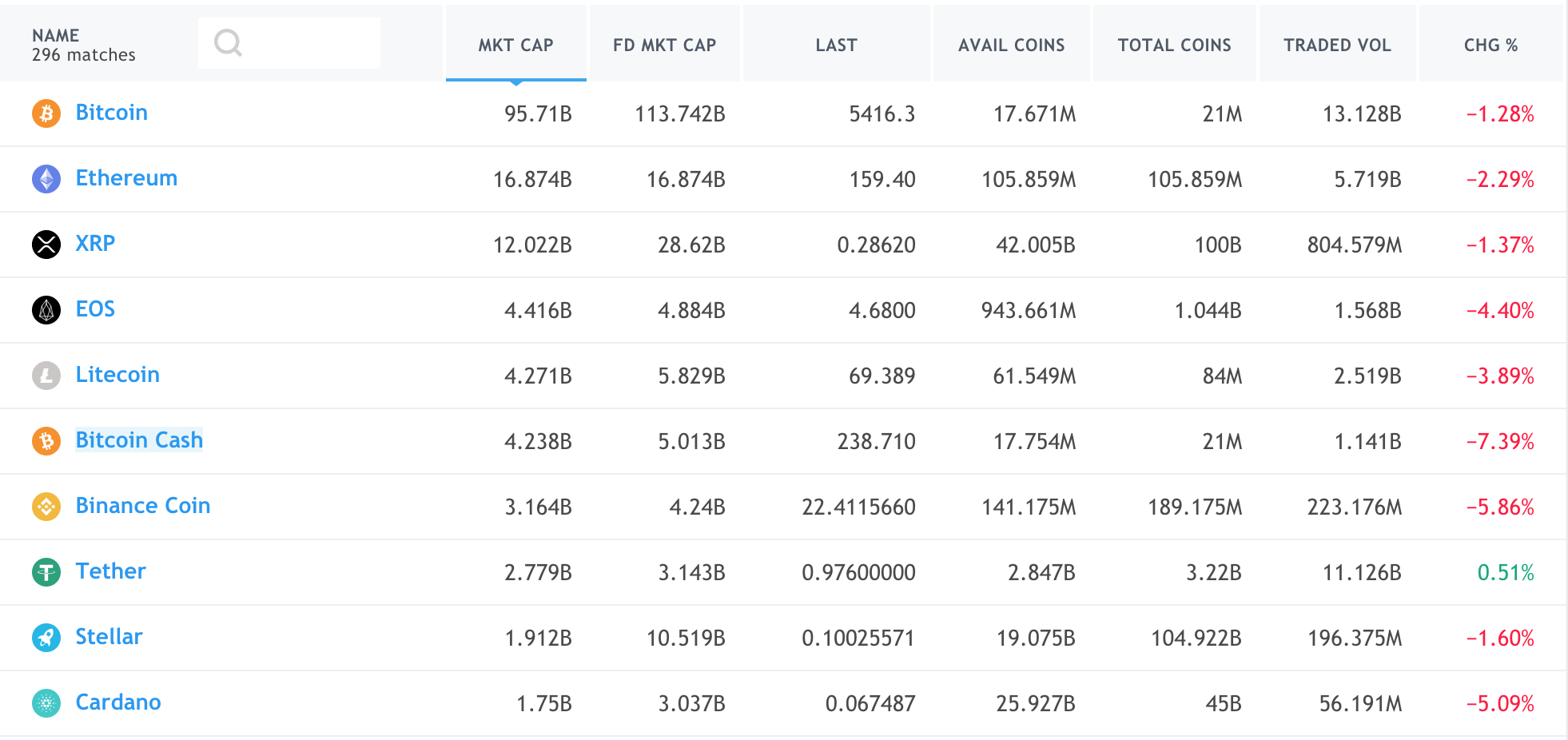 Market overview provided by Tradingview
Outside of the top 10, IOTA (MIOTA) and NEO are among the only cryptocurrenies citing positive gains, most likely due to their respective partnerships.
IOTA (MIOTA) is currently defying the market, gaining an impressive +10.19% in 24 hours.
IOTA/USD Chart provided by Tradingview
This is thanks to the news of Jaguar Rover creating a smart wallet which allows drivers to earn IOTA tokens for reporting useful data.
Jaguar Land Rover partners with IOTA Foundation to integrate Smart Wallets into carshttps://t.co/oLUg9bVmP6#IOTA #JaguarLandRover pic.twitter.com/k4iuh79ZwC

— IOTA (@iotatoken) April 29, 2019
NEO is also relaying some positive growth up +2.41% in 24 hours, after a partnership with London based fintech company Zeux; which has enabled the use of NEO within both Samsung Pay and Apple Pay:
We are excited to announce our partnership with @neo_blockchain to push #massadoption of #crypto #payment! https://t.co/uQ6gqAyg60@frankjzhou @dahongfei @neoerikzhang @NEO_Foundation @NEOnewstoday #fintech #paytech #cryptocurrency #Zeux

— Zeux (@ZeuxApp) April 29, 2019
Follow Chepicap now on Twitter, YouTube, Telegram and Facebook!

Chepicap is now LIVE in Blockfolio! This is how you receive our latest news in your portfolio tracker!