Stablecoins rise in volume and price following the Bitfinex 'fraud' news
Stablecoin pairs, other than Tether, have seen a sudden increase in price, following the news that an investigation against Bitfinex and Tether has being launched.
Due to the Bitfinex 'fraud' news, stablecoin pairs have experienced a sudden upwards price push, which led to TrueUSD, USD Coin, StableUSD and Paxos to trade at a 2% premium on average.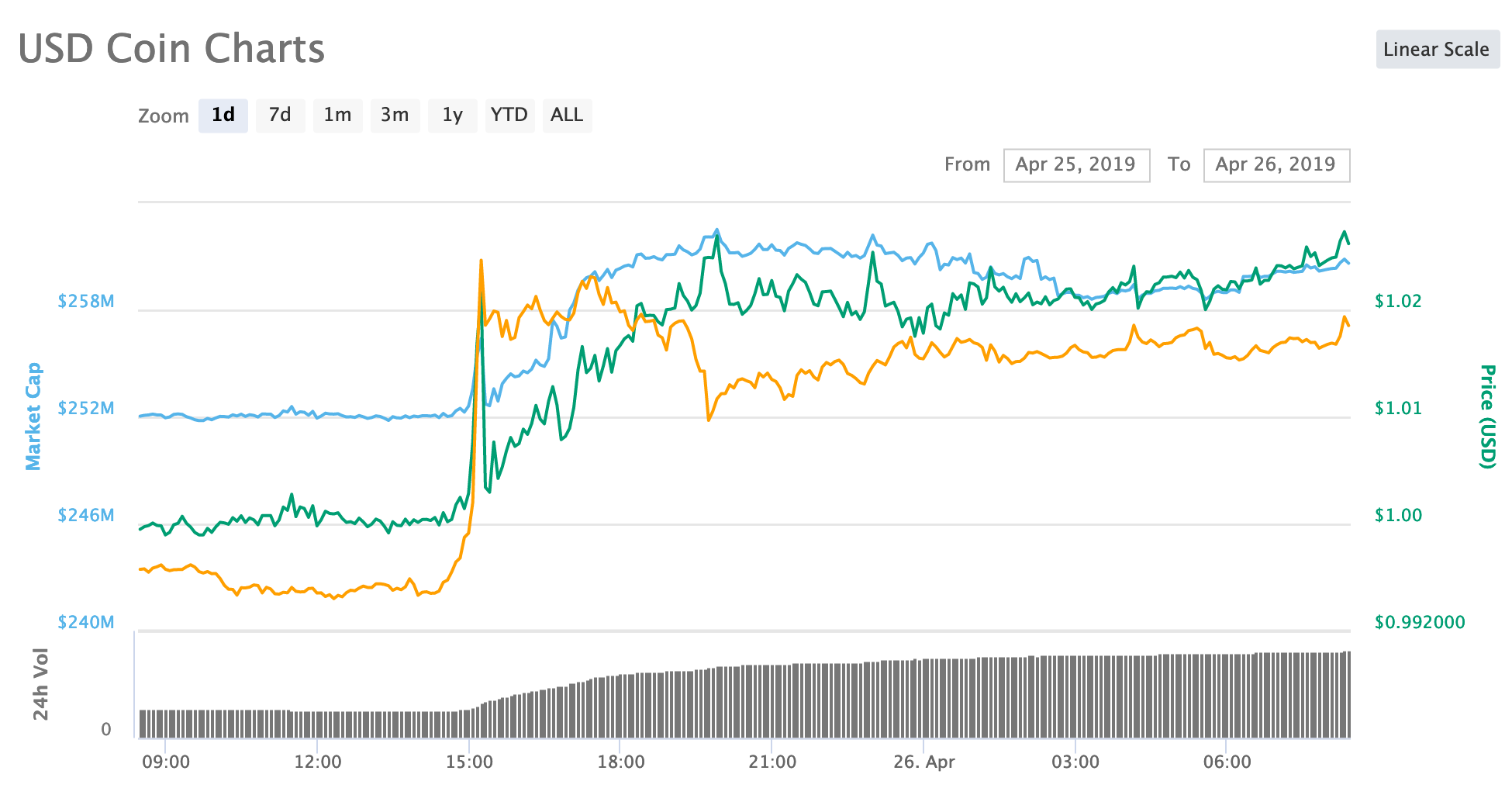 The 2% price jump happened right after the New York State Attorney General Letitia James released a court order against iFinex, the company behind cryptocurrency exchange Bitfinex and stablecoin Tether, where it became clear that Bitfinex is being investigated over an alleged cover up of $850 million by printing Tether funds.
Chepicap previously reported that according to the court order, Bitfinex sent $850 million of customer and corporate funds to Crypto Capital, a Panama-based payment processor holding funds from different exchanges, didn't get the funds back, and accessed $900 million Tether cash reserves to cover up the loss.
Bitfinex and Tether both came forward and posted an official response claiming that both Bitfinex and Tether are financially strong and that the court filings were written in bad faith and are riddled with false assertions and added that they have been informed that these Crypto Capital amounts are not lost but have been, in fact, seized and safeguarded.
Crypto analyst and investor, took to Twitter to point out the fact that the volume of other stablecoins on major crypto exchanges like Binance are seeing an uptick in price right now.
'When one slips, others can emerge as alternatives', he tweeted.
Volume of other stablecoins on major crypto exchanges like Binance rising now.

Competition is crucial in any market. When one slips, others can emerge as alternatives. In this case, argument can be made that alternatives like GUSD and PAX are better: regulated & transparent. pic.twitter.com/lE4fUA5p68

— Joseph Young (@iamjosephyoung) April 26, 2019
The Bitcoin GOLDEN CROSS! What will happen with the price? $$$ Subscribe to the Chepicap YouTube Channel for more videos!


Follow Chepicap now on Twitter, YouTube, Telegram and Facebook!

Chepicap is now LIVE in Blockfolio! This is how you receive our latest news in your portfolio tracker!