Ripple Q1 report in, sold $169.42 million worth of XRP in Q1 2019
Ripple recently announced in its Q1 2019 XRP Markets Report, that it has sold $169.42 million worth of XRP in Q1 2019, which accounts for 0.32% of global XRP volume.
The San Francisco-based, blockchain payments startup Ripple, announced the sale of $169.42 million worth of XRP tokens in Q1 2019.
Ripple highlighted in its most recent market report, that 3 billion XRP were released out of cryptographic escrow, 2.30 billion returned to escrow, and that XRP is now listed on approximately 120 exchanges worldwide.
'The remaining 700 million XRP are being used in a variety of ways to help support the XRP ecosystem', the report states.
According to the Block, in Q1 2019, Ripple sold $61.93 million of XRP in institutional direct sales and $107.49 million of XRP in programmatic sales. In total, the company sold $169.42 million of XRP in Q1, which turns out to be the highest quarterly sum that Ripple has ever sold.
The second highest amount of XRP was sold by Ripple in Q1 2018 as shown in the below graphic.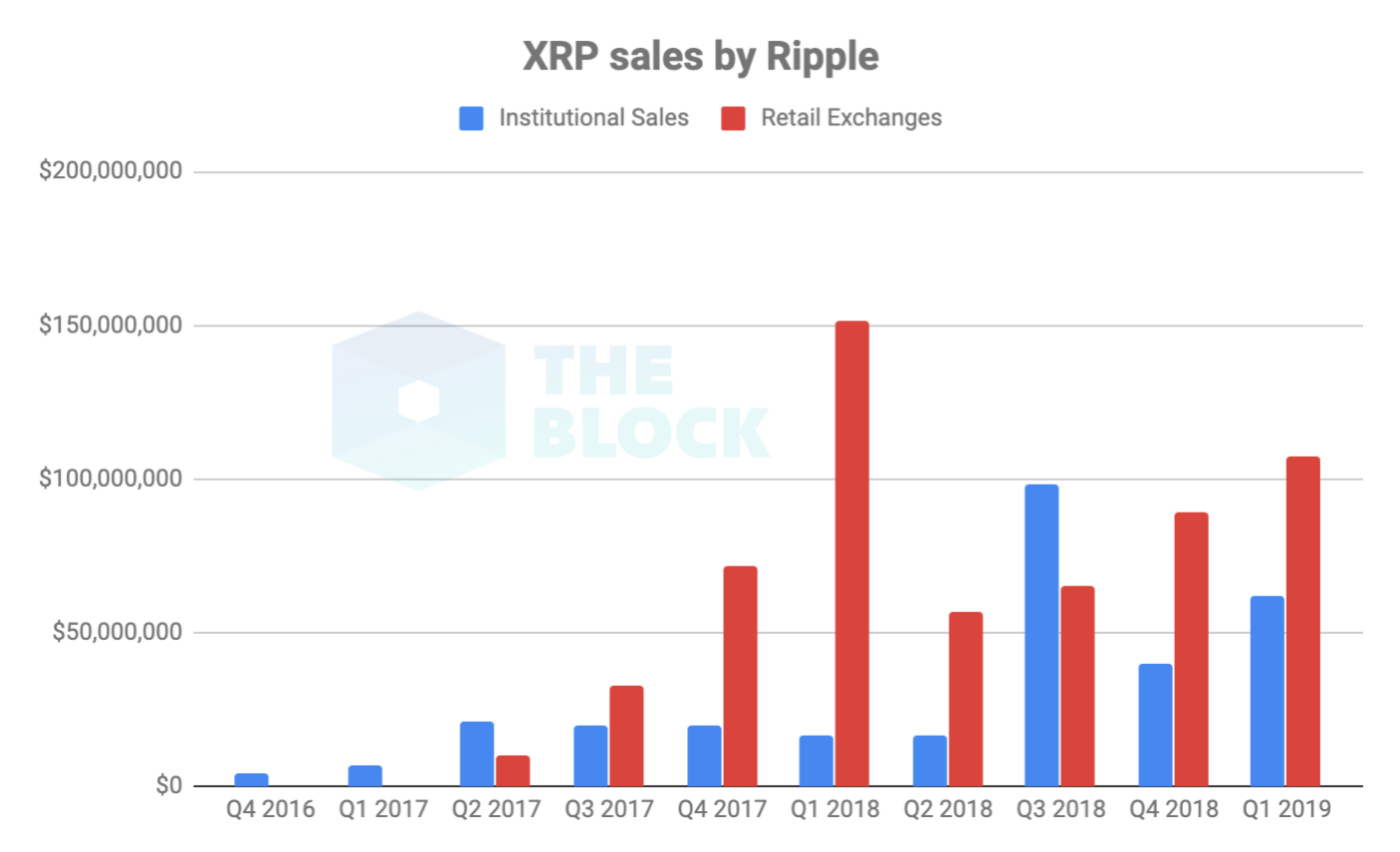 The report further states that although the price of XRP decreased, the average XRP daily volume was $595.28 million which is on par with XRP daily volume from Q4 2018.
Ripple points out that during the so-called 'crypto winter', blockchain and crypto companies, especially those without a clear use case or utility, were forced to shift business and product goals and/or abandon their projects.
'Overall, this is positive for the industry as legitimate businesses gain traction and scams and non-businesses fall by the wayside.'
The Q1 '19 XRP Markets Report shows low volatility, steady volume and diverse growth across the XRP ecosystem. More here: https://t.co/WtxAvalPjP pic.twitter.com/8IrsMlbPCX

— Ripple (@Ripple) April 24, 2019
As of writing time, XRP is the third largest crypto by market cap with a total cap of just above $12.7 billion, and is currently trading at $0.30, with a 24-hour trading volume of alittle more than $1 billion.
Stick with Chepicap for any and all updates on one of the most hotly debated cryptocurrencies!
The Bitcoin GOLDEN CROSS! What will happen with the price? $$$ Subscribe to the Chepicap YouTube Channel for more videos!


Follow Chepicap now on Twitter, YouTube, Telegram and Facebook!

Chepicap is now LIVE in Blockfolio! This is how you receive our latest news in your portfolio tracker!