Have we just started a 4-year cycle? Bitcoin to reach $300,000 in 2021
While technical analysis is far from a perfect art, it can give us an insight into the leanings of an asset, its likely support, resistance levels, indications of a reversal, etcetera. However, for the most part, day trading is a special kind of hell reserved only for the kind of sadomasochists that choose to visit. But what if there was a clear indication tailored for long term HODLers? A pattern so distinctive that it's bound to repeat? That is the promise of the 4-year cycle...
Bob Loukas, a technical analysis expert with 25 years of experience, claims to hold this holy grail, a technique for trading so rare, and simultaneously easy, it only requires two fundamental elements: holding and waiting.
For ten years Loukas has dedicated himself to the study of cycles within asset classes including equities, the US dollar, and most recently, Bitcoin.
The 4-year cycle
A cycle is typically classified as a replicating event, such a price low or high which repeats regularly over a specified period of time.
Now, unless you're an ostracized hermit completely cut off from society (and an internet connection) you may have noticed that cryptocurrencies have continued to rise in price since the start of 2019, with altcoins such as EOS, ontology (ONT), Litecoin (LTC), citing gains upward of 100%, and Bitcoin (BTC) up more than 40% after an early April pump.
This is important, not only because the market is showing positive signs of life for the first time in over a year, but because it signifies that this extremely bullish cycle may have already started. While the idea of a predictable cycle within crypto may seem ludicrous, the historical evidence appears to prove otherwise.
The first 4-year cycle formed back in 2011, following the emergence of MT Gox and the ascent of Bitcoin's price discovery.
Within that first cycle, BTC experienced a bull trend which lasted approximately 142 weeks (or 70% of that 4-year cycle). This was shortly followed by 59 weeks of bear market, starting off with a 50% retracement from an all-time high of $1200 set weeks prior. Eventually, the market capitulated, with BTC citing a discount of 86% from its previous high, to a bottom at the end of the 52-week bear season of $120. Sound familiar? It should do.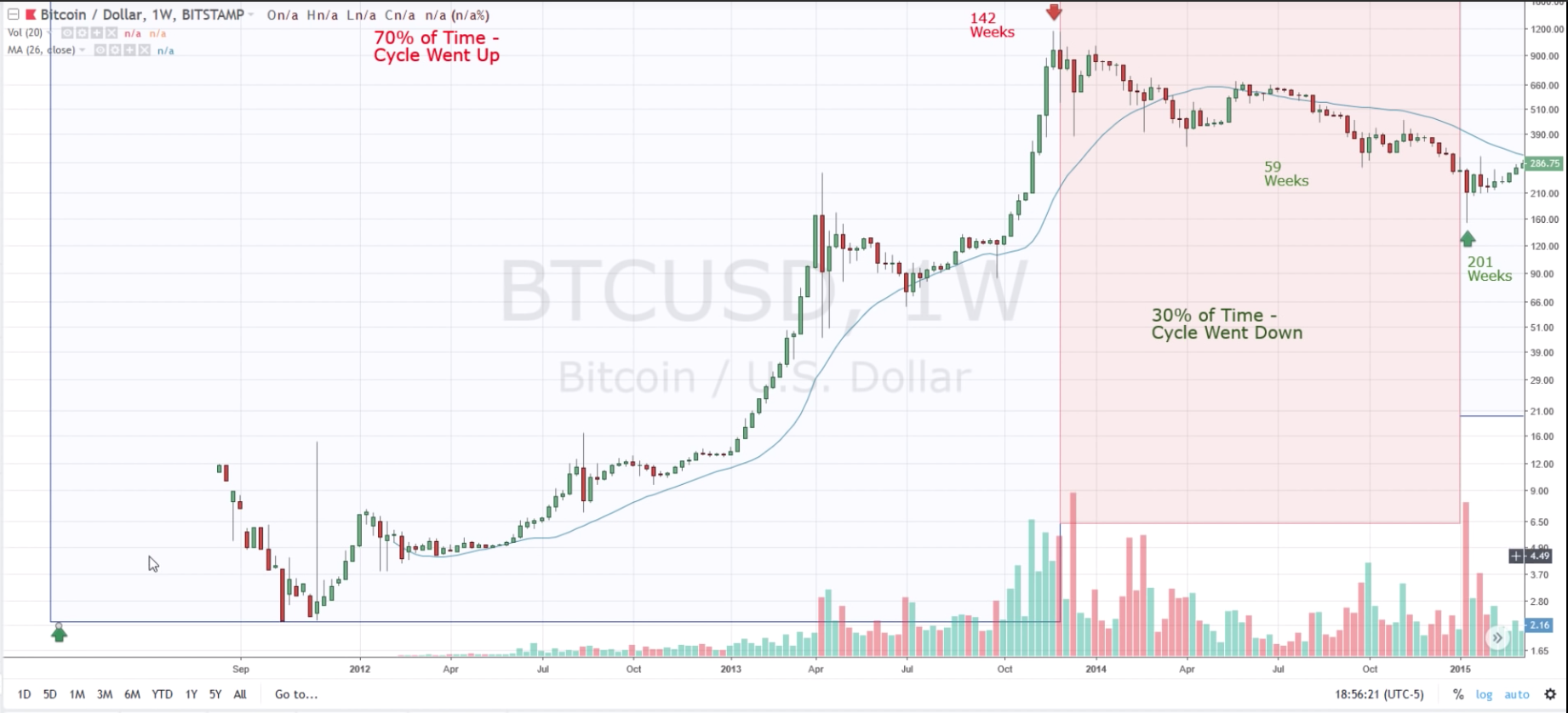 This subsequently led straight into the second 4-year cycle which kicked off in January 2015, starting with an accumulation phase - a fundamental part of any such cycle.
Loukas compares it to the anger/depression phase depicted within the infamous wall street cheat sheet – a well-known infographic of the psychology behind market cycles:
Come September 2015, after a period of accumulation, volume started picking up, and price finally moved over the 200-day moving average (MA), a technical factor which is indicative of an incoming bull rally.
As with the first 4-year cycle, there was a demonstration of 152 weeks (or 75% of the cycle) in which price went up almost consistently, followed once again by a bear market of 50 weeks in which price predictably dipped circa 80%... Seeing the pattern yet?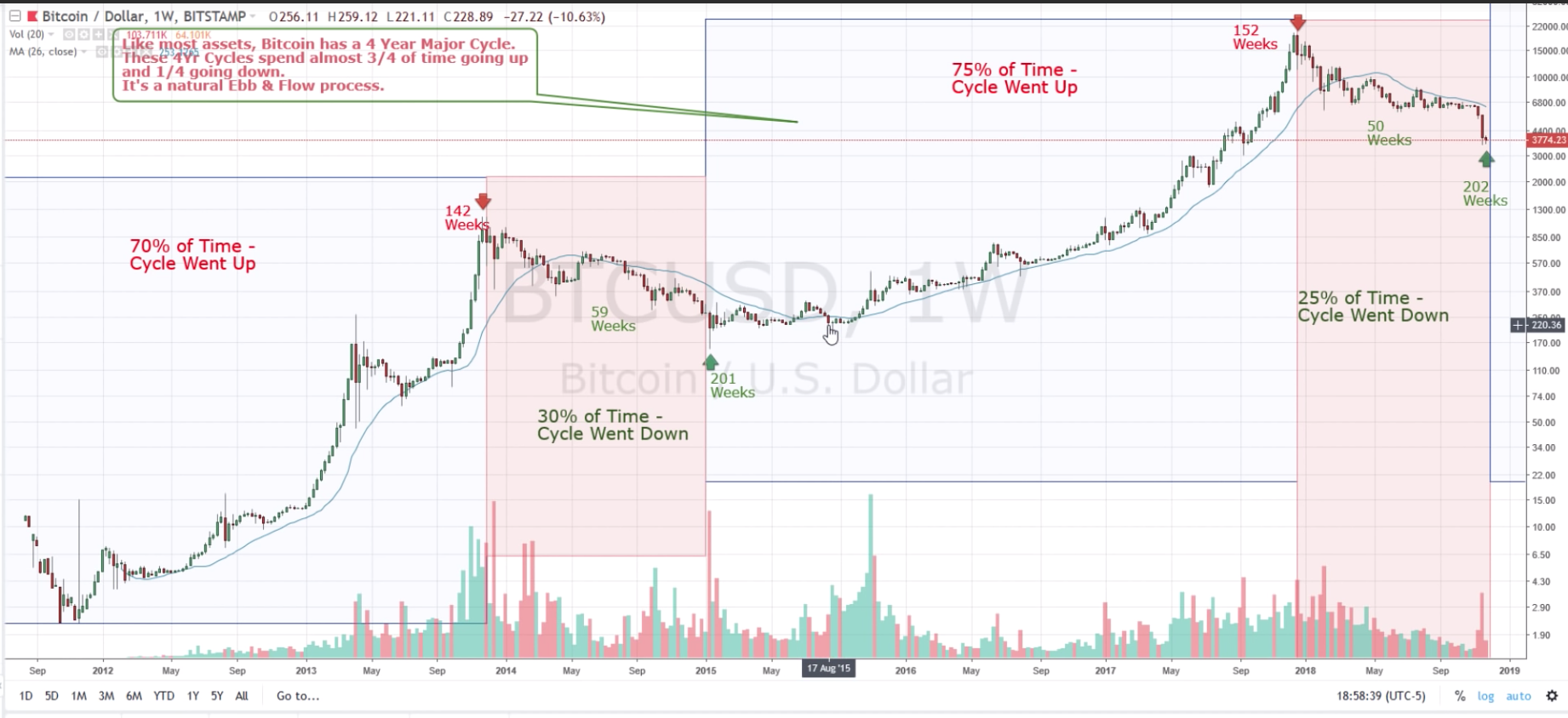 The peak of this particular 4-year cycle marked the infamous point at which BTC teased $20k, before crashing down in 2018; which brings us nicely to the start of the next 4-year cycle, the one we're currently in.
So, here's the good news, if we subscribe Loukas' theory, it means that the bear market of 2018 is over, taking 52 weeks from the December 2017 to the following December of 2018 for BTC to find a bottom. Loukus marks that price point at around $3042.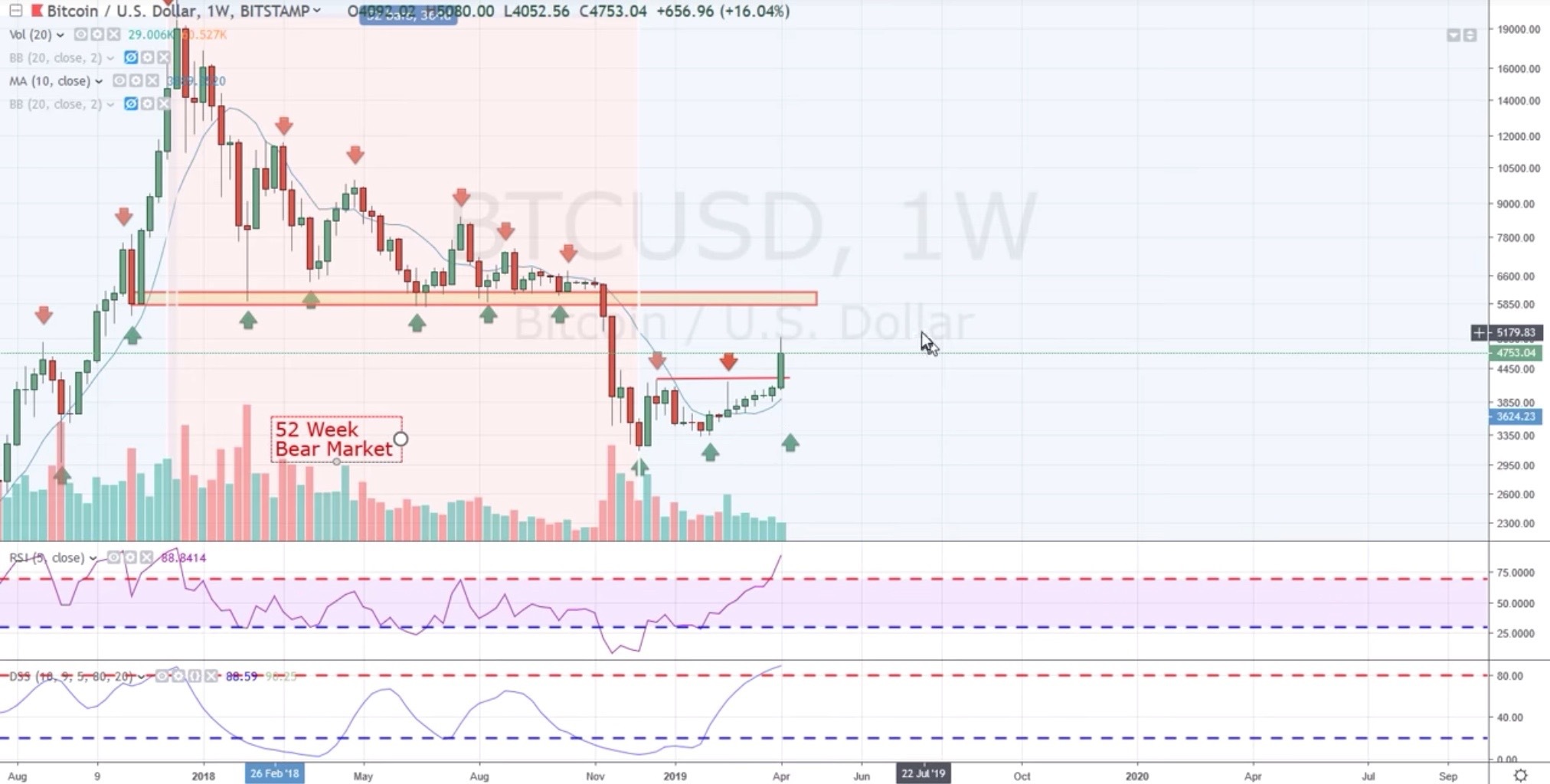 Supporting this theory of a December bottom is the Mayer Multiple measure, a system tailored to analyze BTC in a historical context.
Read more: History shows that Bitcoin might have bottomed at $3,100
The Mayer Multiple is a simple ratio which takes the price of BTC and divides it by the 200-day MA price. A lower Mayer Multiple typically coincides with a bottom for BTC.
The @TraceMayer Mayer Multiple and its move back above 1.0 might have just indicated the bottom of this bear market, just as it successfully indicated the two prior bear market bottoms.#BTC #Bitcoin #Crypto

Thread 👇@woonomic @krugermacro @APompliano pic.twitter.com/qhZKJql05V

— CryptoKea (@CryptoKea) April 13, 2019
This ratio reached 0.51 on December 14th, 2018, when BTC was around $3100, a strikingly similar point at which Loukus also draws a bottom… coincidence? Hopefully not.
So we can safely assume at the point that BTC bottomed back in December at around 3k.
What's next?
Far from an easy ride, Loukas believes that there will be plenty of shakeouts, explaining that we will more than likely move sideways for an extended period. The analyst looks back to the beginning of the previous 4-year cycle back in 2015 in order to ascertain exactly what might occur.
Loukas points out a position within 2015, which has been highly regarded by fellow analysts as almost indistinguishable from what its currently forming within the 2019 market.
Peter Brandt was among the first analysts to point this out, suggesting that a double bottom within BTC – a formation indicative of a change in trend - could possibly lead to a parabolic phase reminiscent of the 2017 bull run.
Either from Dec '18 low or from retest of same (circa analog dbl bottom in 2015) it would not surprise me if $BTC enters a new parabolic phase. $btcusd pic.twitter.com/XV89Qz7P4n

— Peter Brandt (@PeterLBrandt) April 5, 2019
Read more: Peter Brandt: Bitcoin can still go 'Parabolic'

Josh Rager, another analyst took this theory further, zooming in to the 2015 double bottom highlighted by Brandt, and comparing it with the likely position of the 2019 market; presenting April's $1000 candle as the center of an extended accumulation period, which could potentially lead to Brandt's parabolic phase.
$BTC Accumulation Pattern

It took Bitcoin 216 days for accumulation from bottom to spring in 2015

If this were accumulation, this week's $1000 candle would be the exact middle of 216 accumulation days and would end on July 19th, 2019

Pure speculation but fun to compare pic.twitter.com/I6YfHiqwdW

— Josh Rager 📈 (@Josh_Rager) April 5, 2019
Loukas, it seems, agrees with this, looking specifically at this 2015 double bottom, and pointing to an incoming dip which may shake out a lot of weak hands.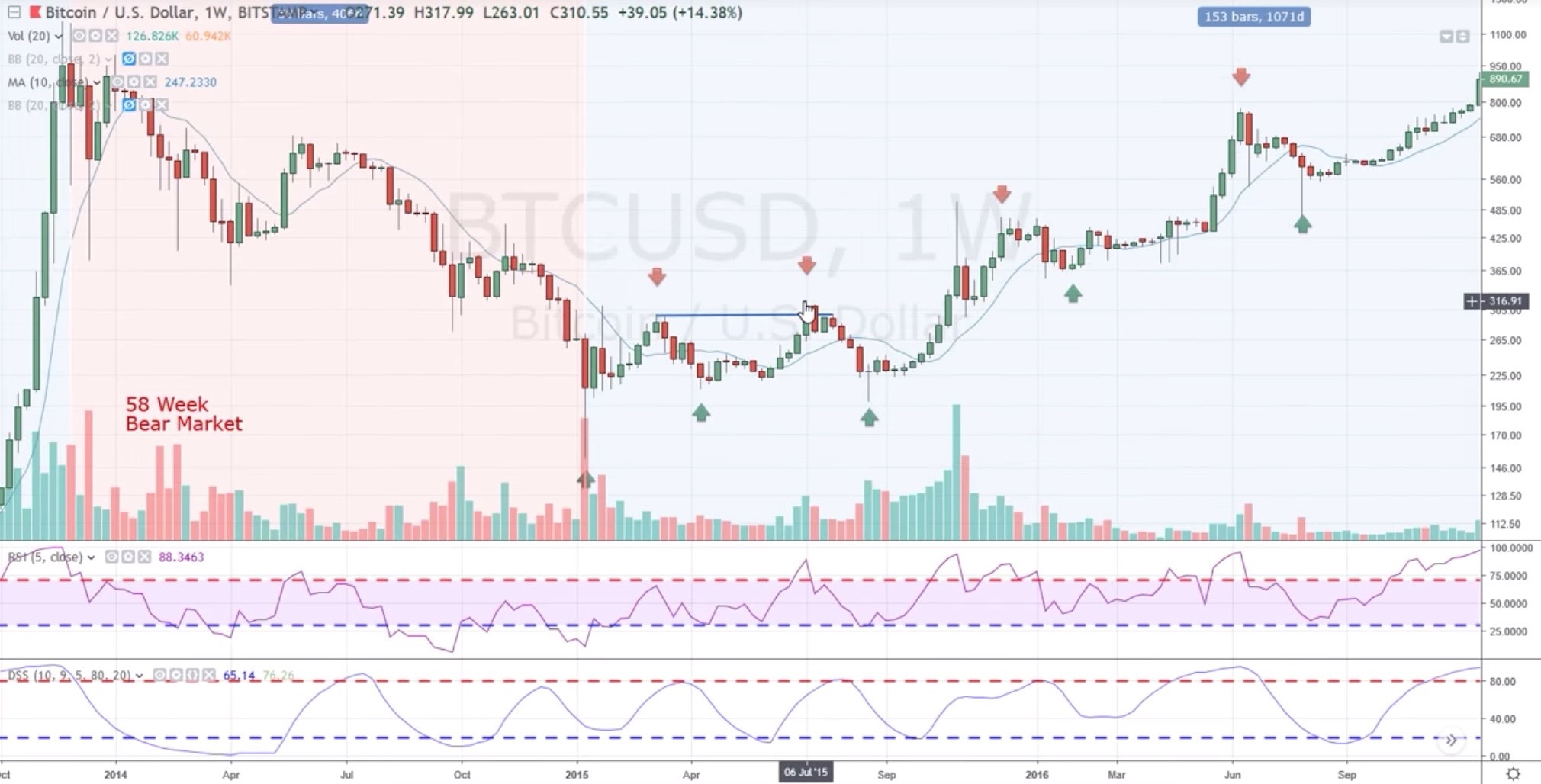 Loukas believes that this is exactly what is about to happen, a correction from the recent gains, followed by a period of consolidation, turbulence, and eventually, a bull run.
Sky's the limit?
Looking back to the two previous bull phases within the last 4-year cycles, 2011's lasted 142 weeks and 2015 lasted 152 weeks; given this, it's safe to assume that the coming bull rally could last approximately 150 weeks.
However, there is one major hurdle to surmount before we get too bullish… $6,000 now stands as a significant level of resistance. This level once provided a heavy amount of support up until BTC formed a death cross in late 2018 – a formation in which the 50-day MA crossed below the 200-day MA. In turn, BTC exhibited a breakdown of this 6k support.
Loukas asserts that a test of $6k wouldn't immediately provide a breakthrough, in fact, the analyst insists that we might not even see a breakthrough in 2019.
However once above this key level, $6k would likely once again provide major support, allowing for a further leg up.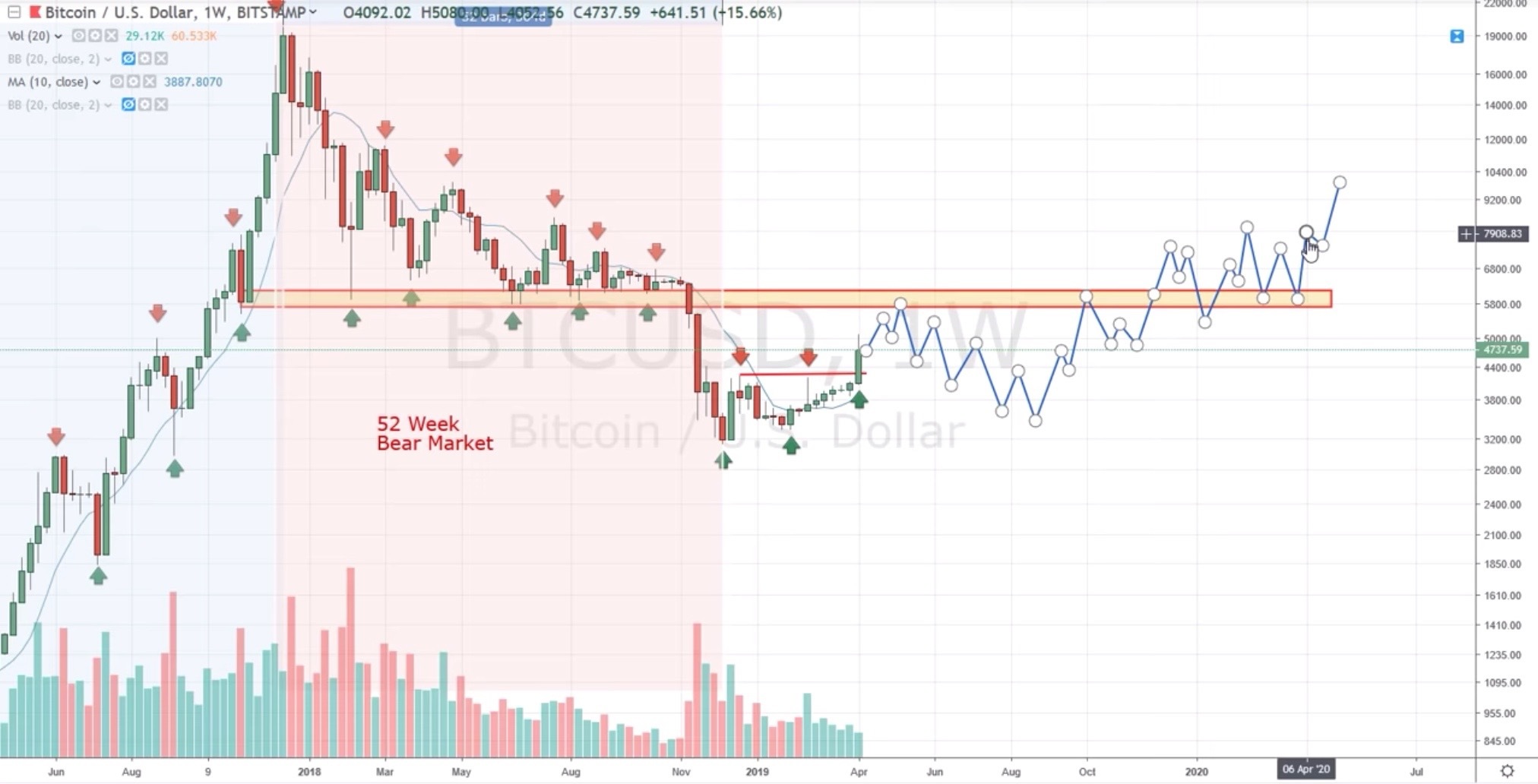 Looking forward to the bullish upside, Loukas states that most major gains occur near the latter end of these cycles. Peering back over the past 2, Loukas suggests that the breakout points often occur when the asset regains its all-time high from the previous cycle.
For example, regaining the previous high of $1300 from the end of the last cycle in 2014, took just over 3 years, taking us to April 2017. Shortly thereafter BTC exhibited a parabolic 15x move from around $1300 to around $19500 in little over 8 months.
According to Loukas, this was mainly retail investors (or dumb money - as he kindly puts it) fully jumping in at a new all-time high due to increased sentiment and media coverage.
With this in mind, one can assume that based on historical representation, BTC may exceed its previous all-time high of around $19k in around 8 months before it hits a new all-time high. Furthermore, due to an approximated 150-week-long bullish phase, we can assume that BTC could hit its previous highs of around $20k in February 2021, with the potential of 15x gains in an 8 month period thereafter; which could see BTC reach an almighty price point of $300,000, by November 2021…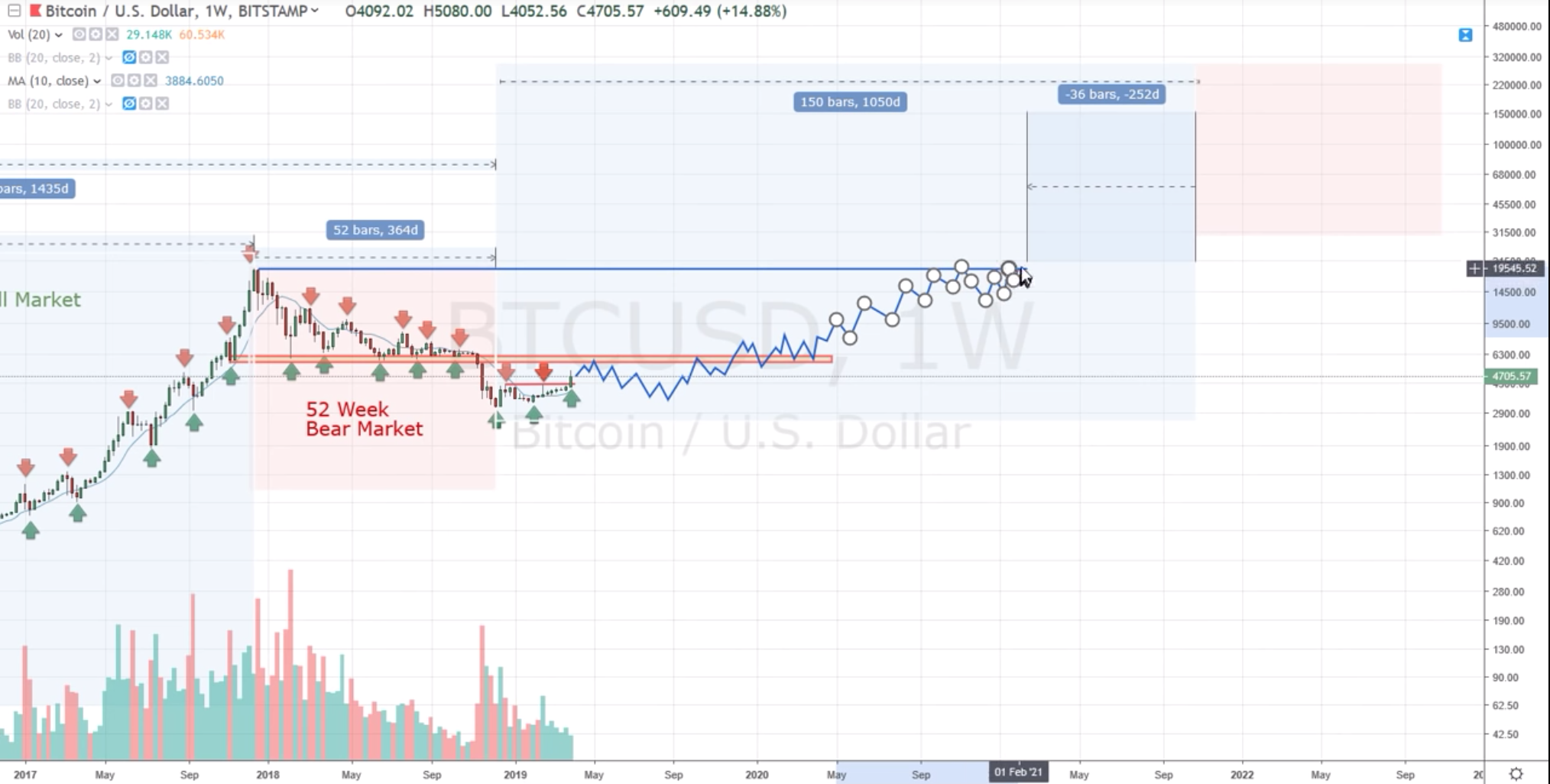 However, what goes up must come down, and as with every 4-year cycle, there is a comedown, with a retracement of at least 85%. This correction would bring BTC back down to around $45,000 (provided we managed to hit a new all-time high of 300k), and with a historically approximated 50 weeks of bear season, we could see that 4-year cycle low could come in late 2022.
Of course, as Loukas stresses, this is by no means an exact science, simply an assumption based on prior price performance and trends; and as they often say history doesn't always repeat. However history does have a habit of rhyming, and it's almost undeniable that previous iterations of these cycles have corresponded extremely closely...
So, the takeaway from all of this appears to be simple: accumulate, HODL, and don't get greedy...
The Bitcoin GOLDEN CROSS! What will happen with the price? $$$ Subscribe to the Chepicap YouTube Channel for more videos!


Follow Chepicap now on Twitter, YouTube, Telegram and Facebook!

Chepicap is now LIVE in Blockfolio! This is how you receive our latest news in your portfolio tracker!