Despite nay-sayers, institutional interest in crypto still on the rise
It is being reported by NewsBTC that despite some recent setbacks and certain negative voices in the market, the reality is that more and more institutions are beginning to put money behind crypto, blockchain or other forms of decentralized ledger technology.
One recent event that has many concerned about institutional interest was the announcement that the Chicago Board Options Exchange (CBOE) would be ending its Bitcoin futures contracts due to lack of interest. While this is true, it is hardly the only thing happening in the space.
For example, data taken from a Business Insider report shows that just since the beginning of 2019, already $850 million in new money has been pumped into this space through 13 large deals.
Other examples include the Liquid exchange, which just saw its value rise $1 billion after the completion of a Series C funding round, not to mention Bakkt, which recently raised $182.5 million from 12 investors.
The article also references a survey in which financial executives were asked about the biggest challenges facing blockchain adoption: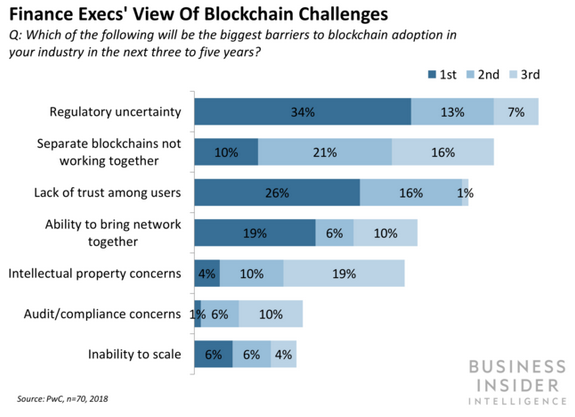 Furthermore, it has been noted recently that the volume of Bitcoin futures being traded surpassed even the volume of spot Bitcoin trading done on Binance, the largest crypto exchange.
Yesterday, the volume of CME bitcoin futures exceeded the volume on the single largest spot bitcoin exchange (Binance): $379m vs. $257m. https://t.co/8luckTr0s8

— Matt Hougan (@Matt_Hougan) April 23, 2019
With all this in mind, it is looking like 2019 may still have a bright future for institutional involvement in crypto. Will this bring us to new highs in price action? Stick with Chepicap for all updates!
Follow Chepicap now on Twitter, YouTube, Telegram and Facebook!

Chepicap is now LIVE in Blockfolio! This is how you receive our latest news in your portfolio tracker!