Chart shows Bitcoin still dominates over altcoins for return on investment
It has been reported by Bitcoinist that a new chart, put out by DataLight, has been making the rounds that shows a comparison between the return on investment (ROI) between Bitcoin (BTC) and many of the major altcoins. The result? Bitcoin wins.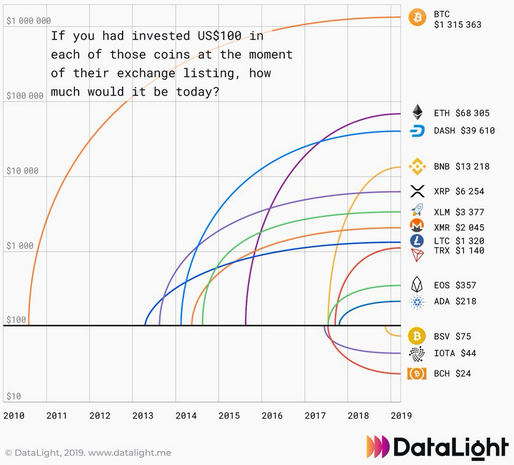 The data is based off of the supposition that you invested $100 into the coin at the moment it was first listed on an exchange, then continued to hold until today. It is obviously not an entirely fair judge of a coin's worth, but it does put the data into some perspective.
Now, Bitcoin being the leader is not very surprising, as it has had 3 extra years over even the next charted coin, Litecoin (LTC). It is somewhat more impressive to see how well coins such as Ethereum (ETH) and Binance Coin (BNB) have done, given their notably shorter lives.
A few coins, such as Bitcoin Cash (BCH), IOTA and BitcoinSV (BSV) have actually depreciated since their initial listings, but there is not reason this couldn't turn around with time.
Again, this isn't being presented as a "who's best" for crypto. Rather it is an interesting look at how various projects have performed in terms of price since their inception. Any one of them could be the next to moon. However, it looks like your safest bet is still Bitcoin.
Key levels: if Bitcoin breaks $5300, this is the upside! Subscribe to the Chepicap YouTube Channel for more videos!


Follow Chepicap now on Twitter, YouTube, Telegram and Facebook!

Chepicap is now LIVE in Blockfolio! This is how you receive our latest news in your portfolio tracker!