What will it be for Bitcoin? $4,600 or $6,800?
Although the world's most popular cryptocurrency has continued its slow upward price movement, some analysts believe another moment of truth for Bitcoin is near. What will it be for BTC? Will we see $4,600 before we surge to $6,800?
Bitcoin has been slowly trading upwards during the last 7 days, from around $5,050, towards the $5,400 price mark. Today Bitcoin is trading at a price of $5,346.54 while showing a minor gain of 0.56%, according to coinmarketcap.com.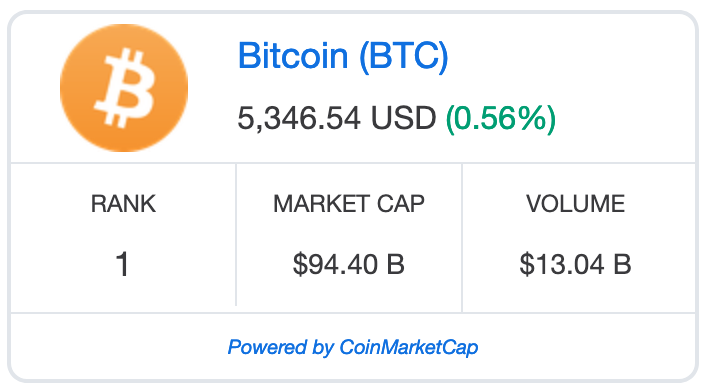 Bitcoin is again slowly finding its way towards the $5,400 price mark, which has been proven to be a strong level of resistance where Bitcoin previously failed to break above just earlier this month.
However, a popular crypto analyst, who goes by the Twitter handle 'The Cryptomist', took to Twitter to explain that a rising wedge pattern has formed, which may lead to a breakdown in BTC's price, adding that this will only be valid if Bitcoin cannot break and sustain $5,390.
$BTC

Fibs on the RSI and candle upon the daily are still reacting well
Additionally, we have formed a rising wedge here on 4hr, which typically leads to breakdown
This is only invalidated if 5390 can be broken and sustained

Trade safe loveys pic.twitter.com/jWZkFxofAC

— The Cryptomist (@TheCryptomist) April 20, 2019
Galaxy, another popular cryptocurrency analyst on Twitter, agrees with the above sentiments on Bitcoin, explaining that BTC may see $4,600 before it surges up to the $6,800 price mark, which, on the positive side of things, creates another chance to buy ourselves some more BTC on the 'cheap'.
Based on this daily fractal we should get another chance to buy $BTC at $4600-$4800 levels before the next run to $6800.

Similarities in both candles and volume. pic.twitter.com/IGivErxz5Q

— Galaxy (@galaxyBTC) April 20, 2019
Where do you think Bitcoin is going? $4,600 first, or do we surge onwards to the $6,800 price mark? Let us know in the poll below.
Key levels: if Bitcoin breaks $5300, this is the upside! Subscribe to the Chepicap YouTube Channel for more videos!

Follow Chepicap now on Twitter, YouTube, Telegram and Facebook!

Chepicap is now LIVE in Blockfolio! This is how you receive our latest news in your portfolio tracker!