Weiss Ratings thinks next bull run will be smaller than the last
Weiss Ratings recently took to twitter to spread some doubt on the idea that the next bull run in crypto will be larger than the previous one. This has struck many as odd, as it does not seem to take into account the scale of the global market nor the history of markets in general.
Some say the next #crypto bull run will be several magnitudes bigger. However, it's highly unlikely – every bull market tends to be smaller than the previous one. There's only so much money in the world that #crypto can absorb.

— Weiss Ratings (@WeissRatings) April 20, 2019
The broad statement made in this tweet does have some validity, but only when speaking on global markets that are already saturated. The reality is that crypto has barely begun to tap into the reserves of money in the world. To highlight this point, here is an infographic from howmuch.net: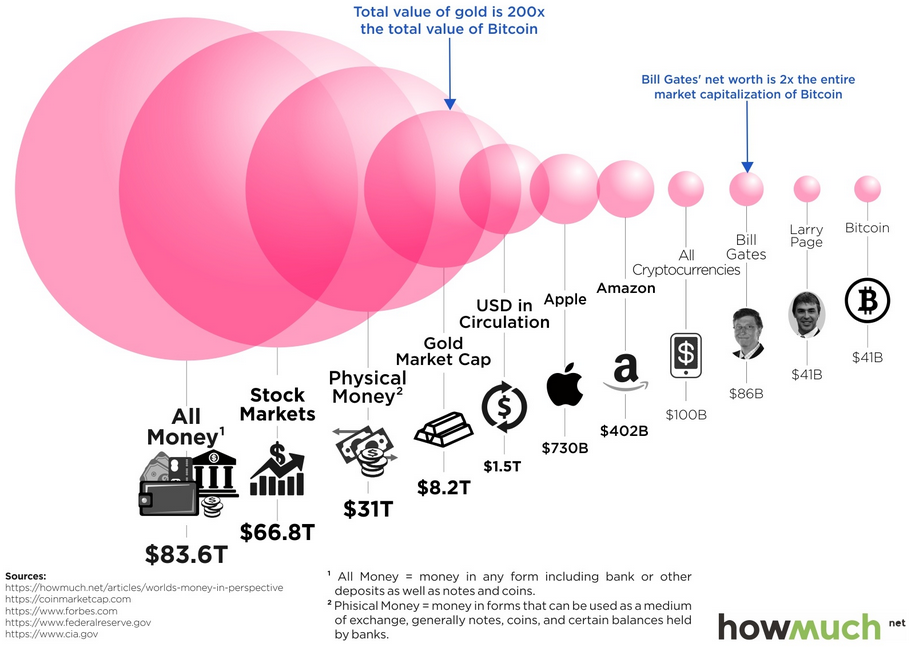 It seems that there is in fact quite a bit of room for crypto to grow, based on its current percentage of the whole.
To be fair, it is true that nothing guarantees the next bull run will be bigger than the last. However, it seems irresponsible to make overly broad assertations about an entire market without giving any meaningful evidence. Will the next bull run surpass the last? Stick with Chepicap for all updates!
Key levels: if Bitcoin breaks $5300, this is the upside! Subscribe to the Chepicap YouTube Channel for more videos!


Follow Chepicap now on Twitter, YouTube, Telegram and Facebook!

Chepicap is now LIVE in Blockfolio! This is how you receive our latest news in your portfolio tracker!