Coinbase addresses the proliferation of Telegram scams
Coinbase today posted a blog about a recent surge in the use of Telegram groups to promote scams done using the Coinbase brand. The article outlines several types of scams and emphasizes that Coinbase has no official presence on Telegram, so anything done in its name is highly suspect.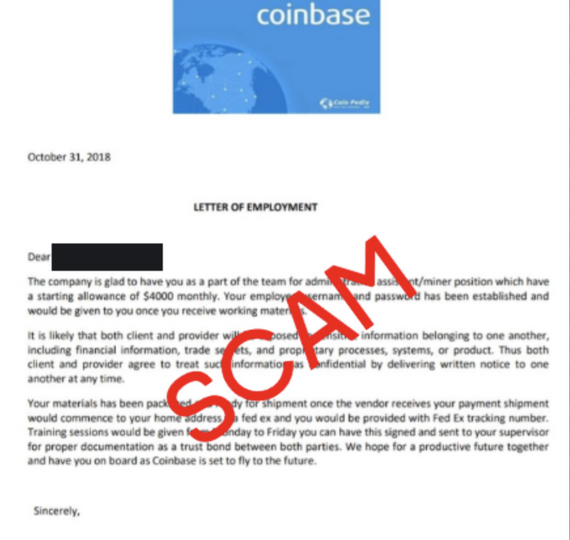 The blog is written by Matt Muller, and in it the following scams are covered:
Employment Scams
This is where someone impersonates a Coinbase recruiter and offers a job position under false pretenses. Usually they will say there are "onboarding" fees or that they need access to your account to activate this or that. These are always a scam as Coinbase does not hire this way.
Giveaway Scams
In this one, somebody will claim that Coinbase is offering a giveaway of some coin or another, and all participants need to do is send a small amount of money somewhere to enter the giveaway. Again, Coinbase would never do a giveaway on this platform.
Load-up Scam
The Load-Up Scam is where a person will convince a user to give them access to their account so they can buy large volumes of crypto, all while promising they will split what they buy with the person who offers the account. If it isn't obvious, they don't ever give the account back or any money.
Tech Support Scams
For this one, the example is given of the group Coinbase Open Chat which sounds harmless enough and claims to be for general chat and tech support. Invariably though, users in this chat will get direct messages from "support staff" who claim they need to fix something about the users account. They will sound professional and say whatever they can to try and get access, but of course they are scamming.
Coin listing/ICO Scams
For this one, scammers reach out to developers to try and solicit money to be "listed on Coinbase." Coinbase has a clear listing process and does not currently demand any listing fees from project development teams.
Overall, the post encourages readers to remember the idea that if something is "too good to be true," it almost certainly is a scam. Coinbase has very specific avenues to communicate with customers, and Telegram or other third-party systems will never be it. The article wraps up by saying any scams users find should be reported to abuse@telegram.org.
Key levels: if Bitcoin breaks $5300, this is the upside! Subscribe to the Chepicap YouTube Channel for more videos!


Follow Chepicap now on Twitter, YouTube, Telegram and Facebook!

Chepicap is now LIVE in Blockfolio! This is how you receive our latest news in your portfolio tracker!