Top 20 shows red candlesticks, with BNB as only exception, up 8%
Today the cryptocurrency markets have been showing minor losses across the board with one exception in the top 20, being Binance Coin, that shows yet again a healthy gain of more than 8% on the day.
Coin Market Capitalization/Bitcoin Dominance
At the time of writing, the market cap is sitting at $179,849,337,261, $2 billion less that where it started 24 hours ago. Bitcoin dominance is hovering around at 52%.
Bitcoin is currently trading at $5,295.9, showing a minor loss of -0.27% on the day.
Chart provided by Tradingview
Top 10
All of the top 10 coins are in the red today, with the only exception being BNB, which shows an impressive gain of more than 8%, and is currently trading at $23.71, which is excitingly close to its ATH of $24.91, last seen Jan 12, 2018.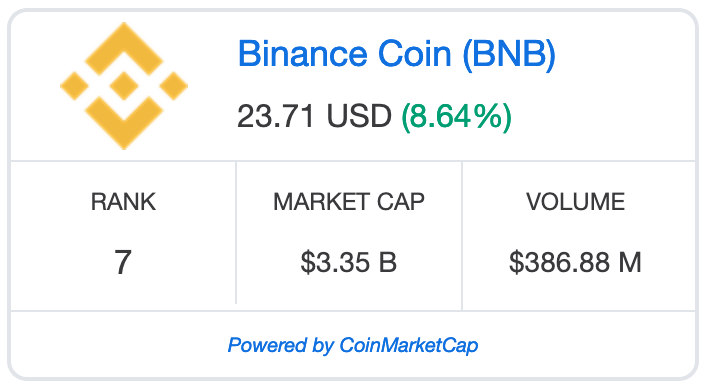 BNB is the only crypto to hit its all time high today.

The next in line are down 23 percent from ATH. Quite incredible https://t.co/WiAQqZIfP1

— Joseph Young (@iamjosephyoung) April 19, 2019
Ethereum is down -0.99% to $172.96 and XRP saw a -1.99% drop to $0.33. The hardest hit was for Cardano dropping -4.35% to $0.078.
The three biggest winners of the day in the Top 100 are RavenCoin, WaltonChain, and as mentioned before, Binance Coin, which is taking spot number 3 in the top 100.

Downside action wasn't too bad today, with Komodo taking the biggest dip -7.40% to $1.04.
Key levels: if Bitcoin breaks $5300, this is the upside! Subscribe to the Chepicap YouTube Channel for more videos!


Follow Chepicap now on Twitter, YouTube, Telegram and Facebook!

Chepicap is now LIVE in Blockfolio! This is how you receive our latest news in your portfolio tracker!