Binance Coin hits 52-week high following Binance Chain announcement
Binance's native cryptocurrency, Binance Coin has hit a new 52-week high, up 81.49% from its 52-week low of $4.19. As a result, the project is now close to retesting its all-time high of $24.91, achieved on January 12, 2018.
Binance Chain launches on April 23rd. $BNB just hit it's ATH against the USD today for the first time since the bull run (only mid-large cap to do so).

CZ and Binance always prove people wrong, but I'd definitely sell into the chain launch.

— Crypto Bobby (@crypto_bobby) April 19, 2019
BNB is the only crypto to hit its all time high today.

The next in line are down 23 percent from ATH. Quite incredible https://t.co/WiAQqZIfP1

— Joseph Young (@iamjosephyoung) April 19, 2019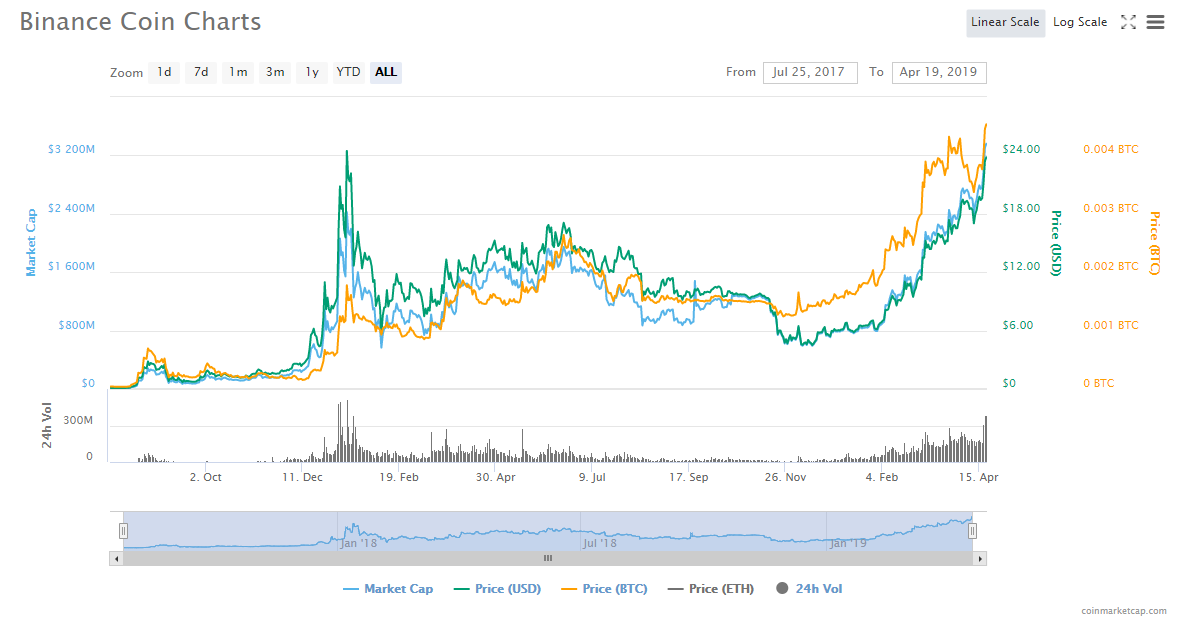 The price increase comes as a result of an announcement Binance made yesterday, confirming the release date of its mainnet launch to be April 23. The exchange will integrate its decentralized exchange into the Binance Chain. Additionally, Binance will allow new projects to launch their tokens on its chain, allowing them to run ICO rounds by raising funds in BNB.
Following the launch of Binance Chain, it's likely we'll see BNB reach even greater adoption. With that being said, however, Binance undergoes a token buyback event every quarter to reduce the BNB in supply. Long term prospects are looking good for BNB investors.
In our base scenario, BNB is valued at $106, which gives BNB a total value of 20 billion US dollars, exceeding possibly 15 billion valuation of Binance's equity. @cz_binance @GBinance Look forward to hearing your comments. https://t.co/UqUs7HXMz5

— sk@hashglobal (@skhashglobal1) April 19, 2019
At the time of writing, Binance Coin is trading $23.89, an increase of 10.69% over the last 24 hours.
Chart provided by Tradingview
Follow Chepicap now on Twitter, YouTube, Telegram and Facebook!

Chepicap is now LIVE in Blockfolio! This is how you receive our latest news in your portfolio tracker!