Red Pulse announces Binance Chain BEP2 standard partnership, pumps 40%
According to a blog post uploaded today by Red Pulse (PHX), the project will add up to Mithril (MITH) in being some of the pioneers in switching over to the newly launched Binance Chain.
PHX will be migrating "a major portion" of their token ecosystem over to the Binance Chain BEP2 standard, without abandoning the NEP-5 NEO-powered protocol. However, the total circulating supply of PHX together with the new PHB ones will remain the same as before in order to ensure continuity. The Twitter account of Binance DEX has shared the announcement just a couple hours ago:
$PHX are ready to #DEXChangeTheWorld 👏👏👏 https://t.co/wycCYgP9bT

— Binance DEX (@Binance_DEX) April 19, 2019
The token, which is based on a smart contract infrastructure enabling the registration and tokenization of intellectual property such as "research notes and whitepapers", has seen major price moves following the announcement from Binance, triggering intra-day peak gains of over 40%, sending its price straight above early March peaks: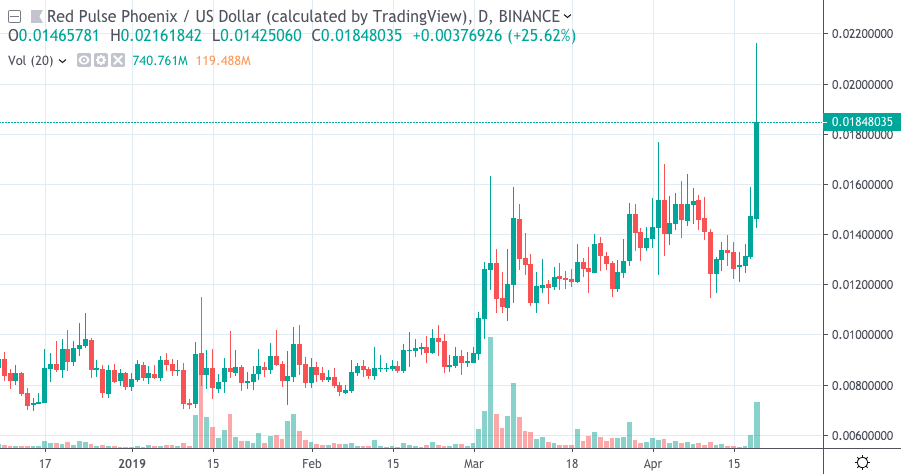 Chart provided by Tradingview
Reactions on social media have been arriving fast, with a few traders and charters predicting the move in the days preceeding the announcement:
The Binance effect strikes again! Red Pulse is up 42% after the announcement of migration to Binance Chain! $PHX $BNB #Binance #Crypto pic.twitter.com/QvAc4hUbaf

— CryptosBatman ⚡ (@CryptosBatman) April 19, 2019
$PHX $BTC:
Going really well
closed daily at a good point
Target 2 hit
see da thread up some 15% $USDT $ETH $eos $BNB $bch $xlm $xrp $trx $btt $mtl $mith $bolt $lit $vet $xbt $doge $rdd $rvn $ren $amb $nuls $nebl $kmd $strat $zec $zrx $xzn $iost $ost $gvt $grt $grs $xtz pic.twitter.com/uI8ww22N34

— Duke Dann (@Dannydaduke88) April 19, 2019
I just added MORE $PHX BIG NEWS ASAP!

— all in $WTC (@BcLcrypto) April 18, 2019
WE GOT IT... Craig Wright sends Chepicap THE LETTER Subscribe to the Chepicap YouTube Channel for more videos!

</p
Follow Chepicap now on Twitter, YouTube, Telegram and Facebook!

Chepicap is now LIVE in Blockfolio! This is how you receive our latest news in your portfolio tracker!