5 bear market survivors of the crypto mining industry
Crypto mining business was a hot business back when crypto prices were high, but now, with the bears ruling the crypto market, many mining firms reportedly shut down due to unprofitability. However, some manage to survive. So, who are the survivors in the crypto mining business?
Cryptocurrency mining is a process by which new coins are introduced into the existing circulating supply, as well as a process used to secure the network the coin operates on.
It was introduced soon after Bitcoin's public ledger was started on January 3rd, 2009 by the pseudonymous, Satoshi Nakamoto. Once a unique hobby of crypto fanatics, cryptocurrency mining soon developed into a commercial business, that involves huge warehouse-type buildings and numerous mining equipment, called a mining farm.
As cryptocurrency value increased, investors started to join the crypto mining business.
With such development in the mining competitive landscape, many independent miners started to join open mining pools that combine various resources in order to be able to compete effectively with mining farms in getting "block rewards".
Fast forward to 2018, the crypto industry saw a massive price declining right after it's all-time high at the end of 2017.
After what has turned into an extended bear market in crypto, mining businesses began to collapse one by one. The survivors are not without casualties as news about their struggles has emerged.
So, who are the surviving players in the crypto mining business?
1. Bitmain (Antpool)

The company founded by duo Chinese, Jihan Wu and Micree Zhan back 2013 is said to be one of the richest Bitcoin mining firms in the world, with an estimated $2.5 billion of revenue recorded in 2017.
Their mining pool, Antpool, whose produced blocks in 2017 made up about 25% from the total mined blocks put Bitmain as the largest privately-owned Bitcoin mining pool in the world.
The Chinese company also owned a mega-mining facility located in Inner-Mongolia's countryside that had 50 around the clock employees that monitor their 25,000 mining rigs that processed $250K worth of BTC daily, as of May last year.
However, there is no such thing as bear market-proof businesses, especially in the crypto industry where regulation is still unclear, and certainty is a privilege. Rumors about Bitmain's financial struggle has surfaced and has been on the news since August last year.
As of January 2019, its mining size has dropped to 11% of the total mined blocks.
Analysis by several research firms revealed that the Chinese-based company suffered from major losses during Q2 2018 and saw some major investors denying involvement.
Other than the declining crypto prices, the failing new mining processor chips were also said to be one of the main causes. The company was also reported to face a legal case from their customers who accused them of cryptojacking their computers using the ASIC devices.
Read more: Bitmain is sued for cryptojacking customers using their own ASIC devices
Having said that, the proliferating rumors about Bitmain were probably about its financial struggle. Some of the rumors were confirmed, such as the closure of their overseas branches, the layoff of the Bitcoin Cash GO team, and the halt of their new mega mining facility in Texas.
Some were refuted by the company through official statements, such as the $500 million loss in Q3 2018.
Some others, however, remained unclarified, such as the "theory" that spread on Twitter about Bitmain's insolvency, how they have been drowning in debt and desperately try to stay afloat by liquidating their crypto reserves.
Read more: Twitter theorizes Bitmain is insolvent, desperate to stay afloat
Putting aside all the negative news and allegations, it's hard to deny the fact that Bitmain is still standing today.
But not only that, they proved that they won't go anywhere with their announcement on the launch of their newest ZCash miners as well as their plan to deploy 200,000 new mining rigs in China last month.
Introducing the #AntminerZ11 that packs 3X more hashing power than its predecessor! The Z11 mines #Zcash under the Equihash algorithm. Performing with a hash rate of 135 KSol/s and power consumption of 1418 W. Click here (https://t.co/woThhXNxjd) to learn more. pic.twitter.com/HzCLKR7dVc

— Antminer_main (@Antminer_main) March 19, 2019
It's true that they may not be as gigantic and powerful as they used to be. But with the current crypto market situation and the prediction of an approaching bull run, it may be just a matter of time for Bitmain to get back to its glorious throne.
2. Genesis Mining
Genesis mining is a crypto mining company that offers cloud mining services to customers worldwide. Founded in 2013, the company is headed by CEO Marco Streng, a Mathematician, and early Bitcoin investor. Aside from Bitcoin, their portfolio consists of other cryptocurrencies, such as Ethereum, Dash, Litecoin, Monero, and ZCash.
Genesis saw a huge opportunity in cost-effective energy sources, such as geothermal and hydropower, thus they decided to strategically relocate their mining facilities from Bosnia and China to Iceland and Canada where the aforementioned renewable sources are highly available, although the exact locations are not disclosed due to security reasons.
According to Cointelegraph, Genesis mining facilities are the largest electricity consumers in Iceland.
Their Ether mining facility, Enigma is also considered as the largest Ethereum cloud mining farm in the world.
"We believe it is headed to the moon and we are building a rocket ship to make sure our customers do not miss out," Streng said when the company began offering Ether mining in 2015 as quoted by Coinfox.
During the extended bear market, Genesis ended some of the customers' cloud mining contracts due to the reduction to mining outputs, which is said to be caused by the downfall of Bitcoin price.
Read more: Genesis Mining to end all unprofitable contracts
The company also received a cease & desist order from the South Carolina regulators as it was considered similar with renowned scam scheme, BitConnect, which lead to them to have all hashpower "sold out" and stopped offering their services for a period of time.
Hi Bo, we terminated previous BTC plans (in accordance with the terms everybody agreed on) because the mining costs continually outweighed the mined returns as a result of the bear market last year. This Dash capacity is a different mining algorithm and a new, efficient setup.

— Genesis Mining (@GenesisMining) March 27, 2019
Some clients were reported to have had been complaining about delayed payouts for a couple of months as well.
As part of their bear market strategy, the company can be seen of offering Dash mining again and heavily promoting it on their Twitter account.
Regardless, Genesis mining is still considered as one of the reliable and profitable cloud mining services thereof these days.
3. Bitfury
Bitfury is founded by computer scientist, Valery Vavilov in 2011 and has successfully raised funds from various investors multiple times. The company managed to secure a total of $150 million of funds through multiple investment rounds from investors like Korelya Capital, Galaxy Digital, Macquarie Capital and Dentsu.
"We are impressed with Bitfury's unparalleled team, as well as the company's vision, technical expertise, and global reach, all of which are essential to advancing the underlying bitcoin ecosystem," said Galaxy Digital CEO, Mike Novogratz on his decision to participate in the funding round.
The company is headquartered in London and has offices in several major cities in the world, such as Amsterdam, Dubai, Hong Kong, Seoul, Tokyo, and Washington DC. Meanwhile, their mining operations can be found in the Republic of Georgia, Finland, Iceland, Canada, and Norway.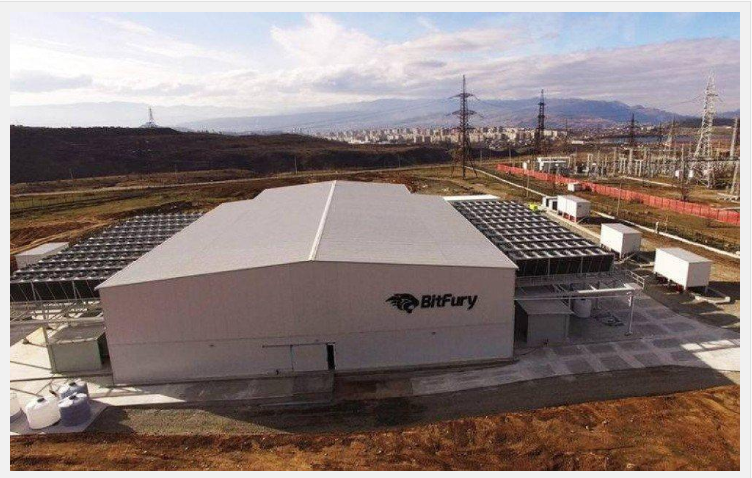 Bitfury is included on Forbes list of Fintech 50 for 2019, with the company's latest valuation claimed to be around $1 billion plus. Their $500 million revenue in 2018 is said to be coming from the Bitcoin mining hardware sales, although the company has had new business lines expansion in the last couple of years.
Despite owning 11% of the total mined Bitcoin blocks, CEO Vavilov once said, "We are not a mining organization, I don't care for the word mining."
Instead, the company clearly stated their goal to become a leading full-service blockchain technology company in the world by focusing on developing and delivering software and hardware solutions for businesses, governments, organizations, and individuals to securely move assets across the blockchain.
Among their hardware solutions are Bitfury Clarke ASIC that boasts as the strongest and the most efficient Bitcoin mining chips and enterprise-grade Bitcoin mining server Bitfury Tardis that claims an 80 TH/s max mining performance.
As of October last year, it was reported that the company was considering for an IPO in Amsterdam, London or Hong Kong and seeking at a valuation between $3-5 billion.
Read more: Bitfury considering IPO for $3-5 billion
Earlier this year, Bitfury also announced the launch of its entertainment division, called SurroundTM that aims to "decentralizing the music industry".
However, the recent update about their collaboration with a South Korean company, Commons Foundation in launching a network of Bitcoin mining operations in Paraguay in February this year is probably one of the most significant news about the company by far.
It is a strong indication that Bitfury will be able to maintain its position as one of the largest mining companies in the world for many years to come.
The partnership is part of Commons Foundation's government-backed Golden Goose Project, that aims to establish the largest crypto mining center in the world in the country that has two of the largest hydroelectric powerplants in the world, Itaipu and Yacyreta.
According to the official partnership announcement, the crypto mining center will use Bitfury's BlockBox AC, which is claimed to be "one of the most powerful Bitcoin mining devices available on the market today".
4. Hut 8
Canada is one of the favorite destinations for crypto mining businesses due to its cold temperature that will help the heat produced by mining rigs. Certain parts of the country also offer clean and cheap energy sources. Added with a scarce population, it already sounds like crypto mining haven.
The news about mining businesses being set up in Canada's land have been reported multiple times by various media, but so have the news about the shutdown of such businesses.
Among the few success stories of crypto mining businesses in Canada is Hut 8 Mining Corp. The company made history as the first crypto mining company ever listed on a stock exchange when they were successfully listed in Toronto Stock Exchange (TSX Venture exchange) on February last year using ticker HUT.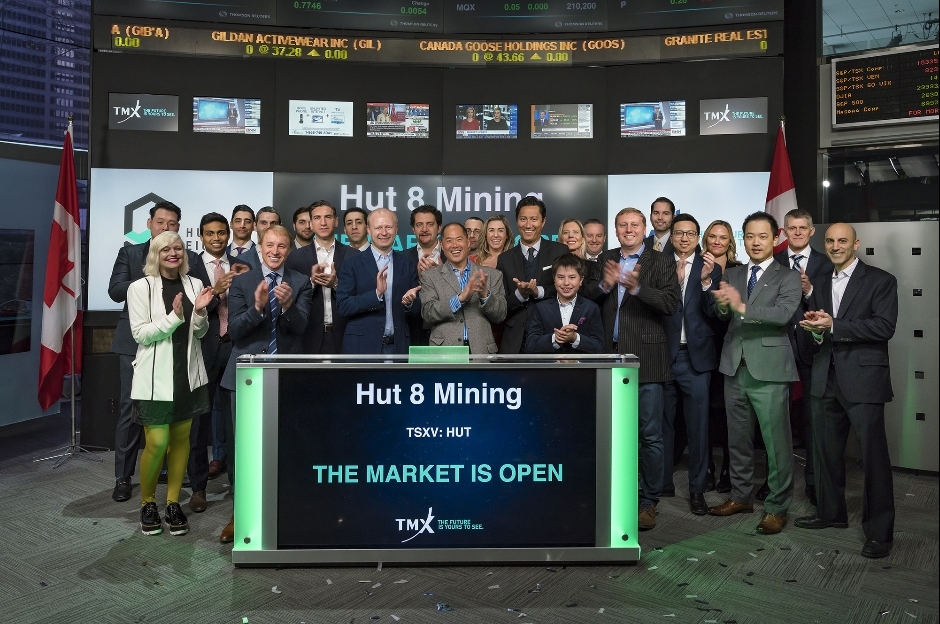 Even more, with 8,300+ BTC successfully mined so far, it's considered as the world's largest public crypto mining firm, especially since Bitmain's IPO plan is still unclear.
The company recorded a revenue of $13.5 million in Q3 2018 and a total of over $27 million for the first 3 quarters in 2018, while also successfully raising $108 million of funds through 2 equity financings.
Today we announced our financial results for the third quarter ended September 30, 2018 ("Q3 2018"). Follow the link to view the financial results and read our full press release: https://t.co/5iWfj8eB4Y pic.twitter.com/dOTB0kj6gN

— Hut 8 Mining (@Hut8Mining) November 8, 2018
Moving forward, Hut 8 Mining is eyeing to become the largest crypto mining facility in North America through a partnership with crypto mining equipment producer, Bitfury. On November last year, the Toronto-headquartered firm announced the purchase of 12 BlockBox Data Centers from Bitfury for its facility in Drumheller, Alberta, which amounted to around $12 million.
"Our goal is to be the largest Bitcoin miner in the world. By increasing our operating capacity by over 20% through this transaction, Hut 8 will further solidify its position as the largest cryptocurrency miner in Canada and one of the largest bitcoin miners in the world," said CEO Andrew Kiguel regarding the expansion.
The road is not always smooth and easy for Hut 8, though. Earlier this month, the company confirmed a second round of layoffs after the first that happened in January. "Power prices were going up, and Bitcoin was going down. In Drumheller, we were expecting some form of layoff but not in the mass amount that we had. At the time, we were just starting to be up online, be completely streamlined," said an anonymous source. It is still unclear if the downsizing is the company's strategy to be more efficient or to make up for the losses from the extended bear market.
5. F2Pool (DiscusFish)

Among the few Chinese mining firms left after the extended bear market is F2Pool or previously known as DiscusFish. Founded in Beijing on April 2013 by Discusfish and Wang Chun, F2Pool offers cloud mining services for various cryptocurrencies, such as Ethereum, Bitcoin, Litecoin, DASH, and ZCash.
F2Pool was known for its massive hashrate that made it as a significant hodlers of several cryptocurrencies. In 2015, their hashrate accounted for one-third of the entire network hashrate and a quarter of the network hashrate the following year. Moreover, according to CINDX's Medium, they were also said to hold 25% of the total Ethereum network hashpower.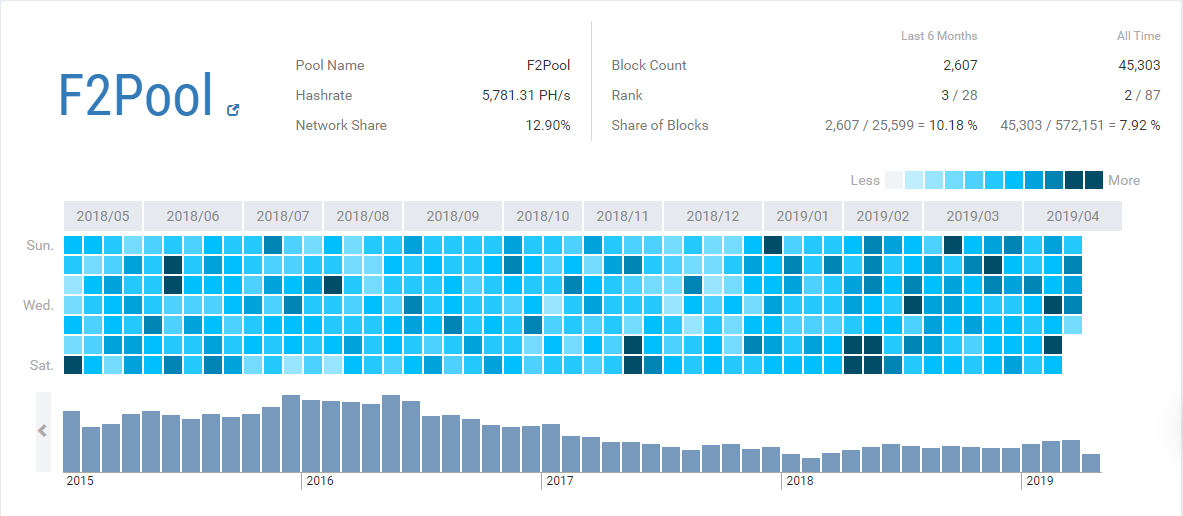 The number, however, has dropped to 11% for both Bitcoin and Ethereum, which according to CEO Mao Shixing is caused by multiple factors, such as the crypto prices plunge, an increased electricity cost in China and the new mining machines that kept on coming, making the older ones less competitive.
Commenting on the declining hashrate, Mao said, "It's hard to calculate a precise number of miners connected to us that had unplugged. But we saw over tens of thousands of them [shut down] in the past several days based on conversations we had with larger farms that we are in regular contact with. This is what's happening among miners in China."
Mao believes the key of his company surviving the bear market is because they pick the most profitable cryptocurrencies. Moreover, despite the Chinese government's unfriendly approach to crypto mining businesses, Mao still believes that the other keys of F2Pool's success is their location in China that gives them access to many skilled workers and various mining chips, as well as a cheaper electricity cost compared to other countries.
With the fading of the bear market, combined with a strategic plan on cryptocurrency choices, F2Pool expects to be able to regain its glory in the future and become the world's largest crypto mining farms as they used to be.
The above list could have been longer had crypto prices not seen a massive decline in 2018. Many major mining companies, such as GigaWatt and BTC China were reported to shut down their businesses due to the extended bear market. However, there's a huge possibility for crypto mining business to make a comeback moving forward as crypto prices have begun to rise since weeks ago.
Follow Chepicap now on Twitter, YouTube, Telegram and Facebook!

Chepicap is now LIVE in Blockfolio! This is how you receive our latest news in your portfolio tracker!