Binance increases profits by more than 50% in Q1 2019
After recording profits of $446 million in 2018, slightly below Changpeng Zhao´s expectations of $500 million, Binance is staying on the green side on the first quarter of the year, and appears to be increasing its benefits.
Despite CZ having predicted that $500 million would be the minimum profit for 2018 (in a wide range which went up to $1000 million, in the CEO´s opinion from last July) the final result can not be taken as a negative one, in light of the bear market that plunged prices of BTC down 80% from all-time highs.
The tendence of quarterly profits reflected at the end of last year was a clearly descending one, down from about $150 million in each one of the first two quarters of the year to $80 million in Q3, and finally a bare $47 million in Q4.
Read more: Binance records profits of $446 million in 2018
Now, that trend appears to be retracing, with the sudden increase in profits in the first quarter of 2019 reaching $78 million and thus exceeding in 66% the same metric for the previous term, as reported by Coinbase funded crypto media The Block.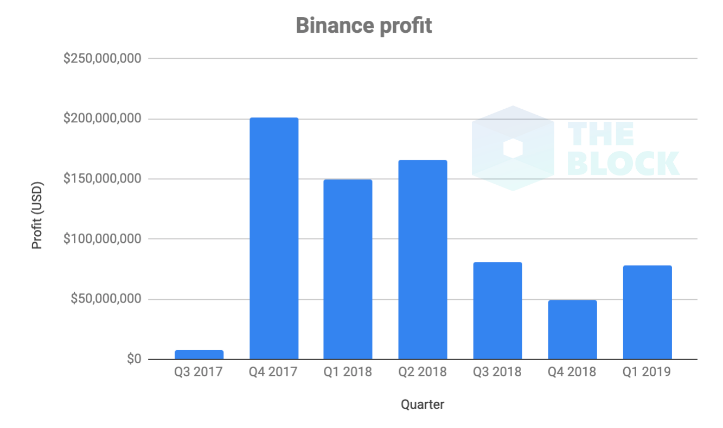 The first reactions from crypto Twitter appear to be on the cheering side, welcoming Binance's profit increase as a sign of bear exhaustion:
The crypto market seems to be healthy still at least for the big exchanges.

$78 million Q1 profit for Binance in 2019 after a 16-month bear market, a very successful start to the year https://t.co/iugLI5T3fr

— Joseph Young (@iamjosephyoung) April 16, 2019
Read more: Binance in profit despite bear market, no stock listing incoming, says CFO;
Follow Chepicap now on Twitter, YouTube, Telegram and Facebook!

Chepicap is now LIVE in Blockfolio! This is how you receive our latest news in your portfolio tracker!