Bitcoin Cash picks up gains from BSV after delisting on Binance
The coexistence of the two resulting versions of the November 2018 Bitcoin Cash fork appears to be coming to an end, following the delisting of BSV from Binance. Bitcoin Cash seems to be benefiting greatly of the situation.
Bad news for the smaller, incidence and polemic-plagued BSV project, which has community-dubbed "Faketoshi" Craig Wright and his partner and almost sole defender Calvin Ayre, as frontrunners.

Read more: Crypto Twitter responds to Binance delisting Bitcoin SV: 'CZ did it'
After the delisting from Binance, BSV is suffering heavy losses mounting about 10% at writing time, as Chepicap reported promptly. It would appear as if most of those funds are being routed straight into Bitcoin Cash, which has seen its market cap increased in about $300 million following the delisting of the least popular version of Bitcoin's fork, for gains over the last 24 hours exceeding 14%.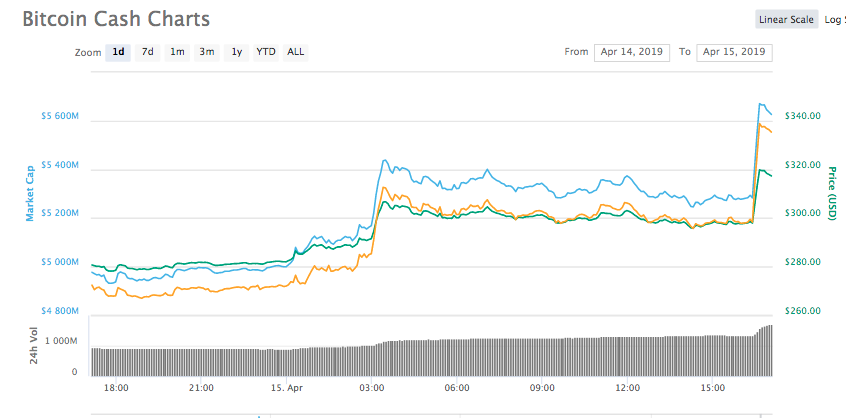 Traders on Twitter have noticed the trend and are apparently cheering it, with some including suggestions for other possible destinations for BSV funds, which appear to be on the run, given the possibility of other delistings taking place.
#BCH #BSV 🧐 pic.twitter.com/XKz1ixWPlb

— Ro₿erto (@roberto_mihalic) April 15, 2019
Watch that #BCH pump today on the #BSV dump on @binance @cz_binance

Tiger wins yesterday. Binance does the right thing and dumps #BSV. It's tax day today and I'm happy.#cryptocurrency #crypto #btc #bitcoin

— Bobby Atkins (@WolfpackCrypto) April 15, 2019
Pumped 10% in 16 minutes.

— Richard Heart Pumpamentals.com (@RichardHeartWin) April 15, 2019
$BSV tanking and $BCH pumping. Love it.

— Ryan_W (@RyanICNN) April 15, 2019
Next exchange to #DelistBSV will get some serious clout I suspect it will be @gate_io they have been making smart moves recently. $BSV $BNB $BTC $BCH

— hodlonaut (@CryptoLeb) April 15, 2019
Read more: Binance delists Bitcoin SV following CZ warnings to Craig Wright; John McAfee to sue Calvin Ayre for $800 million: "I will bankrupt him"
Follow Chepicap now on Twitter, YouTube, Telegram and Facebook!

Chepicap is now LIVE in Blockfolio! This is how you receive our latest news in your portfolio tracker!