Binance delists Bitcoin SV following CZ warnings to Craig Wright
Binance has announced that Bitcoin SV ($BCHSV on the exchange) will be delisted from the exchange following earlier threats of CEO Changpeng Zhao. CZ was 'done' with Craig Wright, the man behind Bitcoin SV, who went after the Twitter account @Hodlonaut for denying claims of Wright that he is Satoshi Nakamoto.
On Friday, Vitalik Buterin, Peter McCormack and Chepicap also received such letters from Wright. The propaganda campaign regarding Satoshi Nakamoto's identity carried out by the main visible heads of the project, taken as straight-out lies by most of the crypto community, is now having serious consequences for BSV holders.

Read more: Peter McCormack issues formal response to Craig Wright's lawsuit letter
Trading on Binance, the largest exchange by volume, will no longer be possible from today. Changpeng Zhao, CEO of the platform, had already warned in several occasions that the delisting was an increasingly possible option.

In the statement, Binance says that Bitcoin SV did not meet the standard to be available for trading on the platform. BCHSV will be delisted on April 22 at 10AM UTC.

Read more: Pomp adds up to BSV delisting calls: "Every exchange should delist BSV"
#Binance Will Delist $BCHSVhttps://t.co/15eZYc7wan pic.twitter.com/R3X389ZfM6

— Binance (@binance) April 15, 2019
Do the right thing. https://t.co/z7HGsAZnmR

— CZ Binance (@cz_binance) April 15, 2019
Read more: CZ doesn't let Craig Wright off: "This is going too far"
Since the start of the latest PR strategy turn from the same team which forked away from BCH back in November, and according to many negatively influenced BTC prices in the slide down from the $6,000 range, BSV has lost quite some ground pricewise, from trading over $90 to around $60 at writing time. In the minutes following the delisting announcement from Binance, BSV slumped down about 10%, and counting, as the following chart extracted from CoinMarketCap shows.


Craig Wright is not Satoshi.

Anymore of this sh!t, we delist! https://t.co/hrnt3fDACq

— CZ Binance (@cz_binance) April 12, 2019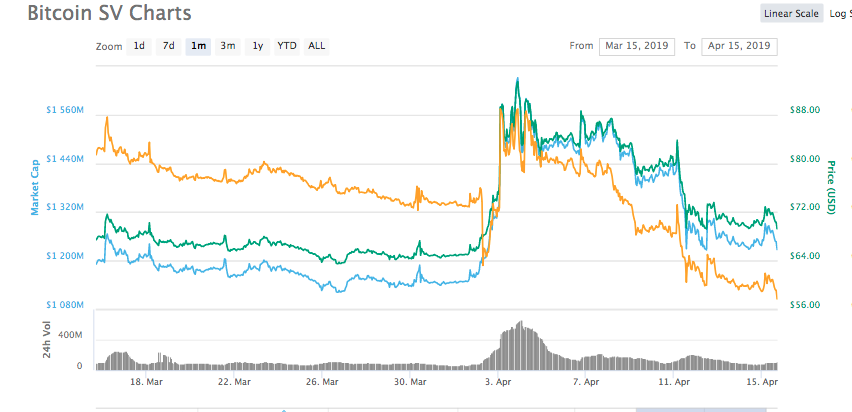 Community reactions to the first news appear to be rather celebratory of the decision taken by Binance.
CZ is a moral example for "crypto" businesses.

Delisting BSV.https://t.co/u0ZfDLImjF

— Brad Mills [🔑] (@bradmillscan) April 15, 2019
CZ will be sticking to his word that they will be delisting BSV because of all the drama that has unfolded with Craig Wright and @CalvinAyre https://t.co/YD6bPjbEjy

— CRYPTO TYTAN (@CRYPTOTYTAN) April 15, 2019
All $BCH supporters should thank @cz_binance for deslisting $BSV on @binance $BCH breaking out #Cryptocurrency #BitcoinCash pic.twitter.com/6H3eAGZ98S

— CryptoCurrency 🤑 (@crypto_goat_) April 15, 2019
Read more: CZ backs Peter McCormack: "Everyone is Satoshi, except Craig Wright!"; John McAfee to sue Calvin Ayre for $800 million: "I will bankrupt him"
Follow Chepicap now on Twitter, YouTube, Telegram and Facebook!

Chepicap is now LIVE in Blockfolio! This is how you receive our latest news in your portfolio tracker!