XRP down 30% against Bitcoin in 2019 so far: how do traders feel?
The third token by market capitalization, Ripple´s XRP, has been on the slower side of price increases for the first quarter of the year. And charts from traders appear to show two different versions of the same story.
Out of the first five cryptocurrencies by market cap, XRP is the worst performing one in the first four and a half months of 2019. Ripple´s token started the year at 0.000093 bitcoins, but at its rate at writing time of 0.00006346 it has lost about one third of its Bitcoin valuation, as shown by the yellow, descending line on the graph below.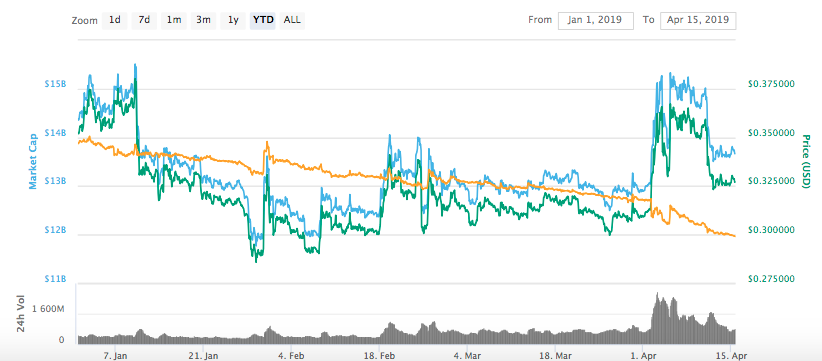 Ethereum is the only other token in the top 5 which has lost ground when compared to Bitcoin in the first months of the year, but only about 10% as it started the year at around 0.035 and it trades now around 0.032.
On the winning side, Bitcoin Cash and Litecoin have increased their Bitcoin valuation rather fast in 2019. LTC, shown in the graph below, extracted from CMC, has almost doubled, going from 0.008 to 0.015 BTC, while Bitcoin Cash has increased more than 20%, from 0.04 to 0.057.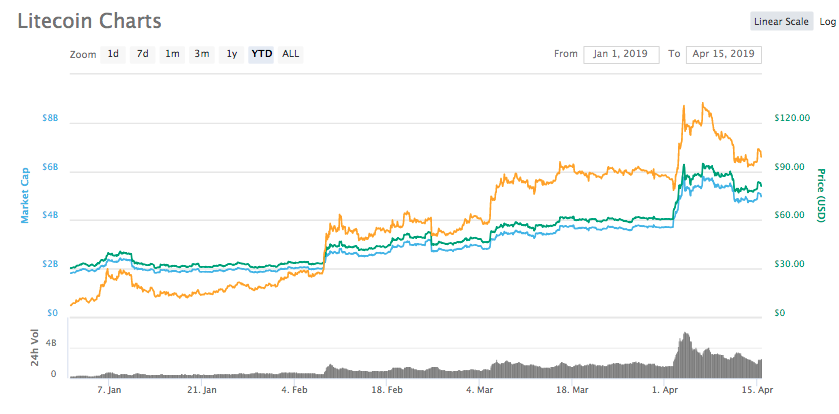 In the last hours, some highlighted traders on crypto Twitter have shared their opinions and forecasts for Ripple´s token, which could very well be affected by the latest wave of adoption of blockchain technology from the banking sector, a segment which Ripple has on their target but which seems to be opting for launching their own pseudo crypto solutions, up to now.
$XRP - 12 hour - This continues to be one of the worst altcoin charts as it continues a slow steady bleed https://t.co/EJvHadQ2P2 pic.twitter.com/foPHiY1Nlx

— Big Cheds (@BigCheds) April 15, 2019
$XRP 1D TF-#XRParmy here I come. Going to have some fun talking some absolutely shit if my XRP orders get filled. XRPtheStandard lelllll, almost there. Dump it boys pic.twitter.com/bFmNgqJy8M

— ESCO₿AR. (@TraderEscobar) April 12, 2019
As much as you may hate ripple, the charts does say it is due for a pump and then a sell off #ripple #xrp #bitcoin pic.twitter.com/c12CGhl6Bx

— HuntingtheCoins (@HuntingTheCoins) 15 de abril de 2019
The ongoing implementation of xCurrent and xRapid payment processing channels is revealing further lack of enthusiasm from banks towards utilizing XRP in an internal way.
However, there were also positive opinions which appear to be taking the current downtrend in price as a bagging up chance:
Buying some $XRP here.

Trade the chart, not the coin pic.twitter.com/b26RClcQbN

— CryptoHispano (@CryptoHispano) April 15, 2019
Price pressure should ease soon. This cannot continue for all eternities. #XRP pic.twitter.com/PR7MsPuiWE

— Little-XRP-Trader (@CedricXrp) April 15, 2019
Chart watch: #XRP/BTC looks oversold as per 14-day RSI.

Possible higher low on RSI. That +ve divergence would be first sign of bear exhaustion.

50-day MA is the level to beat for bulls. pic.twitter.com/KAp2JiZZIx

— CoinDesk Markets (@CoinDeskMarkets) 15 de abril de 2019
Read more: Bitcoin can topple $100K; XRP could grow by 3x, says analyst; 'Bitcoin will crash to $2,000, followed by HODLers screams'
Follow Chepicap now on Twitter, YouTube, Telegram and Facebook!

Chepicap is now LIVE in Blockfolio! This is how you receive our latest news in your portfolio tracker!