94% of endowment funds are investing in crypto
According to a new survey, 94% of endowment funds have been allocating into crypto throughout the course of 2018.
The study, undertaken by Global Custodian and The Trade Crypto in a partnership with BitGo, surveyed a total of 150 endowments.
The survey revealed that 54% of respondents directly invested in cryptocurrency, while 46% invested via crypto-based funds.
A further 50% of respondents stated that they were looking to increase their stake over the next 12 months, with 45% relaying that they would remain holding their current allocation.
Amazingly, it appears that the 2018 downturn didn't put off these new investors with only 7% responding that they expected a further decrease over the next year.
What makes a perfect crypto investment?
According to the survey's respondent's compliance with regulation, sufficient capital and liquidity alongside appropriate security are a must-have.
Johnathan Watkins the managing editor at both Global Custodian and the Trade Crypto noted that this level of participation from endowment funds is indicative of the rising tide of institutional investment:
"All the talk over the past 18 months has been around when institutional investors will begin participating in cryptocurrency investments, but it turns out they had already arrived, in the form of endowment funds."
As reported, Wences Casares CEO of Xapo, a leading Bitcoin (BTC) wallet, recently came out to claim that it isn't just prudent to hold a stake in BTC, but rather that it would be "irresponsible" for major portfolios not to have exposure to it.
Another believer in holding even a small amount of BTC, is Anthony Pompliano, co-founder of Morgan Creek, a crypto hedge fund.
Pompliano stated back in February that holding 99% cash and a 1% BTC portfolio would be a better investment than stocks within the next 10 years.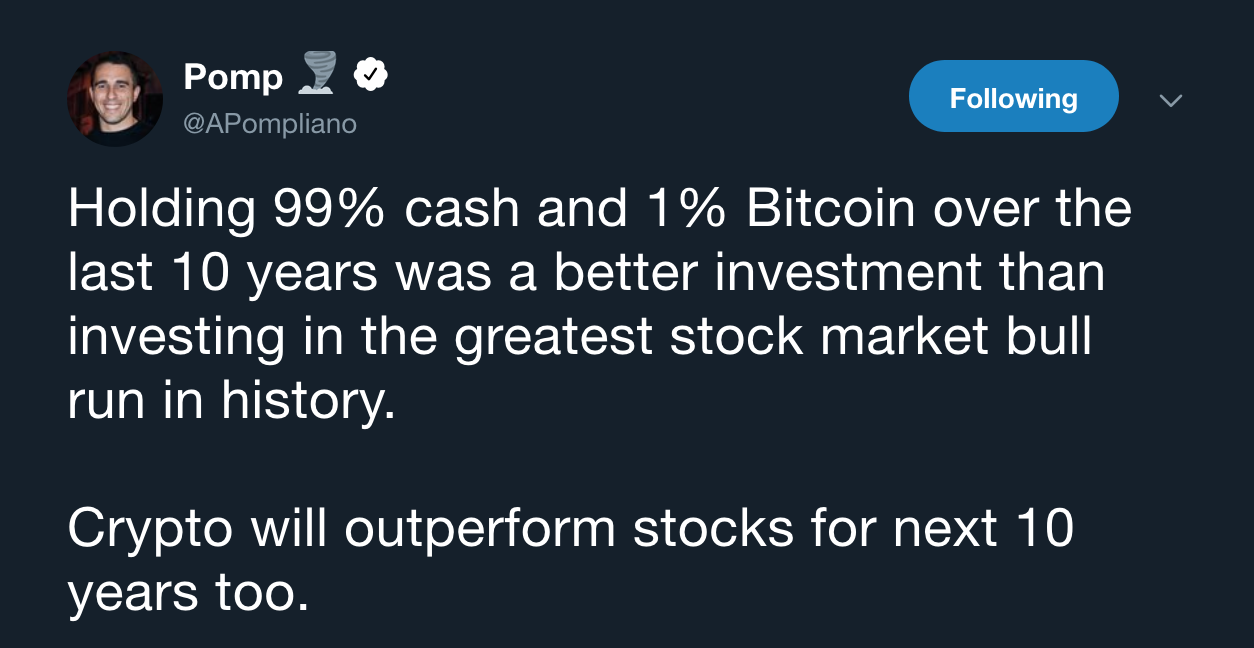 This was after a Tweet by a notable analyst known as PlanB who revealed that this portfolio arrangement had beaten the S&P 500 over the last 10 years.
1% #bitcoin + 99% cash allocation beats S&P500 over last 10 years:
- higher return
- lower risk (!)
- better risk/return, raroc etc
- including: 3x bitcoin "crash" -80% (2011, 2014, 2017)
- note: last 10 yrs was great for S&P500 (no -40% like 2002, 2008)#asymmetricbet #arbitrage pic.twitter.com/WQc1kt3RWO

— planB hodlonaut (@100trillionUSD) January 21, 2019
Read more: Anthony Pompliano says crypto will outperform stocks again in next 10 years; Bitcoin has outperformed the stock market in 2019 up 40%


Follow Chepicap now on Twitter, YouTube, Telegram and Facebook!

Chepicap is now LIVE in Blockfolio! This is how you receive our latest news in your portfolio tracker!