Argument for an incoming altcoin season
It is being claimed that alt seasons follow a Bitcoin pump, almost as certain as Summer follows Spring, and surely if there ever was a time to assume the long-awaited, elusive alt season is upon us, now would be that time. True, the market has seen some red figures in the last few days, but most coins are still up significantly since the Bitcoin pump, leading to think that the tides have really changed in the cryptocurrency market. So as we have comfortably ventured into Q2, let us take a look how imminent this alt season really is.
Alt season can best be described as a tsunami-like wave of uncontrollable positive crypto sentiment, much like the day after Christmas, where we get to open our long-awaited gifts, which of course grew considerably in size, at least 100x.
That positive market sentiment can quickly translate into exponential gains across the altcoin board.
So, are we really at that time of the year where cryptocurrency traders are feeling increasingly 'jolly' about altcoins? Is altcoin season here? Like, 'for reals'?
will it be #altcoin or $BTC Season, first to hit this time round?#Crypto

— Flip (@TheAssetMan) April 10, 2019
As we all know, and some of us painfully remember, altcoin season has grazed our presence before.
Most notably was the December 2017 bull run, which saw altcoins gain their initial market valuation many times over during a constant period of almost uninterrupted uptrend price movement, and this thanks to increased speculation, and new money flowing into BTC in order to redirect into more profitable altcoins.
However, the following year turned out to be a year where much of the cryptocurrency market went through an extended decline from the bullish rally of December 2017, which saw Bitcoin reach new ATHs at $20,000.
2018, which will always be remembered as 'Crypto Winter', managed to offer the cryptocurrency community only a few, short-lived alt seasons, one in April and perhaps one during the September/October timeframe.
Read more: 37 altcoins that have outperformed Bitcoin in 2019
Will 2019 be different?
Ever since that moment, back in November 2018, where Bitcoin 'decided' to fall through support at $6,000 to lows at around $3,200, the market has been building a base of strong, impenetrable support at local lows.
Since many altcoins followed the path of Bitcoin, and also bottomed, they too have been building up strong support in anticipation of an upward price movement.
An impressive display of different cryptocurrency analysts and crypto traders alike, are seemingly convinced that we are indeed not far removed from the next altcoin season, that is, if we are not already in the midst of it.
Mati Greenspan, senior analyst at eToro, certainly seems to think that the next altseason is upon us.
#Altseason is upon us...

Bitcoin is up nearly 2% today yet BTC dominance is still dropping, now at 50.2%.

What happens if it drops below half? pic.twitter.com/ieYj7BJN2U

— Mati Greenspan (@MatiGreenspan) March 29, 2019
And he isn't the only one who has been hinting at this altcoin season phenomenon ...
A step by step guide on how to trade altcoins in the coming weeks:

1. Print out every Binance altcoin ticker.

2. Cut out each ticker individually.

3. Attach each ticker to a dart board.

4. Throw dart at dartboard.

5. Buy the altcoin that the dart pierces.

— UB (@CryptoUB) April 1, 2019
If this is not altseason I don't know what an altseason looks like!

Some top gainers of last months on @binance $ENJ 983%$MDA 868%$EVX 593%$OAX 547%$THETA 408%$HOT 316%$BNB 290%$KNC 261%$APPC 219%$ONT 214%$TRX 206%$VIV 192%$EOS 186%

What are you waiting for?

— Crypto Walker (@cryptoWalk3r) March 27, 2019
Read more: '$3 billion ready to flow into Bitcoin and altcoins' says Mati Greenspan
Data from Google Trends has suggested that searches related to the topic of Altcoins is spiking to levels not seen since the hype of the 2017 bull run, which ican be seen as another indication that altcoin season has begun!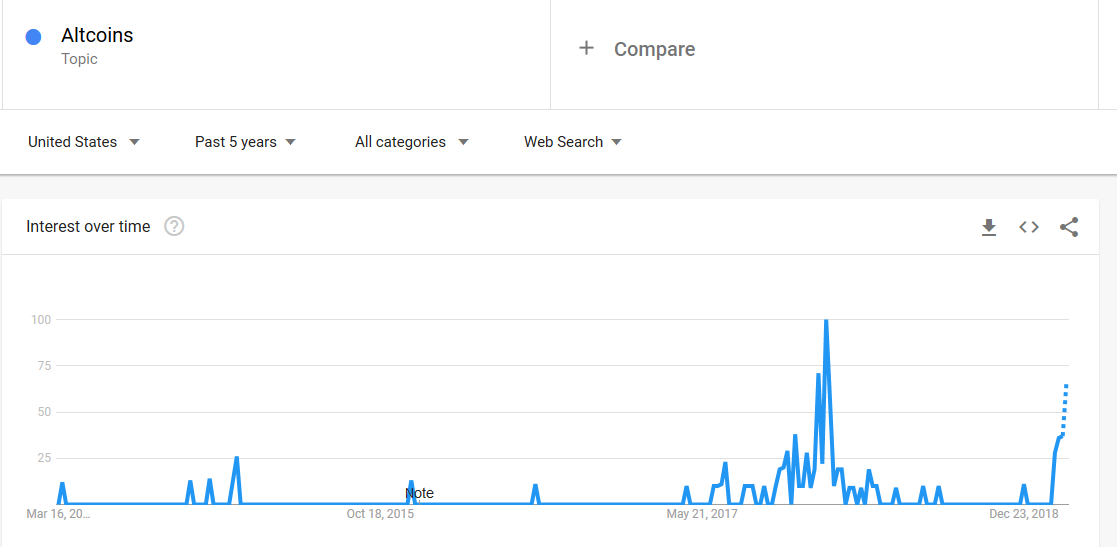 This data alone, does not prove altcoin season is upon us, however, it is another clear bullish sign alongside some of the positive price action many coins have seen so far this year. Google Trends can be a good indicator of how the public is feeling about a certain topic, so there is a good chance this is indeed a sign that altcoins will continue to see a rise.
Summer is coming #crypto #altcoinseason pic.twitter.com/VKuGHZgN2Z

— Tomasso Crypto (@Tomaseetoo) April 9, 2019
So far 2019 has already been different. The real question is now 'how much' different this year will turn out to be ... Will we see that long-anticipated bull run appear on the horizon, and will it shape 2019 into a 'bull year' we have never experienced before, or will this upward trend fizzle out into the crypto chaos that 2018 represented.
Read more: Is Bitcoin at $1 million really possible?
The only ultimate metric for timing altseasons is ...
Bitcoin dominance! Yup!
Bitcoin dominance represents the percentage of the total cryptocurrency market capitalisation that is Bitcoin's, in other words Bitcoin dominance represents the total amount of people in the cryptocurrency market which are currently buying and holding Bitcoin.
The dominance of Bitcoin goes up when more people buy or simply hold Bitcoin, and it goes down when an increasing amount of people sell their Bitcoins.
Pretty straightforward, right?
Right!
In the chart below you can see that alt seasons take place when Bitcoin dominance experiences rapid declines.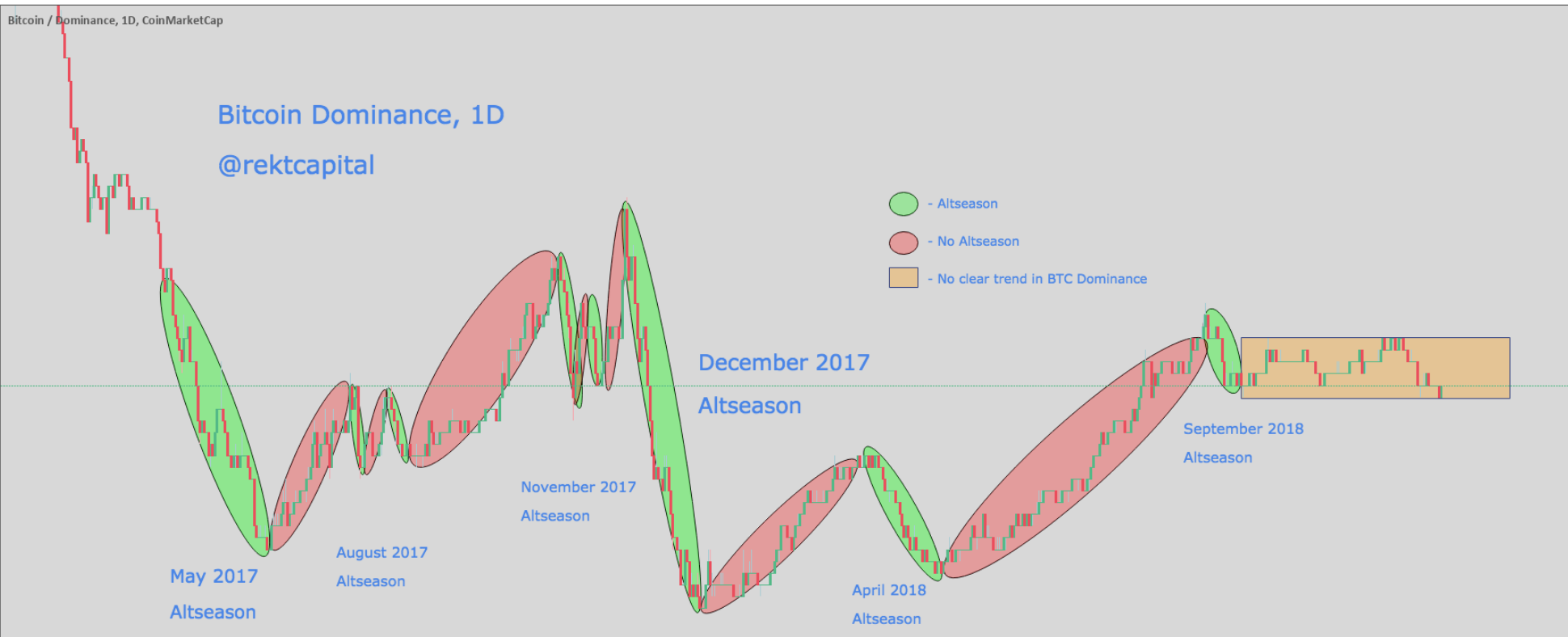 We can see that ever since altcoins made their introduction into the crypto markets, these rapid declines in Bitcoin dominance have always led to massive gains in altcoins and if we take history as a guideline, we see that Bitcoin dominance breaking down from the 50% level has resulted in exponential gains of most altcoins in the cryptocurrency market.
The last time that Bitcoin dominance broke the 50% level was on the 19th of December of 2017, which threw us in the greatest alt season in the history of cryptocurrencies and that is why the 50% mark is crucial.
A breakdown like that, from the 50% mark towards a bottom of 32% has happened only once.
But another Bitcoin dominance breakdown might be just around the corner, sprucing up this cryptocurrency market and leading us into another massive altcoin season.
Read more: Why bears are wrong about the Bitcoin pump
The historical significance of the 50% Bitcoin dominance level is most certainly important to the entire crypto market, and although BTC dominance stands at 52.2% today, alt season could be ready to take off at any time. It might be today, tomorrow, or it might be next week.
Whenever the next massive alt season grazes us with its presence, Chepicap will be prepared for it. Will you?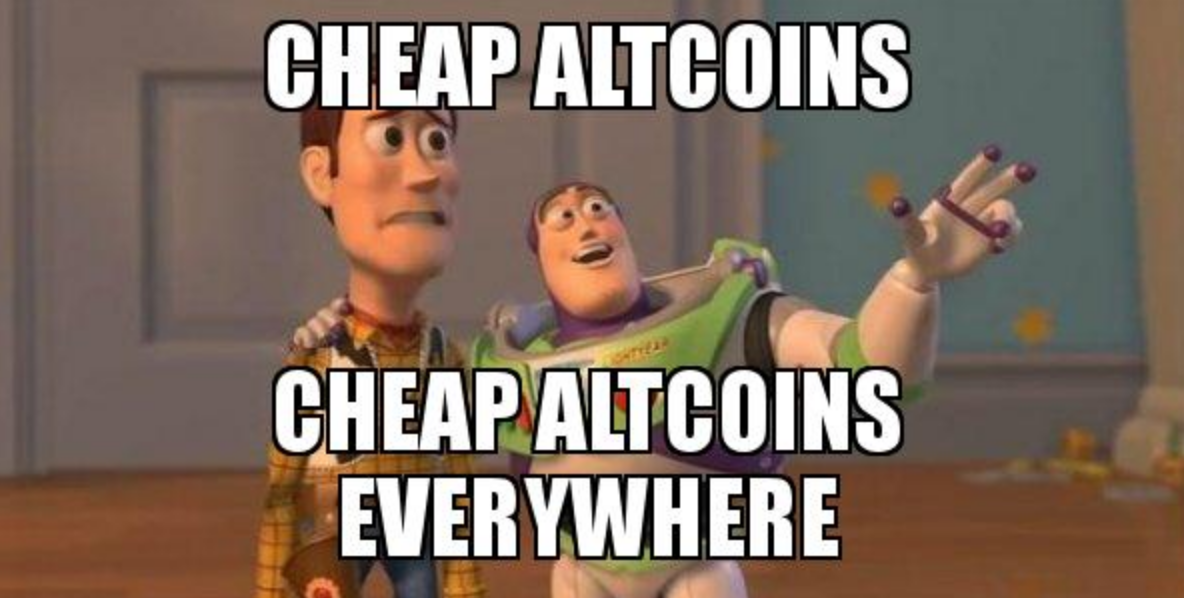 Bitcoin to WHERE? This is what the TRADERS say! Subscribe to the Chepicap YouTube Channel for more videos!


Follow Chepicap now on Twitter, YouTube, Telegram and Facebook!

Chepicap is now LIVE in Blockfolio! This is how you receive our latest news in your portfolio tracker!