IOST's daily transaction volume already exceeds the entire Ethereum network
its been just one month since IOST launched its mainnet and already the project is smashing the ball right out of the park, citing a plethora of achievements including managing more daily transactions than the entire Ethereum network.
Since the mainnet launch, IOST – the internet of services platform with scalability in mind - has been on somewhat of a roll, launching a number of decentralized apps (dApps), registering a myriad of accounts, getting listings on prominent exchanges, and further developing its network and building partnerships.
This has all translated very nicely into price action, with the token reporting an impressive 114% gain in the past 30 days since its mainnet launch.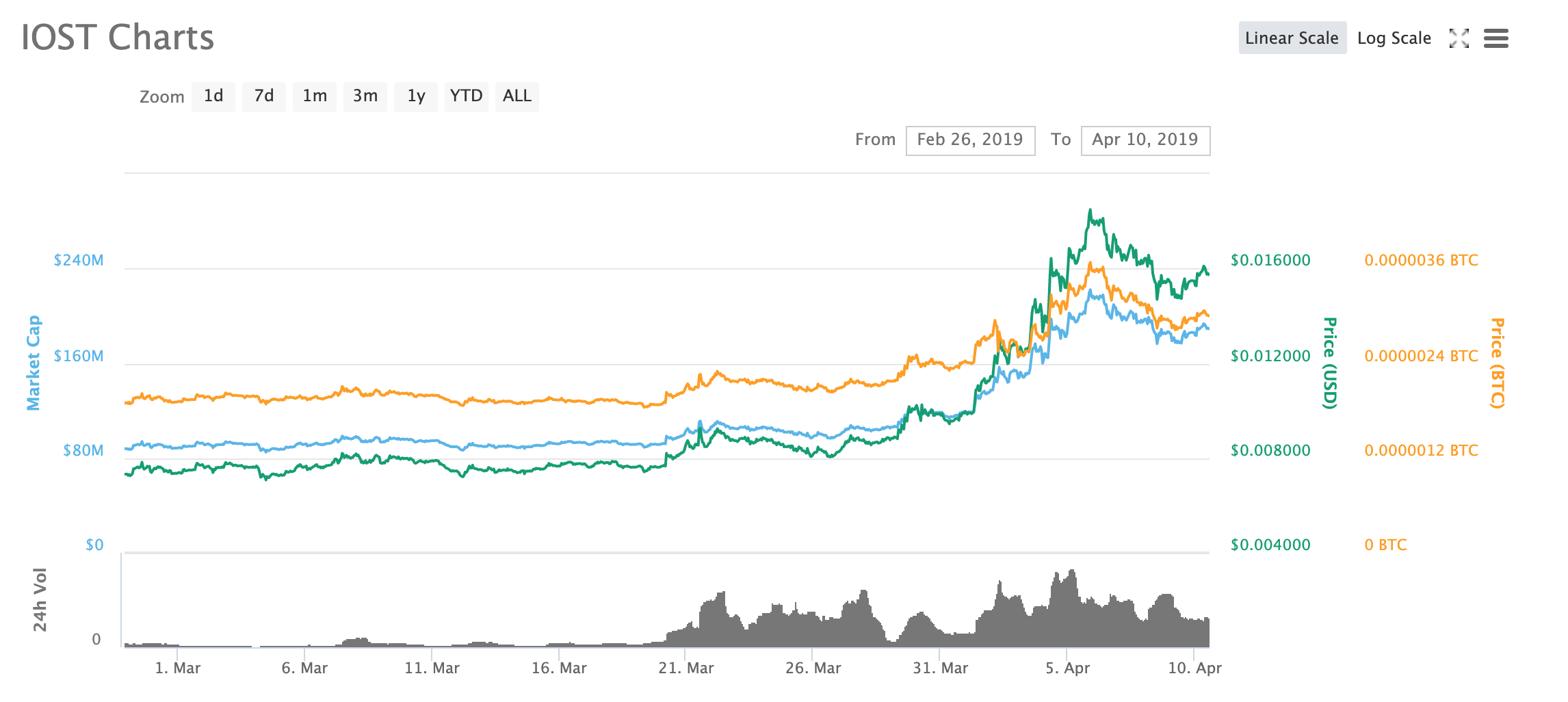 Within that time the IOST has registered as many as 213,872 live accounts upon the network, with an average of 15,00 wallets added per day.
Moreover, 9 dApps have already been released including 6 games, one of which exceeded 700 million in transaction volume in a single day.
In order to celebrate transaction volume exceeding 700 million the first day of Endless launch on IOST Mainnet, we will give away FREE IOST Account plus 30 IOST for every account registered. (https://t.co/kFCovsAhbj) Time is limited, hurry up! #FREE @IOStoken @jimmyzhong_iost pic.twitter.com/puJfa6UUgb

— Endless Game (@EndlessGameTeam) March 21, 2019
Exchange's have also taken note of these accomplishments, with 26 granting IOST a coveted listing.
This week, IOST also partnered with Ehang, a China-based autonomous vehicle company, to provide flight data analytics in a new project for the Civil Aviation Administration of China (CAAC). The project utilizes blockchain technology to deliver secure and reliable data to prevent data tampering by third parties.
$IOST has entered a strategic public-private enterprise partnership! Alongside partner EHang, top 3 global UAV company, #IOST will provide the Civil Aviation Administration of China (CAAC) with secure #blockchain systems. More enterprise deals coming!https://t.co/O2s8rqTLwq

— Jimmy Zhong (@jimmyzhong_iost) April 8, 2019
This latest collaboration brings IOST's total partners to over 200.
Moreover, within this first month of the live mainnet, IOST has netted more than 25 million transactions, including a peak of 580,231 transactions per day, a figure that beats the entire Ethereum network by 21959 transactions. Not bad going for its first month…
Read more: These are the 3 coins to watch for April 2019; These are the 3 coins to watch for Q2 2019


Follow Chepicap now on Twitter, YouTube, Telegram and Facebook!

Chepicap is now LIVE in Blockfolio! This is how you receive our latest news in your portfolio tracker!