Why bears are wrong about the Bitcoin pump
Overall, in terms of both sentiment and performance, the proverbial ball is in the bull's court. However, as with anything, positivity has its equilibrium, the yin to its yang, and the cryptocurrency industry is certainly no exception. So, here's the other side of the coin, a bear's-eye view of the Bitcoin pump, and everything wrong with it...
Over the past week, we've had a fair few naysayers propping up as they often do around every bull run, spitting the same old vitriolic rhetoric: "Bitcoin is a bubble," "Bitcoin is worthless," "cryptocurrency will crash," and so on.
But what are their true intentions? Is it simply a hype train for mainstream media to jump on? do these antagonists have an agenda? or are they simply pandering to what they believe is the popular perspective?
In order to understand it, we take a critical look through the eyes of these adversaries and why - for the most part - they're absolutely wrong.
To kick this off, let's take a little look at some of the worst offenders.
Most of these come in the form of articles from seemingly salty writers with an unknown agenda (something we'll likely get highly speculative, and strangely specific about later).
These stories have been highly propagated by one of the biggest adversaries of the cryptocurrency industry, one of the only people on Twitter who has had a limit put on the number of accounts he can ban in an hour, a man who single-handedly drove Satoshi Nakamoto into hiding, (okay we may have made up the last few points) and a man who ranks #3 in the top 10 crypto influencers, just in front of the XRP Army (that one is real) Dr. Doom himself, Nouriel Roubini.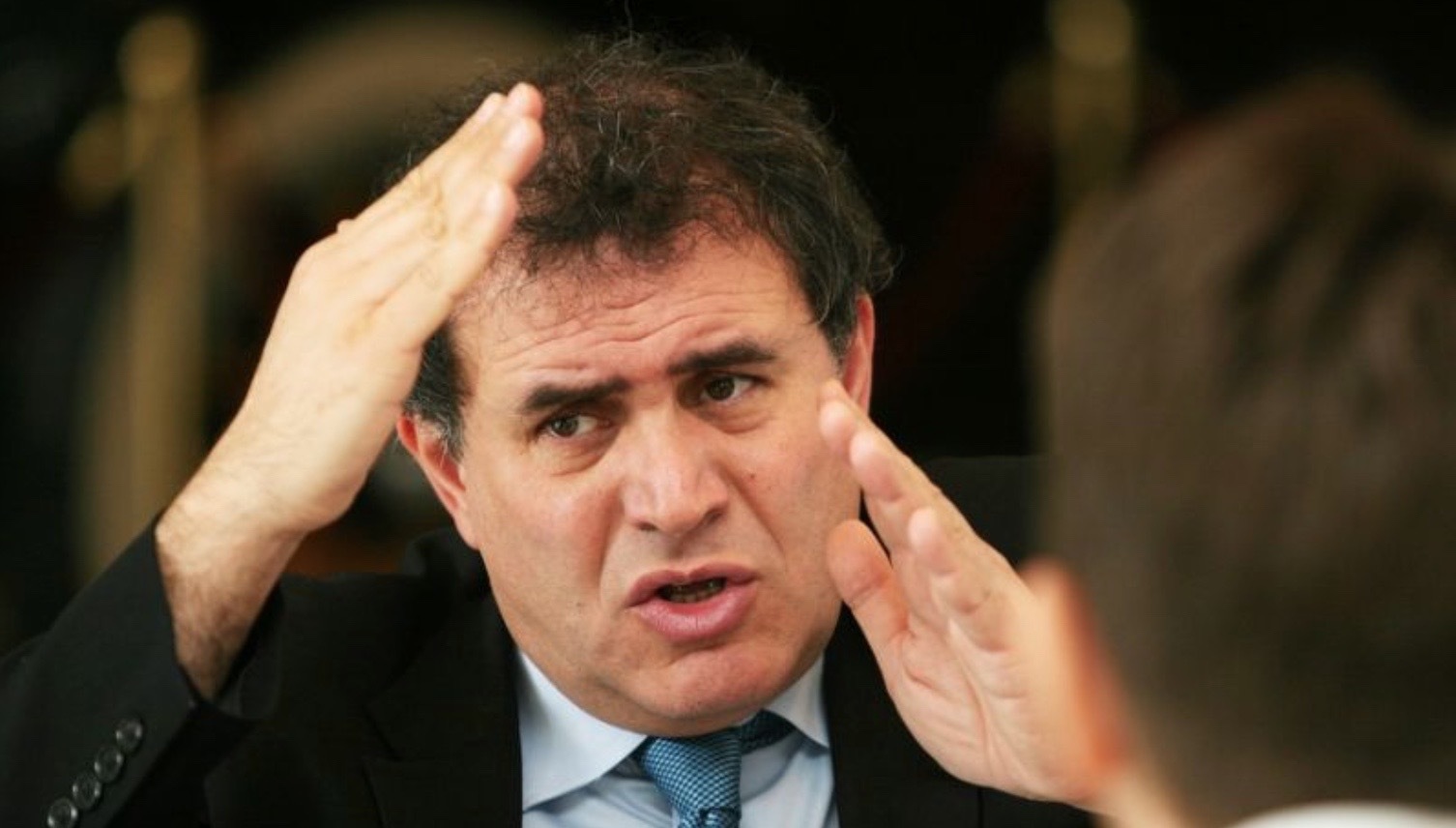 (crowd moans)
So what did Dr. Doom have to say about this latest Bitcoin pump? Something productive? Some constructive criticism? Nah, he just retweeted a few other negative opinions before linking to a Bloomberg opinion piece entitled: "Bitcoin Is Surging Again. Just Ignore It."
Why would you tweet to 459k people about something they should ignore?

— The Crypto Dog📈 (@TheCryptoDog) April 3, 2019
In the first few paragraphs, the publication the article talks about, you guessed it, Bitcoin – seems a bit ironic, I thought we were ignoring it?
Their argument begins with the line: "There has been no good news about cryptocurrencies lately"
Now, not to get too bogged down this early on, but anyone who has done even a shred of research knows that 2019 has proven a pretty good year for crypto so far (besides the odd hack, and that one possible exit scam…)
Read more: What we know about the Quadriga story so far
For starters, many cryptocurrencies cite year to date returns (YTD) of well over 100%, with some breaching into the 200% region. Moreover, if higher returns in the past few months than the S&P 500 has made in the past 5 years doesn't float your boat, then how about the following achievements:
- Samsung's flagship phone utilizing a crypto wallet
- Companies such as overstock using BTC to pay taxes
- Facebook launching a cryptocurrency
- JP Morgan launching a "cryptocurrency"
- IBM and Stellar Worldwire collaboration
- The Lightning Network propagation and growth
- Fidelity's crypto custody going live
- Jack Dorsey and Square hiring Bitcoin developers
Sorry, what was that? No good news?
Now, granted, we have had a few hiccups along the way, and not everything is as rosy as that list shows, but still, who's perfect? Certainly not the traditional banking sector who, as of the last recorded statistics between 2012 and 2016, cite misconduct charges totaling over $344 billion, for a litany of crimes ranging from money laundering to tax fraud.
But who's judging?
The rest of the article cites fake volume as a cause for concern, and they're right, its an issue, but this is something that is being actively quashed; either through efforts of self-regulation, or for example via collaboration with Nasdaq's market monitoring tech, of which 7 crypto exchanges are now using in order to detect such instances of wash trading or any other such illicit activity.
Read more: Nasdaq is working with 7 crypto exchanges; Gemini & SBI Virtual Currencies onboard

The overarching point being is that this space is growing, regardless of the naysayers.
"Bitcoin is going to DIE"
Now, this article, of course, isn't anything new. Bitcoin has been declared dead 350 times and counting (RIP).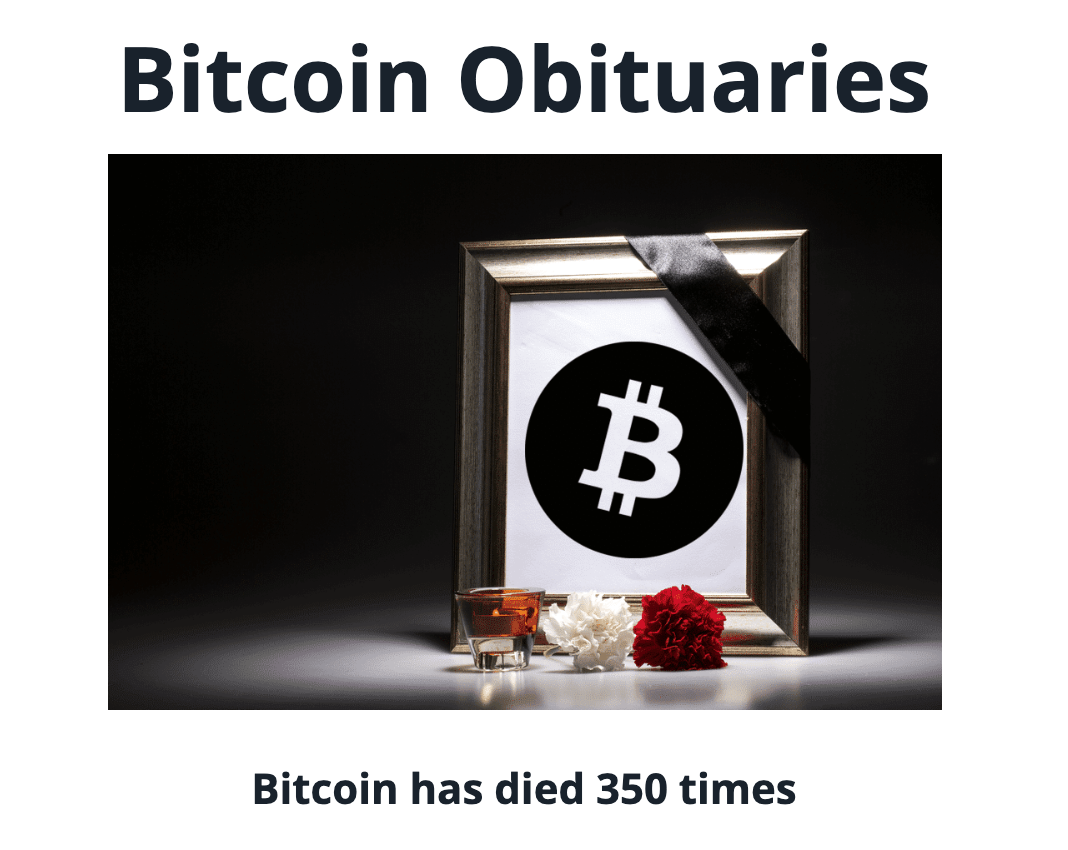 Interestingly the latest article on the obituary list was our very next focus, how convenient...
This was Gizmodo's latest take on Bitcoin, entitled:
"Bitcoin Surges 15% Overnight Because Nobody Learned Their Lesson After the Last Crash"
Yeah, you f#$*ing idiots, when will you learn! …
Stop.
2011: 1468% ROI
Investing.
2012: 189% ROI
In.
2013: 5429% ROI
Bitcoin.
2017: 1335% ROI
Now the crux of the argument here is, essentially: 'Bitcoin was a bubble and it'll be a bubble again, therefore you shouldn't invest…'
But by that logic, you shouldn't invest in any market with a boom-bust cycle, which is… nearly every single market.
These market cycles are well-known processes within capitalist economies, there's even a pretty little infographic dedicated to the psychology behind it, dubbed: the "Wall St. Cheat Sheet":
Even the Dow Jones - one of the worlds most prominent stock market indexes - has gone through multiple iterations of these cycles: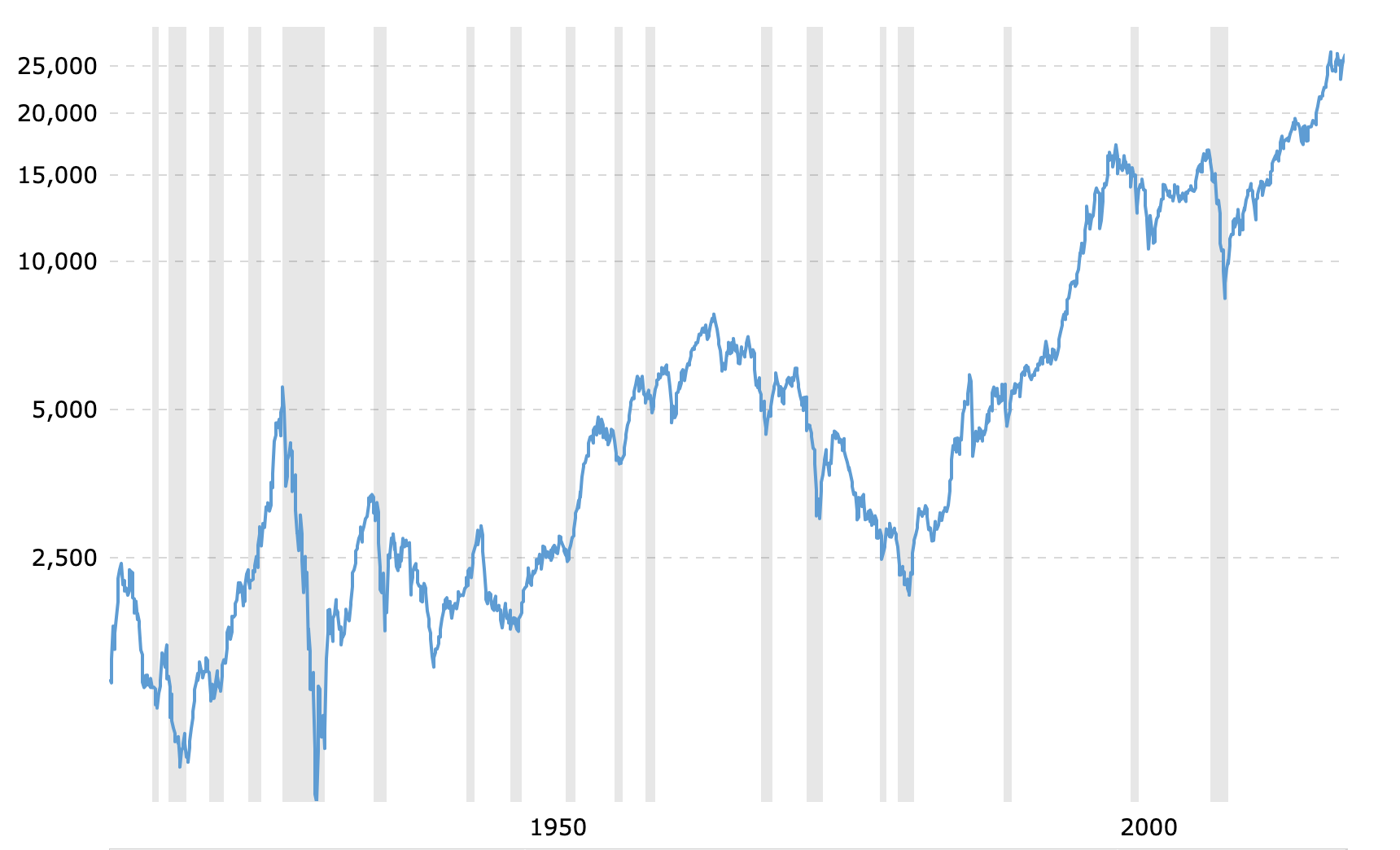 So why didn't investors learn their lesson back in 1982 when the bubble 'burst' and the Dow Jones slumped 2357 points from its high of 4519 six years prior? and once again in 2009 when the market started picking up the pace from the bottom of a 12-year low? Was the market gaining 200% in 10 years really worth the worry of the bubble bursting once more? Why, oh why, didn't they learn!
Lesson learned form last crash-- hold another 2-3 years and get 1000x gains.

— Buddy LED (@buddyled) April 2, 2019
The rest of the article reads more like a nasty text from a scorned ex:
Here's an excerpt:
"Bitcoin is absolutely worthless by any real measure. It's fake money that's about as practical to use in the real world as Monopoly bills. Bitcoin is backed by nothing and requires tremendous amounts of energy to mine using computers… Bitcoin is little more than a speculator's death cult at this point."
Ouch.
Now what definitely didn't happen was that this author didn't get screwed over by BTC during the 2018 crash, and doesn't subsequently harbor unreasonably ill feeling towards cryptocurrency and everything it stands for...
Interestingly, the article decides to mention the now lifted Google and Facebook bans on cryptocurrency adverts, a fairly outdated point of contention which is now a distant memory for many within the crypto industry alongside Facebook who has since embraced the ideals behind cryptocurrency, looking to launch their own branded version sometime within 2019.
Read more: Facebook Coin: 4 most interesting details from the NY Times report
After mentioning the unfortunate happenings around the Quadriga debacle for good measure, the article concludes with a smug and pre-emptive: 'I told you so.'
The main issue with these hit pieces lies within their blatant lack of research, and while, like many nascent industries, there are many kinks to iron out, for the most part - especially given its infancy - the cryptocurrency space is progressing in a fairly positive way.
Moreover, this space has some core fundamentals behind it, holding privacy as a core tenant, promoting the redistribution of wealth, and even looking to revive failing economies and help the impoverished victims of such.
Instead of looking at the worst in cryptocurrencies, as is so easily done in life in general, these publications could help change the perspective of a population by highlighting the good, rather than focusing on the bad. But then, good news doesn't sell half as much right?
Bitcoin to WHERE? This is what the TRADERS say! Subscribe to the Chepicap YouTube Channel for more videos!


Follow Chepicap now on Twitter, YouTube, Telegram and Facebook!

Chepicap is now LIVE in Blockfolio! This is how you receive our latest news in your portfolio tracker!